Board Assessment
The annual Board evaluation is aimed to help the directors to thoroughly review their performance and understand their roles and responsibilities. The periodic review and evaluation of the Board's performance as a body, the board committees, the individual directors, the Chairman, the President and CEO and Key Officers show how the aforementioned should perform their responsibilities effectively. In addition, it provides a means to assess a director's attendance at board and committee meetings and participation in boardroom discussions.
Members of the Board conduct collective and individual evaluation of the Board performance through a Board Self-Assessment exercise. In 2021, JGSHI engaged Good Governance Advocates and Practitioners of the Philippines (GGAPP) as its independent Third Party Board Evaluator in the conduct of the Board Self-Assessment.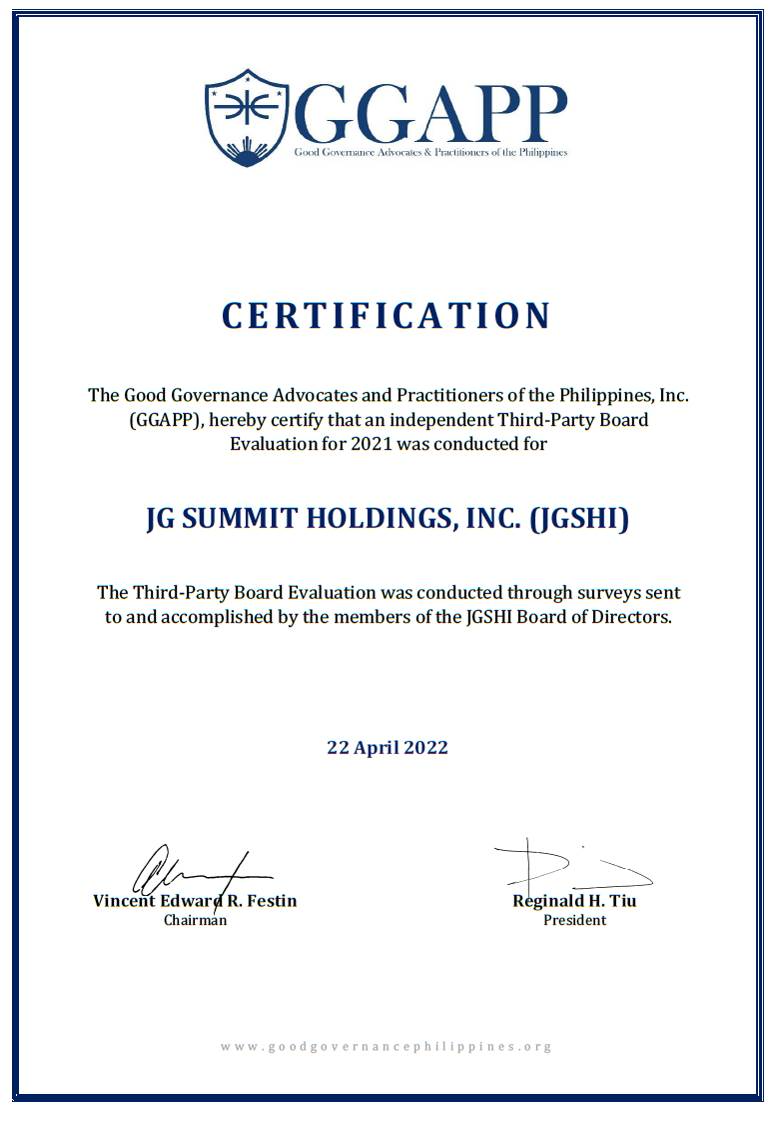 METHODOLOGY
In order to cull relevant and conclusive data on the performance of the Collective Board of Directors, Board Committees, Individual Directors, and JGSHI's Officers for the year 2021, Directors were asked to accomplish evaluation forms which utilized the scaled (Likert) method.
The self-assessment questionaire covers the following critiria:
Board Self-Assessment Criteria
I. COLLECTIVE BOARD ASSESSMENT
Board Composition
Board Efficiency and Performance
Board Meetings and Participation
II. Board Committee Assessment
Board Committee Performance
Board Committee Structure
III. Board Committee Assessment
III.I Board Committee Assessment
III.II Board Committee Assessment
Stewardship
Entrepreneurial Mindset
Corporate Governance
Diligence
Integrity
III.III Key Officers Ratings
Corporate Secretary
Chief Compliance Officer
Chief Finance and Risk Officers
Chief Audit Executive
A report was provided by GGAPP to JGSHI which summarizes the collated data in a manner best suited to the aforementioned method, as well as combine the results of the evaluation with the research of the third-party evaluators based on readily available information on the Company (i.e. website, annual report). The report includes guidance based on prevailing best practices in corporate governance and related laws, rules and regulations. The Company shall analyze the report of GGAPP and results are to be acted upon by the Board of Directors, Management, and/or appropriate committee, as deemed necessary.