Gokongwei Brothers Foundation
The Year at a Glance
With the goal of building a better future through education, 2021 marked the first year of GBF's five-year roadmap to achieve our ambition of benefiting 10,000 educators and one million learners by 2025 by uplifting the quality of Science, Technology, Engineering and Mathematics (STEM) education in the country.

Through the following strategic imperatives, the five-year plan was set in motion to contribute in paving the way for sustainable national development:

Elevate educators' professional development to be responsive to current and future learning needs
Enable essential, relevant, quality content to reach as many educators and learners
Support the growth of STEM and digitally-enabled learners and professionals
Increase the underprivileged sectors' access towards quality education
Promote the effective use of technology to scale access, productivity and quality learning
Strengthen GBF internal practices to support high performance
Gokongwei Brothers Foundation
By The Number
₱725M
Total Endowment
since 2002
6,645
Total Teachers
in the TeachSTEM Community
6,656
Total Teachers Capacitated
56
LGUs and Communities Served
under Juan Community for Resilience

3,173
Student and Teacher Beneficiaries
under Juan Community for Education

2021 Milestones
Scholarships
GBF has grown to become one of the top scholarship-giving organizations and the biggest private sector provider of STEM related scholarships in the country. In 2021, GBF onboarded 633 scholars reaching a total of 1,780 or a 137% increase since 2016. Of these, 990 have already graduated. 82% of STEM-SFE graduates have been employed by Gokongwei Group Companies while 88% of Iskolar ni Juan lifetime graduates have been employed by Universal Robina Corporation.
Total Scholars in 2021
All Scholarship Programs
633
Scholars Per Program
Iskolar ni Juan Tech-Voc (2014)

One-year tech-voc training and URC employment for underprivileged SHS graduates

STEM Scholarship for Excellence (2011)

Given to underprivileged and deserving STEM college students from centers of excellence, in partnership with the Gokongwei Group business units

STEM Agri Scholarship (2020)

SHS and college scholarship to children of sugar cane planter farmers who are partners of URC-SURE in Negros

Young Scientist Award Scholarship (2019)

Full STEM college scholarship granted to the top winners of Philippine-based STEM competitions

St. Stephen High School Scholarship (2012)

A merit and need-based grant for students enrolled in the Chinese high school, supporting scholars from Grade 7 to 12

Xavier-Zuloaga Scholarship Fund (2020)

A merit and need-based grant for students of Xavier High School

NextGen Scholarship for Excellence (2010)

College scholarship extended to children or siblings of GG employees

DLSU Gokongwei College of Engineering Grant (2012)

Scholarship for outstanding students taking any undergraduate degree program at DLSU Gokongwei College of Engineering, supporting scholars from first year until graduation

Ateneo John L. Gokongwei Scholarship (2006)

A merit and need-based grant for students of the Ateneo John Gokongwei School of Management, supporting scholars from first year until graduation

Go Family Association College Scholarship (2019)

A merit and need-based grant for members of the Go family

TeachSTEM College Scholarship

Supports the bachelor's education of aspiring STEM teachers who will later serve in public schools

TeachSTEM Masters Scholarship

Develops public school and tertiary educators to become proficient educational leaders to strengthen STEM

SAP University Program

A global program that aims to help educators and learners alike develop critical digital enterprise skills In partnership with JG Summit Holdings, Inc. and the SAP University Alliance. The program includes:

Intensive training on SAP S4/Hana software—one of the world's most widely- used enterprise management systems
Integration of SAP S4/Hana training in the university curricula
Internship of trained teachers at the JG Summit Corporate IT Department
In 2021, GBF sponsored the participation of the University of San Carlos and De La Salle University Dasmarinas in the program.

Total # of teachers who went through S4 Hana training: 25
Total # of teachers who benefitted from the course: 273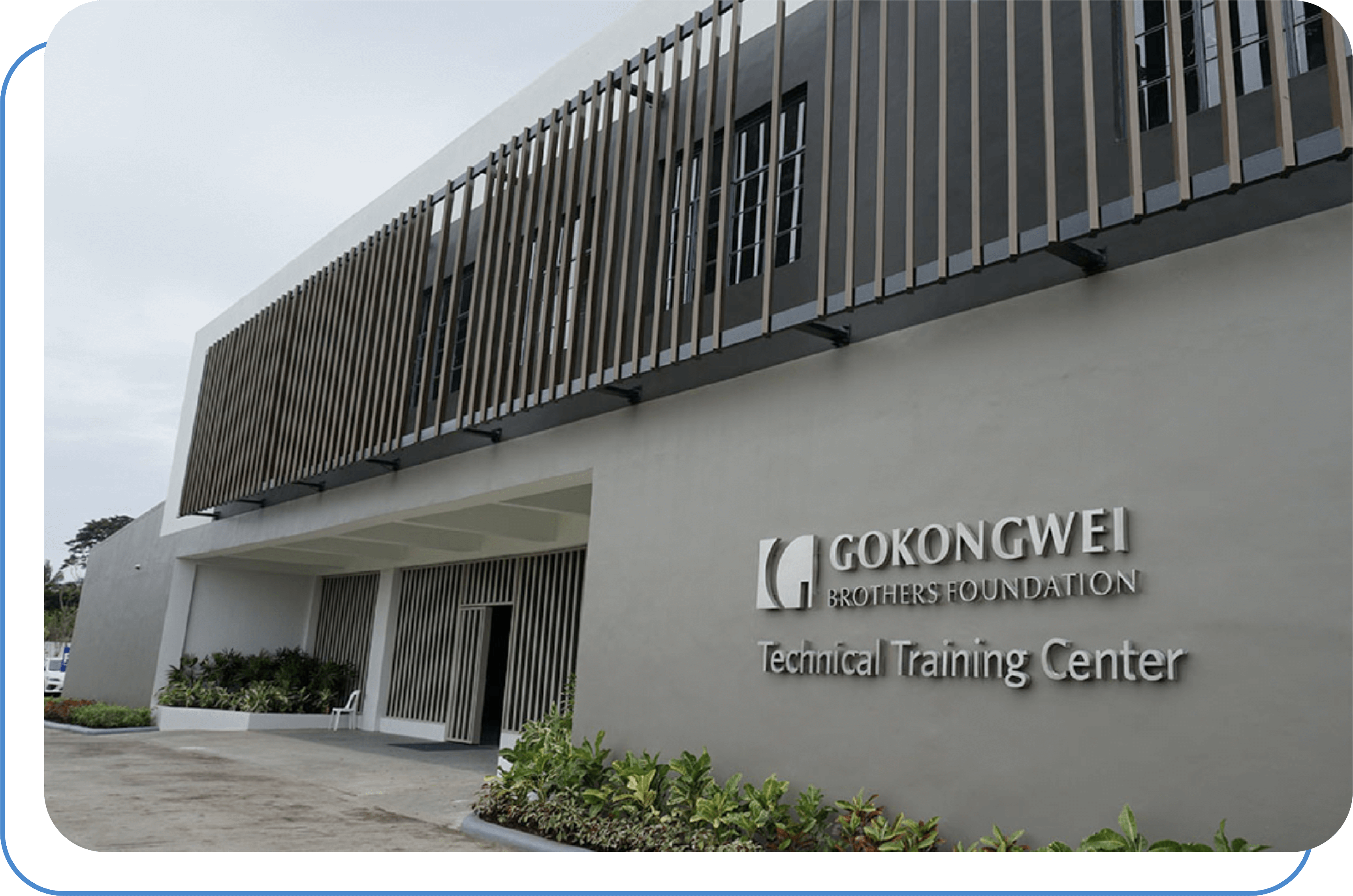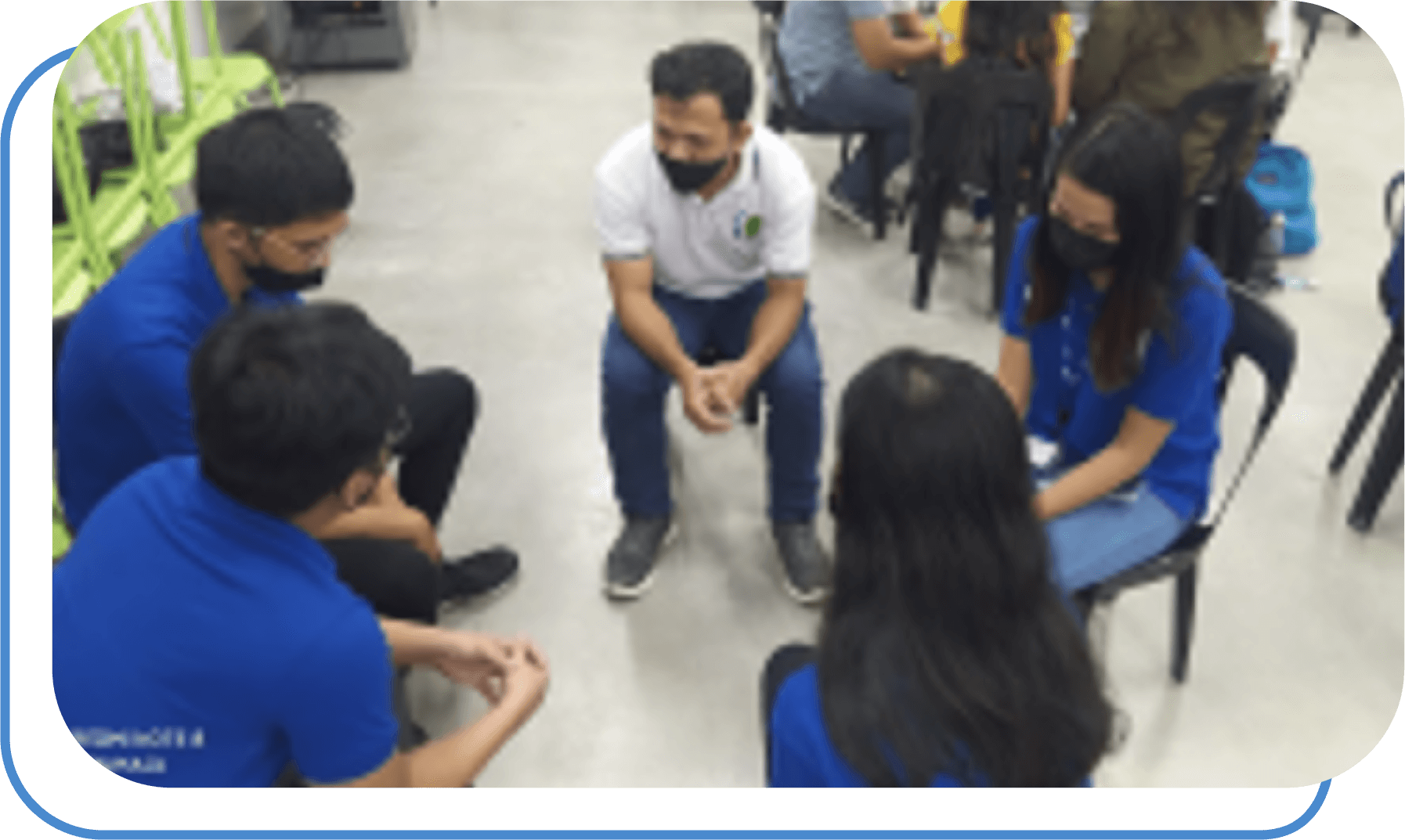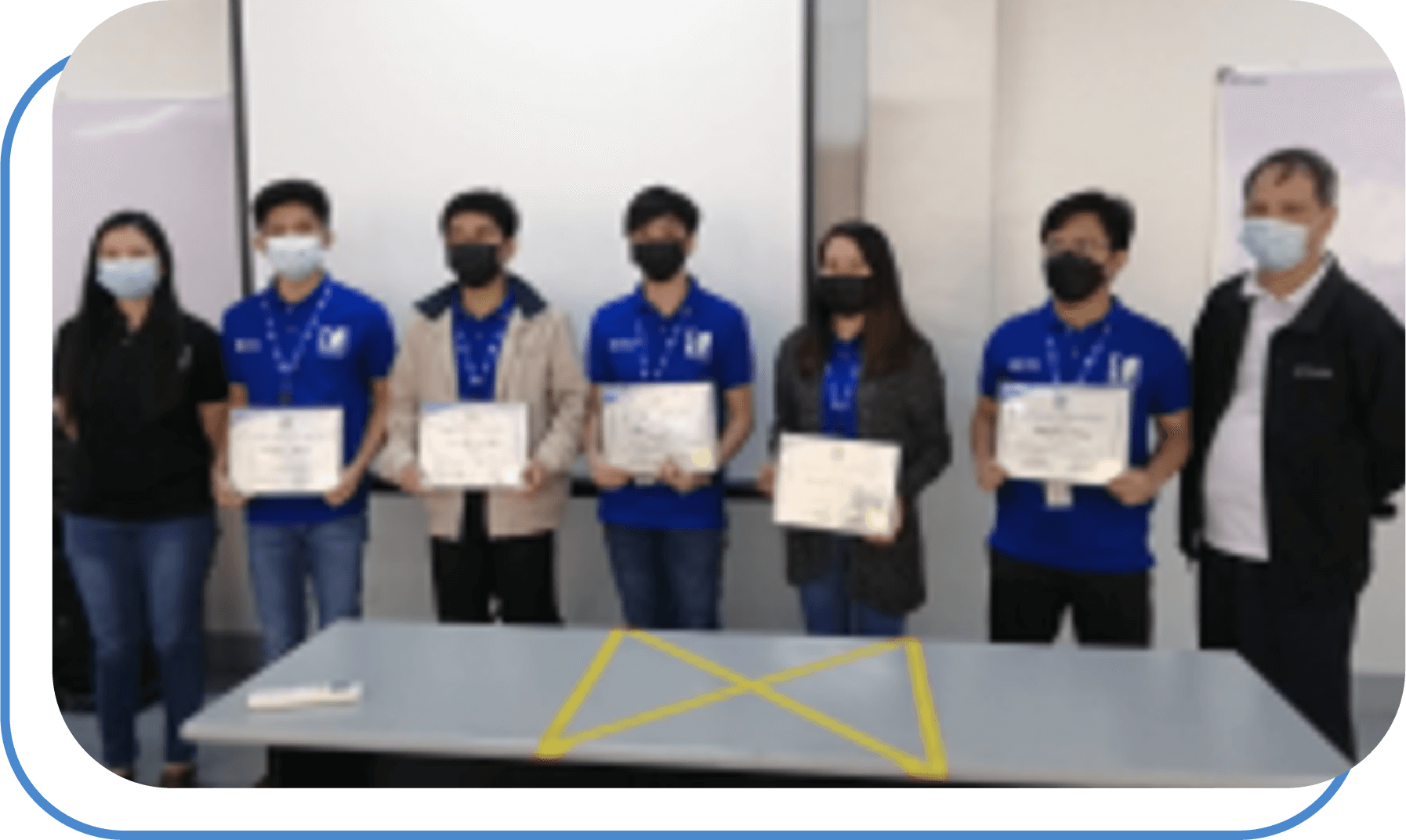 GBF Technical Training Center
Despite the lockdowns due to the COVID-19 pandemic, GBF's Technical Training Center was able to take in 26 new scholars and graduated 35 in 2021. To continue providing its program, the school adapted a hybrid learning modality. While implementing strict safety protocols, TTC also conducted various Scholar Care activities including counseling, individual physical exercises, conversations with faculty and other online activities with parents and guardians. Academic recognition, Leadership & Character awards were also conducted for scholars. The school's accommodation of professional technical training was temporarily suspended and hopes to resume in 2022.
Scholar Development
To prepare our scholars to contribute to society through work and service to community, GBF laid out its scholar journey from recruitment, leadership development, upskilling to career preparation, employment and contributing their expertise as GBF alumni. Among the programs initiated were: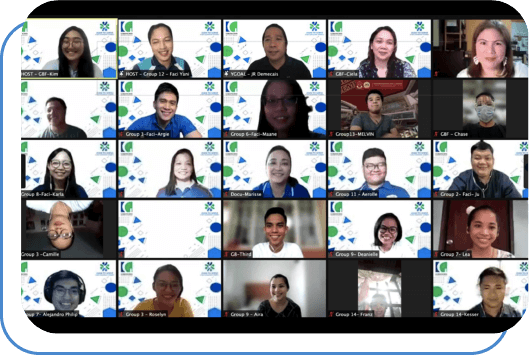 Juan to Serve
A servant leadership formation and volunteer program, Juan to Serve aims to build a community of servant leaders who have a strong sense of self and others, who are inspired by our shared value to give back or "pay it forward," and essentially create positive impact to their families, communities, and the country.​ The initial run of the program was participated in by 99 scholars through a five-week servant leadership journey that built their self-awareness, trust, vision and sense of community.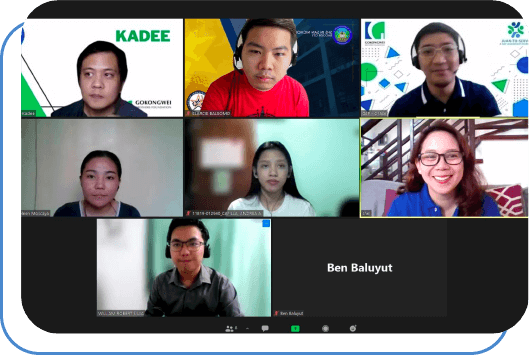 PWR Up
In 2021, GBF and Microsoft Philantrophies partnered on an upskilling program that aims to ensure that GBF scholars are equipped with 21st century skills and characteristics necessary for work. This year, 22 GBF scholars completed the 16-week Microsoft Power BI course. These participants gained basic knowledge and usage of Power BI and its applications across the following disciplines IT/computer science, science education, chemistry, engineering, accountancy, statistics, pharmacy, and architecture.

STEM Excellence Advocacy

GBF Young Scientist Award

GBF YSA is a full STEM college scholarship granted to the top winners of Philippine-based prestigious STEM competitions, whose main objectives are to promote greater interest in innovation and the sciences among young Filipino learners.

In 2021, GBF supported DepEd's National Science and Technology Fair by providing technology support as well as cash and in-kind prizes to the three winners of their video competition and partner schools. GBF also partnered with DOST-SEI on their 4th cycle of "imake.wemake: create. innovate. collaborate." competition and provided STEM-based college scholarships to three students from among the winning teams.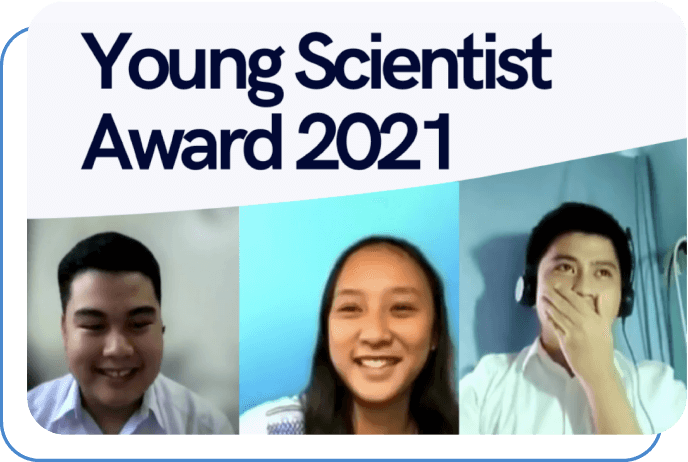 Juan Community for Education
By developing strong and sustainable STEM communities in areas where our business units serve, GBF contributes to building the nation, one community at a time. With the goal of helping improve learning outcomes of students, GBF discovered the following needs, opportunities and priorities:

Complete modules, books, printing equipment, devices, and internet access
Reading and critical thinking skills, digital adeptness, and independent learning
Someone at home to guide learning
Expert and agile teachers
Ways to assess learning
Infrastructure and equipment
Five pilot sites were identified where business units adopted six schools: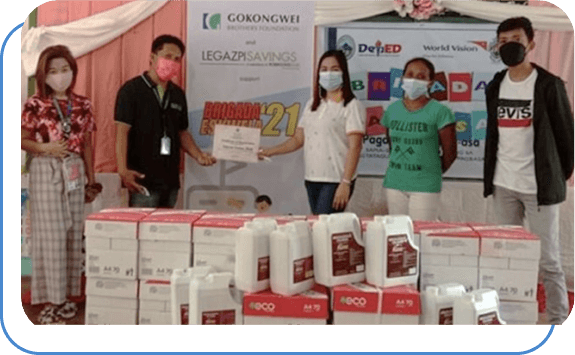 Juan Brigada Eskwela
As the first priority in responding to the needs of learners, GBF provided printing equipment and supplies for modules, as well as teacher and student school supplies to supplement schools' available resources to ensure learners' access to complete learning materials. In line with DepEd's Brigada Eskwela, GBF provided resources extending help beyond our pilot sites to serve 25 schools and benefiting 3,173 students and teachers.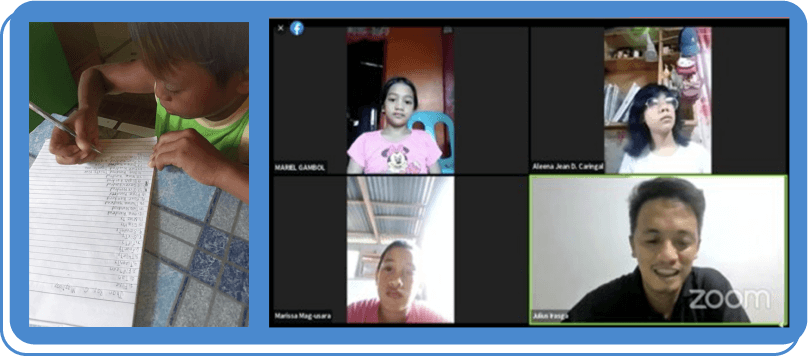 Juan Kapatid Tutorial Program

In response to the second priority of helping learners become readers and critical thinkers together with receiving proper support from teachers and parents, the Juan Kapatid Tutorial Program was piloted in Simlong Elementary School in Batangas City in partnership with JG Summit Olefins Corporation, AHA Learning Center and Huawei. With the objective of closing the gap in literacy and numeracy as well as mobilizing teachers and parents to support learning, 65 learners from Grades 4 to 6 participated together with 65 parents. The pilot run is expected to be conducted by July 2022.
Interventions Provided in the Program
Academic and Social-Emotional Learning through Math and Reading Achiever's Track

Support System Skills Interventions through Teacher Training in Reading and Parents Suporta Eskwela Club

Impacts Targeted by the Program
At-level math proficiency

Higher confidence for independent learning

Juan Community for Resilience
Equally important to GBF's mission is to respond to the needs of our local communities to help them bounce back from crisis. Through Juan Community for Resilience, GBF provided support throughout the COVID-19 pandemic and conducted relief operations immediately after Typhoon Odette's devastation.

2021 Support throughout the COVID-19 Pandemic
Beneficiaries
40
LGU's & Communities served
Donations
872
Units of PPE's, Medicine,
and Medical Supplies
₱1.7M
Worth of Printing Supplies
and Equipment
100
Units of Communication Tools
and Supplies

261
Units of Appliances
with Ventilation Support

2021 Support for Typhoon Odette Relief Operations
With the onslaught of Typhoon Odette in mid-December 2021, GBF was able to respond to victims towards the end of the year and continued relief operations in 2022. Following are the number of relief packs distributed in December 2021:
8,717 Employees
provided with relief packs
2,970 Relief Packs
distributed to affected families in Visayas and Mindanao*
*with the support of Shang Properties Inc. and Kerry Group Philippines Foundation in collaboration with URC, Robinsons Bank, Robinsons Land Corporation, Cebu Pacific as well as SM Foundation through their logistics arm, 2GO
TeachSTEM Community
Believing in the power of communities to grow and build STEM champions amongst educators, GBF strengthened its efforts on community building by providing social learning, capacity building and networking activities.
KaSaMa Teachers Community
GBF's second year in partnership with the University of the Philippines National Institute for Science and Mathematics Development (UP NISMED) for its KaSaMa (Ka-Science at Ka-Math) Teachers Community in 2021 showed the growing demand for quality content and training amongst K-12 teachers.

The online professional community saw significant increases in webinar viewership, member sign-ups and resource downloads from its website, www.kasamateachers.ph, a one-stop hub for communication, collaboration, and learning and development.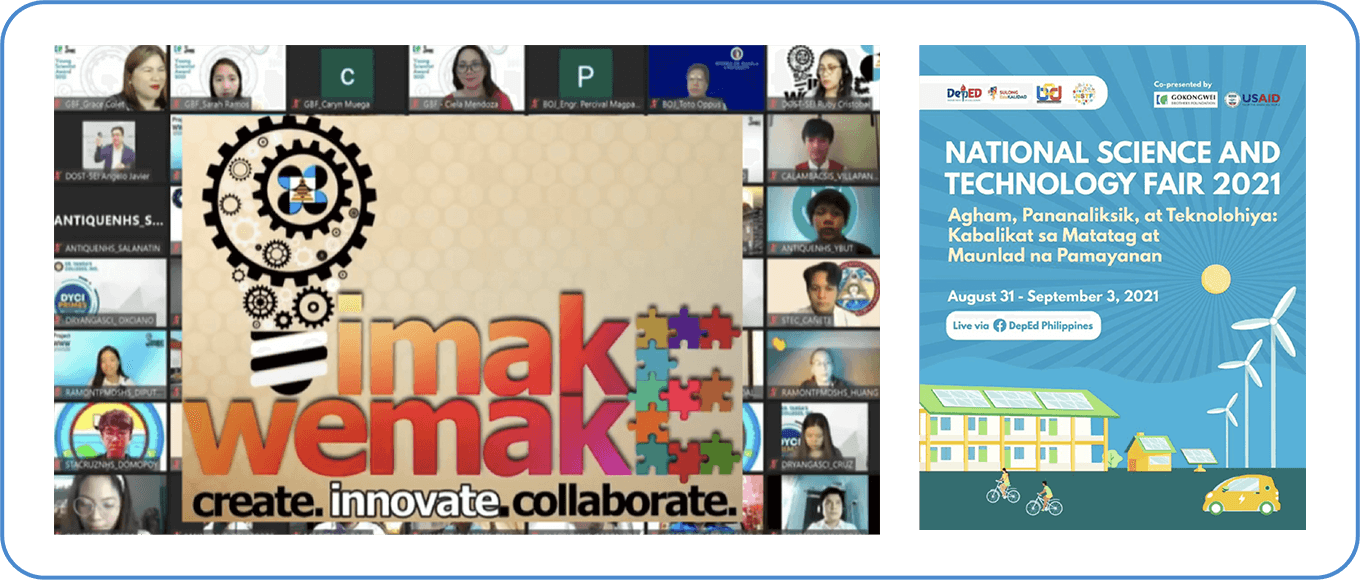 Project Future
Developing an Educators Flagship Program
A major thrust of GBF for STEM educators is the establishment of an innovative, scalable and high-impact professional development program, dubbed as Project Future. GBF engaged IDEO, a global pioneer in design thinking, to conduct the process of designing the program's blueprint. Around 140 key stakeholders were interviewed to discover the pain points and opportunities, as well as to help design the prototypes of the program. The target is to finalize the concept design in the first quarter of 2022 and start development of the project in the same year.

57
Education and Industry Experts
52
Students, Teachers and Principals
Endowments & Sponsorships

Ateneo Gokongwei Brothers School of Education and Learning Design (GBSEALD)

In line with its thrust of developing Centers of Excellence and Development, GBF continues to support tertiary education institutions to help elevate the quality of STEM education. Over the years, the foundation has provided endowments to the DLSU Gokongwei College of Engineering (2011) and the Ateneo John Gokongwei School of Management (2002).

2021 marked a significant milestone as GBF and the Ateneo de Manila University dedicated the Gokongwei Brothers School of Education and Learning Design (GBSEALD). With this, the Gokongwei Brothers Foundation Endowment for Educational Innovation was established. The endowment will be used for GBSEALD's three strategic goals:


GBSEALD Strategic Goals
The endowment will also establish the Lily Gokongwei Ngochua Leadership Academy that will implement effective and relevant leadership development programs for principals and other educational leaders, especially in public education.

2021 recorded 182 Master's degree program enrollees under academic programs such as MAs in Education, PhD in Education, EdD, and BS Learning Design. In terms of faculty and leadership development, 13 programs have been launched since June 2021 with 1,977 participants attending these efforts.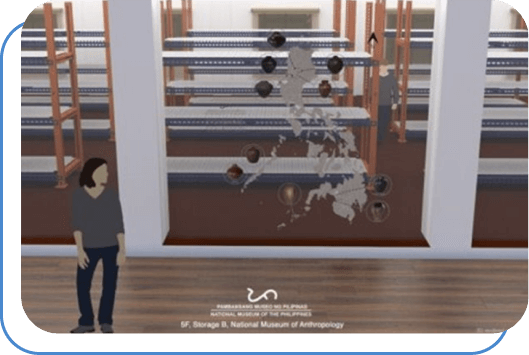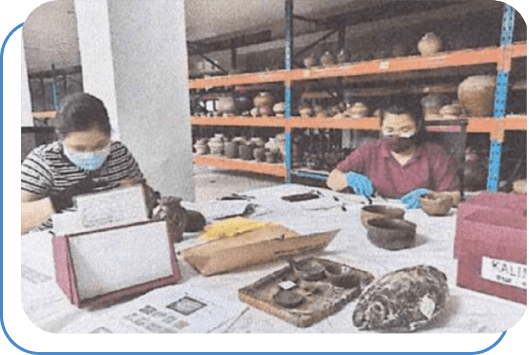 National Museum Partnership
GBF has also partnered with the National Museum for the establishment of the Elizabeth Yu-Gokongwei Ethnographic Stoneware Resource Center and Visible Storage which will include a 360-degree virtual reality tour of the collection. The expected completion of the project is slated 2022.
Outlook for 2022 and Beyond
For 2022 and beyond, GBF has set itself on a steadfast track in reaching its goal of taking part in the learning journey of 10,000 educators and 1,000,000 learners by 2025 while discovering more about the needs of its stakeholders and becoming more responsive with its program offerings.

2022 Plans and Targets
913 scholars with 613 learners and 300 educators in 2022, who will also be supported with the Juan-to-Serve leadership development and PWR Up upskilling programs as part of the Scholar Development Journey
To continue efforts to build and strengthen STEM educator communities and to develop STEM champions, including the conduct of various webinars and online courses
Push STEM Excellence advocacy with the use of advocacy marketing and technology as well as the provision of continued support to STEM competitions.
To continue Juan Community for Education, focusing on community mobilization and addressing learning and resource gaps through Juan Brigada Eskwela and Juan Kapatid Tutorial
In July 2022, GBF's will also be celebrating its 30th Anniversary with a series of activities that will culminate in June 2023
GBF's Project Future for Educators Professional Development will start its set-up phase after completing its discovery and ideation journey that will determine the blueprint of the program
Continuing relief and rehabilitation efforts for communities affected by Typhoon Odette in partnership with Shang Properties, Kerry Group Philippines Foundation
GBF will work more closely with partner universities to support relevant and productive use of Endowments while providing insights and advice on industry trends. New efforts such as the development of programs include the following:

School of Lifelong Learning with the DLSU Gokongwei College of Engineering
Curriculum review and revision for the Ateneo John Gokongwei School of Management
With the newly established Gokongwei Brothers School of Education and Learning Design at the Ateneo de Manila University (GBSEALD), preparations will be underway for the first faculty chair alongside the approval of PhD/EdD program offerings
Under GBSEALD, the launch of the Lily Ngochua Leadership Academy is also expected with the commencement of its Whole Person Educational Leadership program offering