Digital Transformation Office Initiatives
We generated business value from digitally-enabled projects and operational processes of corporate center units.
Project Judith, the cross-functional task force formed by JGS Corporate Procurement in 2019 to solve payment-on-time issues, is reaping the impact of initiatives driven by design thinking and being agile.
The JGS Digital Transformation Office (DTO) supported JGS Corporate Human Resources in the operationalization of data and predictive models to understand employee lifecycle and deliver better employee experience.

JGS DTO's support to the supplier experience and employee experience initiatives of the conglomerate trained both project teams that technology is not the sole lever for digital transformation, and that people and process transformation are equally important.
We collaborated with strategic business units to address major pain points and generate business value.
The JGS DTO worked with Robinsons Bank in establishing an experimentation process in order to grow its RBank Digital (mobile banking app) user base. The experiments involved constantly looking at data and getting insights, designing tests to validate experiments, and analyzing the results in an iterative cycle.

These led to an increase in the app's monthly active users, installs, and successful registrations.
Operational dashboards for Universal Robina Corporation (URC) provided a single source of truth to aid in decision making.

There was parallel culture building as JGS DTO resources were embedded in these strategic business units' project teams. This resulted in data-driven design decisions and fast, frequent delivery of value to customers.
We developed digital fluency and competency in the conglomerate.
JGS DTO's formal curriculum allowed the conglomerate's digital practitioners to be trained on specific skills, while informal learning sessions exposed non-practitioners to general industry trends.
JGS DTO led Unbox Extra: the Gokongwei Group Innovation Festival. More than 5,000 employees and partners across the Gokongwei Group participated in the day-long virtual event. The event featured 30 speakers from 4 continents representing start-ups, corporates, consultants, the academe, and the Gokongwei Group itself.
JGS DTO supported JGS Corporate Human Resources in the design and delivery of targeted and bespoke individual learning journeys for the conglomerate's Executive Development Program. The program focused on leadership competencies and digital awareness to constantly retool and future-proof the organization.

To measure outcome and impact attributable to the learning initiatives, JGS DTO closely partnered with strategic business units to measure learners' sustained behavior change and improvement of business results.
Technology Adoption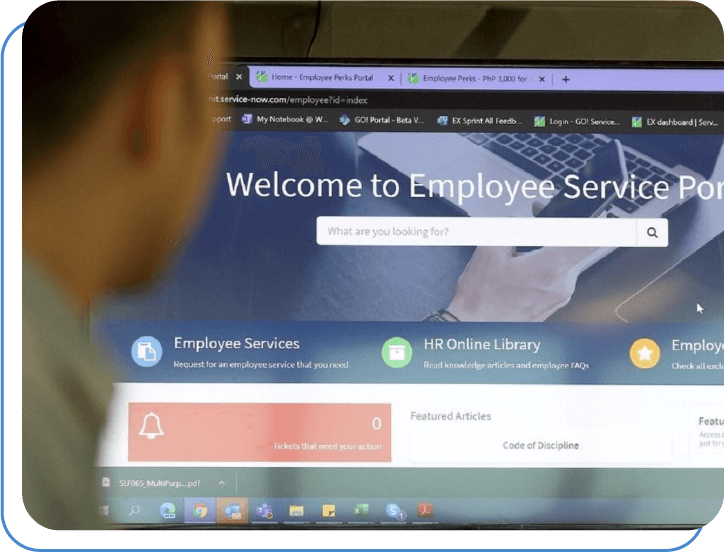 Completed the migration to a full Hybrid Cloud setup of all JG Summit Infrastructure and Network solutions. This was done in partnership with Infosys, Microsoft Azure and PLDT Vitro.


Fully adopted "Service Now Workflow" systems to enhance Employee Experience.


Achieved a seamless work-from-home setup through the use of Microsoft 0365 Productivity and Collaboration tools and Security Systems.


Rolled out a UI Path Robotics Process Automation solution across Aspen Shared Services and RRHI.


Used the Mulesoft Application Programming Interface (API) to drive a more effective and efficient integration for internal and external customers.
Employee Experience Initiatives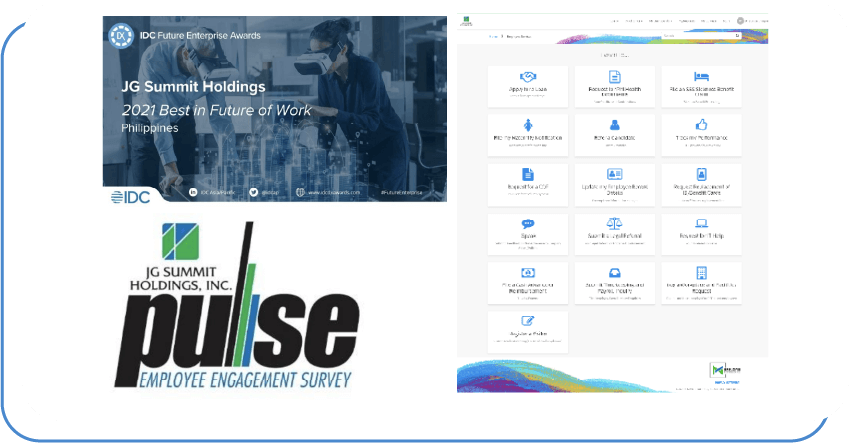 JG Summit recognized as the Best in Future of Work
On October 7, 2021, JG Summit was recognized during the IDC ASEAN DX (Digital Transformation) Summit. The IDC Future Enterprise Awards are presented by International Data Corporation, a global market intelligence and advisory services provider.


Employee Listening was supercharged via online means. Using Qualtrics, we have digitized how we pulse our employees and analyze quickly to turn insight to action, addressing service requests or information needs of our workforce. We also have the capability of benchmarking our results against global, country and industry standards. In our annual Employee Engagement Survey, the Group got an Employee Engagement Index of 81%, faring higher than the global average.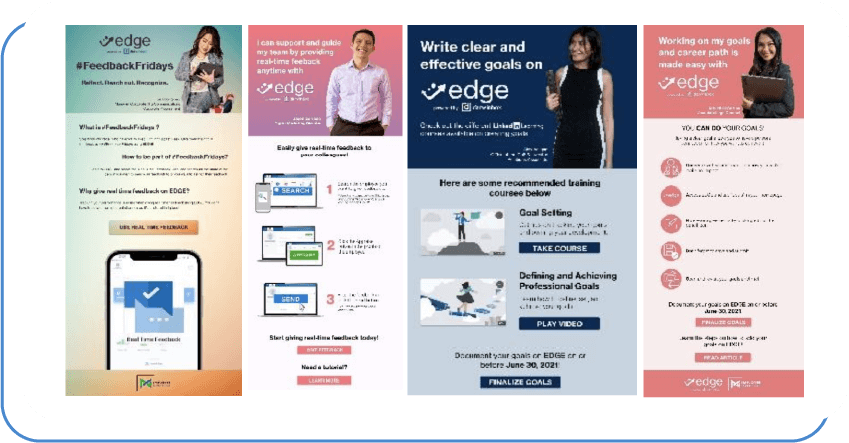 Equipping our Employees in their Growth and Development powered by Digital Tools
We launched an online platform called "Employee Development, Growth, and Engagement" or "EDGE" powered by Darwinbox. This provides more streamlined experiences in Recruitment, Performance Management, and Career Development for our employees, and makes it all available at their fingertips.


This is also pivotal in making our candidate experience be more seamless and hassle-free via our Recruitment process, and makes the onboarding process easier and fulfilling for new hires.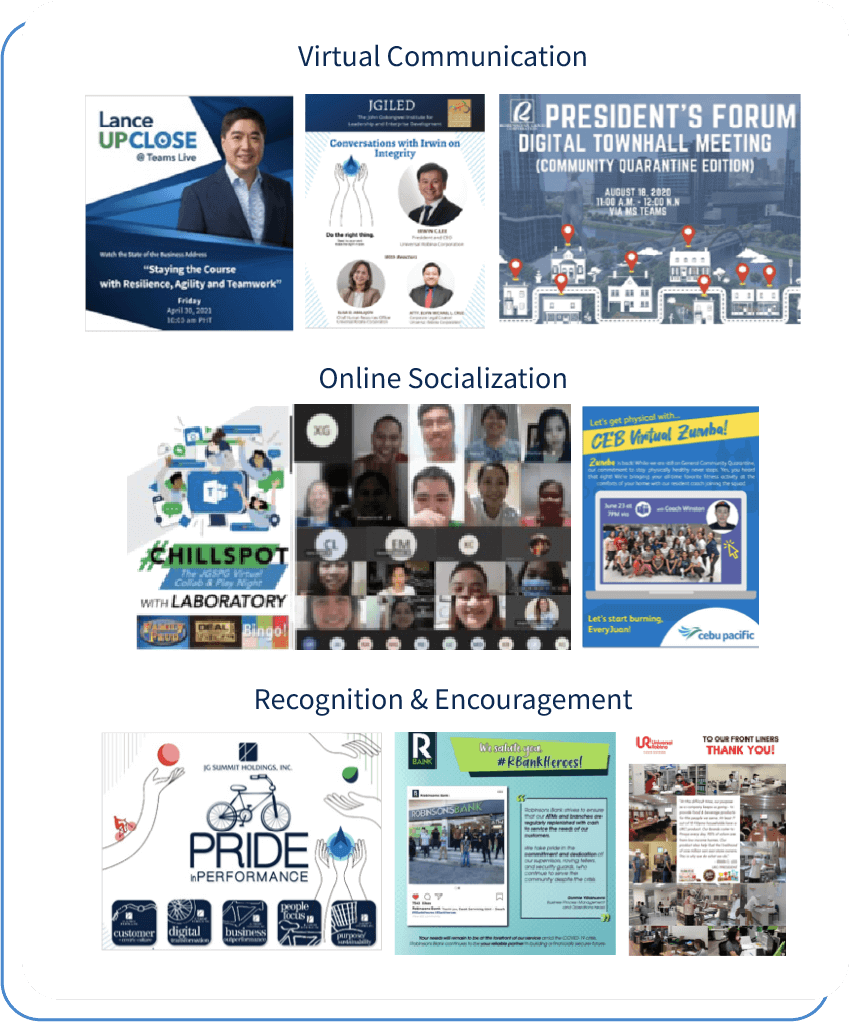 Embraced Remote Ways of Working to sustain our People Programs
We adapted to remain connected with each other through localized and group-wide initiatives on Leadership Communication, Online Socialization, and Recognition.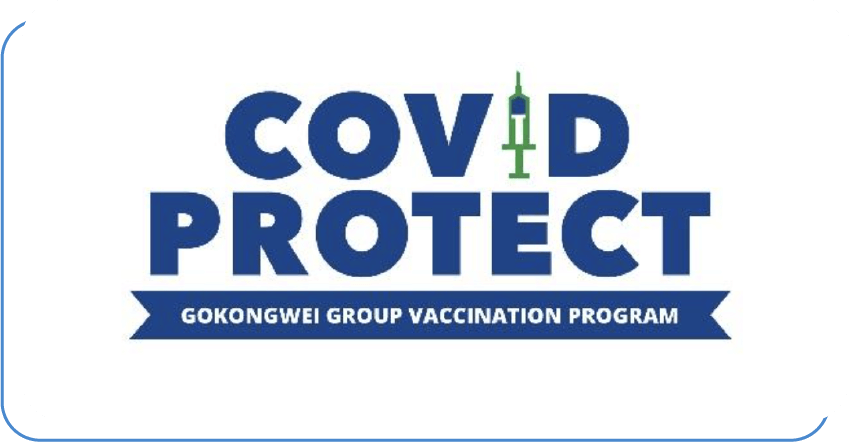 COVID Protect – Gokongwei Group Vaccination Program
Health & well-being remains a priority for us. We provided employees with a Telemedicine service called Telehealth at the Gokongwei Group. This program lets employees easily contact medical professionals for COVID and non-COVID related illnesses for them to get proper medical advice and e-prescriptions. In 2021, there were a total of 10,966 consultations by our employees.


We also provided our employees and their dependents access to vaccines through "COVID Protect – Gokongwei Group Vaccination Program." In 2021, we achieved 95% vaccination rate, both for our organic employees and third-party workers.


We also established 57 partner hospitals for our employees to have a direct link for special access on hospital admissions in the event that hospitalization due to COVID is necessary.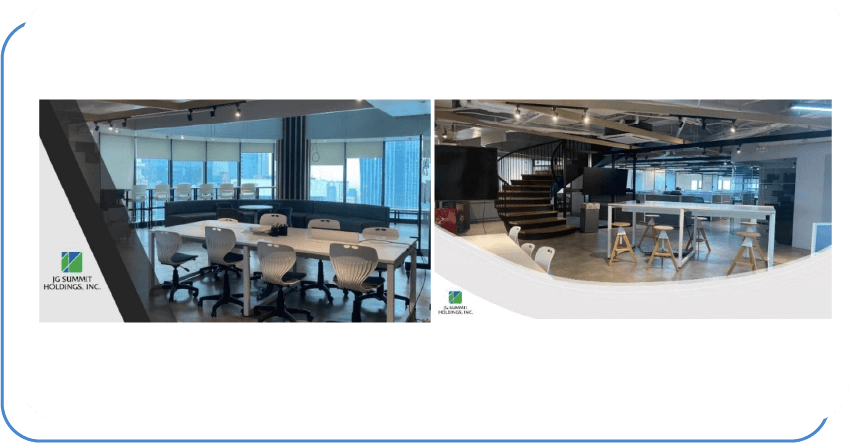 Improved Work Spaces to support Collaboration
We continued to improve our office workspaces to foster multi-functional collaboration, sustain employee productivity, and encourage agile and design-oriented thinking.