As 2019 draws to a close, Cebu Pacific has solidified its grasp on being the country's leading carrier, garnering the lion's share in terms of total capacity at two important gateways outside Metro Manila.
In Clark, where the airline has operated continuously for the last 13 years, Cebu Pacific cornered 28% capacity share, recently boosted by the launch of the direct commercial service from Clark to Guangzhou, China, on November 11; and to Puerto Princesa on November 17.
The latter route has also enabled Cebu Pacific to capture an even larger share in Palawan, standing now at 46% total capacity share. The twice daily flights from Coron (Busuanga) to Cebu, launched on October 27, 2019, also contributed to the increased share percentage.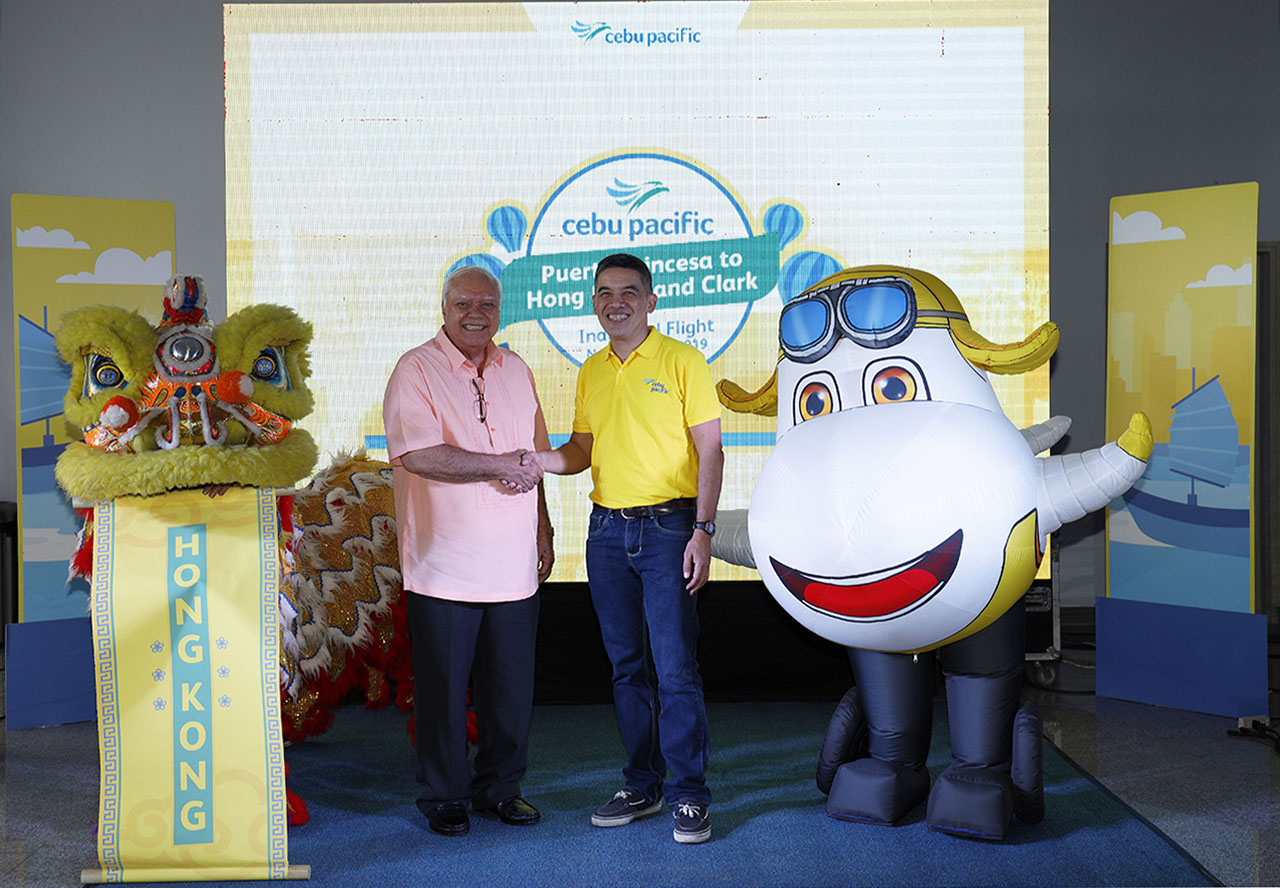 Puerto Princesa City Mayor Lucilo Bayron celebrates the launch of a new route from Palawan to Hong Kong with Alex Reyes, president and CEO of Cebgo.
"We are proud to have the most extensive route network from Palawan, with direct flights from Puerto Princesa to Clark, Cebu, Iloilo, Manila, and, Hong Kong; on top of flights from Busuanga to Cebu and Manila," said Alex Reyes, president and CEO of Cebgo, as the service from Puerto Princesa to Hong Kong officially commenced.
The direct connection between Hong Kong and Palawan is the first commercial international flight out of Puerto Princesa International Airport, where Cebu Pacific has continuously operated since 2003. CEB operates 148 flights weekly in Puerto Princesa, bringing its total seat offering to over 1.1 million seats by end-2019.
"This link will open more opportunities for tourism and trade—enabling entrepreneurs to expedite delivery of agricultural products from Palawan; as well as create jobs to cater to the needs of tourists," added Reyes, addressing a crowd that included Puerto Princesa City Mayor Lucilo Bayron and DOT Regional Director Danny Intong.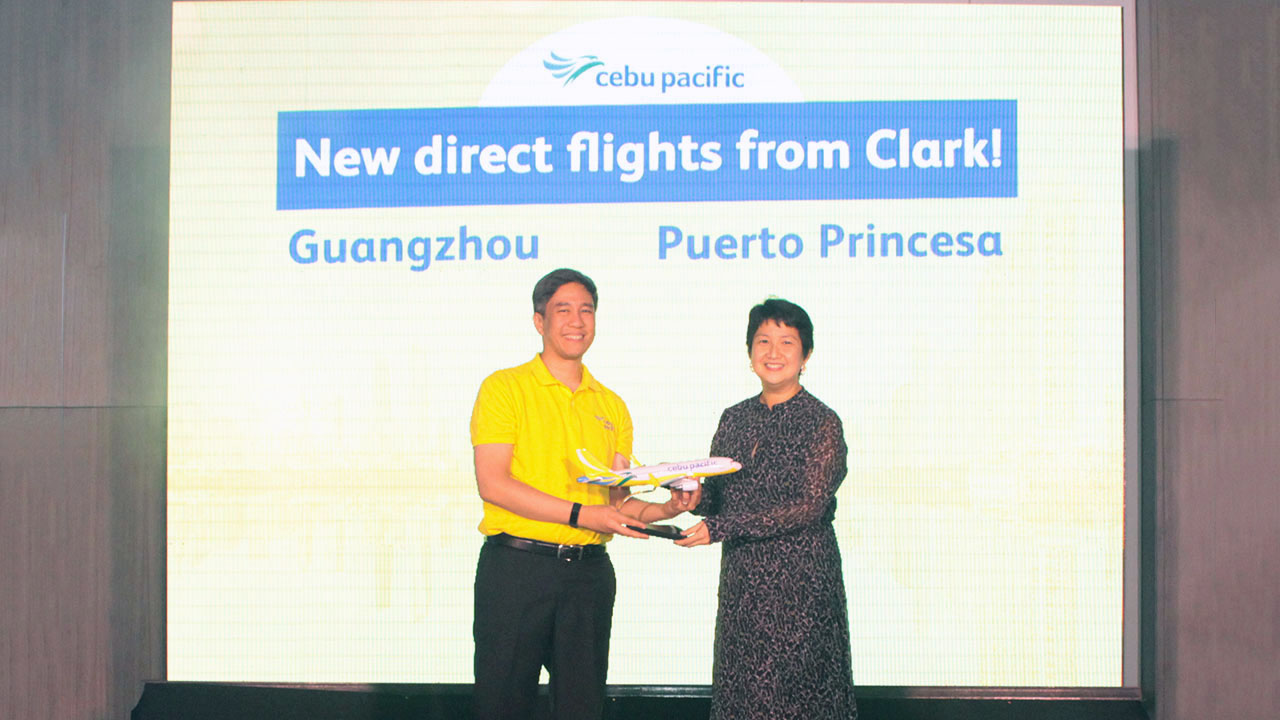 Cebu Pacific Chief Strategy Officer Xander Lao with Lipad Corporation's President and CEO, Bi Yong Chungunco.
Opportunities for tourism and investment growth are also present in Clark, which has seen passenger traffic rising steadily in recent years. By the end of this year, four million passengers are expected to pass through the northern gateway. From Clark, CEB operates 190 flights weekly to Bacolod, Bohol, Caticlan (Boracay), Cebu, Davao, Iloilo, Puerto Princesa, Guangzhou, Hong Kong, Macau, Narita (Tokyo) and Singapore.
"Cebu Pacific has taken a measured pace of expansion in Clark, but we have always believed in the potential of Clark as the aviation hub for residents of North and Central Luzon. Over the past 12 months, our capacity growth in Clark hit over 90%. With the growth in passenger traffic in Clark, we are bullish that the new routes we launched over the past few months will continue to perform strongly," said Alexander Lao, chief strategy officer of Cebu Pacific, as the airline launched its service to Guangzhou. CEB is the first local airline to offer a direct route to this important commercial hub in China.
"As the economy continues to grow and air travel expands in Clark, residents from Pampanga, Tarlac, Baguio and even La Union won't need to make the land trip to Manila just to catch a flight. Rather, we look forward to spurring domestic tourism—giving everyJuan a choice to fly either Clark or Manila, depending on their schedule."
Cebu Pacific aims to fly 200 million passengers by 2020 and 300 million by 2022. As of end-September 2019, CEB has flown over 16.7 million passengers on 121 routes and more than 2,681 flights weekly.
For more information, visit cebupacificaircorporate.com
For bookings and inquiries, visit cebupacificair.com or call the reservation hotlines (+632) 8702-0888 or (+6332) 230-8888. The latest seat sales can be found on CEB's official Twitter (@CebuPacificAir) and Facebook pages. You may also download the Cebu Pacific official mobile app on the App Store and Google Play.