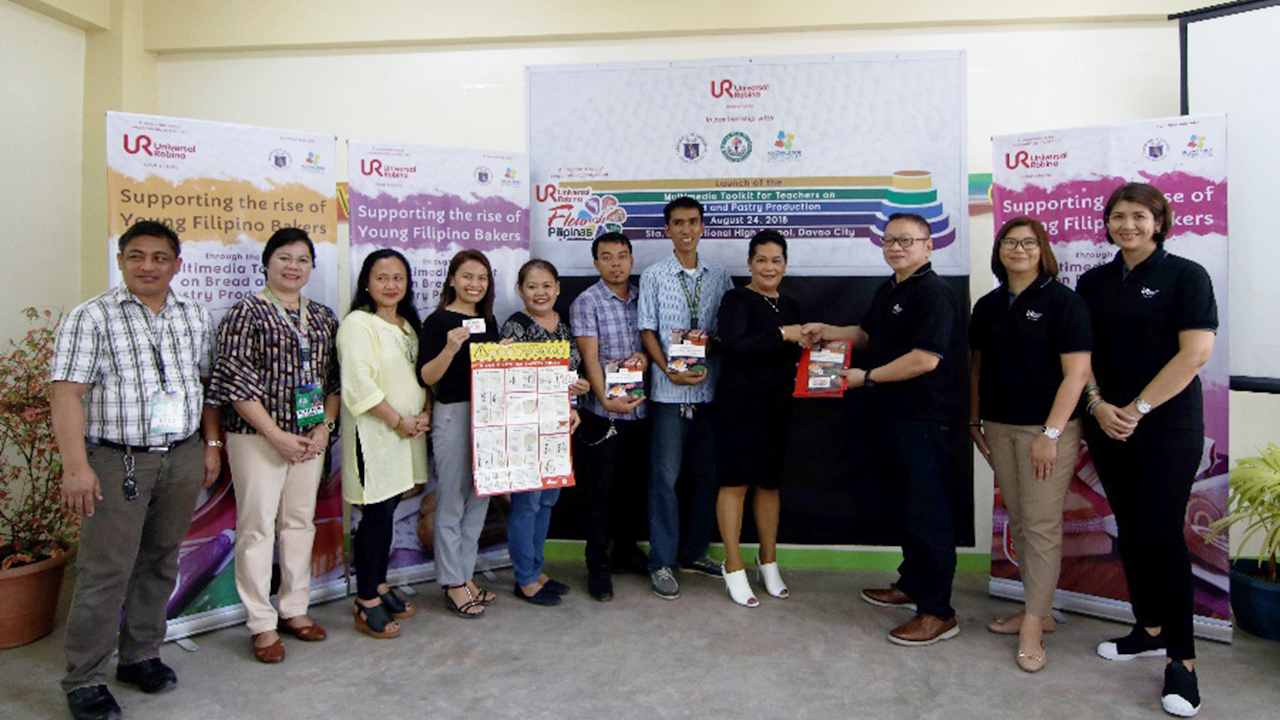 Turning-over the toolkits to Sta. Ana National High School, represented by its principal Dr. Evelyn Magno (fourth from right), is URC Flour and Pasta Division Business Unit General Manager Ellison Lee (third from right). Also present during the turnover ceremony are (from left): DepEd's Dr. Marcelo Roco, Dr. Alma Cifra and Luz Ferraren; Sta. Ana National Highschool's Eden Saljay, Jocelyn Sarvida, Alphe Binondo, and Jeffrey Bacalso; and URC Flour and Pasta's Chinkee Andres and Naida Ebora.
To support the growth of the country's baking industry, Universal Robina Corporation's Flour and Pasta Division partnered with the Department of Education to create the URC Flourish Pilipinas Multimedia Toolkit on Bread and Pastry Production, which has been turned over to six pilot schools in Davao City and five schools in Pasig and Makati.
The toolkits were presented in separate launches in Sta. Ana High School in Davao City on August 24, and Valle Verde Country Club in Pasig City on August 30.
Developed based on the DepEd's K-12 Technical Vocation curriculum, the multimedia toolkit includes a recipe book and 12 instructional videos on baking which contain tried and tested recipes, tips and facts necessary to develop the right baking and pastry-making techniques among enrolled grades 11 and 12 students.
The content of this toolkit is based on industry leading best practices which, when passed to students, can help increase their employability in the hotel and restaurant Industries or even help them in starting up their own small food business.
"Through this project with DepEd, we hope to help provide consistent vetted teaching materials and ensure that students use the right kind of flour for the recipes that they are baking," said Naida Dalisay-Ebora, National Sales and Marketing Director of the URC Flour and Pasta Division.
The beneficiary schools in Davao City include Catalunan Pequeño National High School, Mulig National High School, Don Enrique Bustamante National High School, Camansi National High School, Mahayag National High School and Sta. Ana National High School. Their Metro Manila counterparts are Benigno Aquino High School, Fort Bonifacio High School, Makati High School, Rizal High School, and Sta. Lucia High School. A total of 1,109 students were reached by this project.
Aside from the toolkit, the schools will also receive one-year supply of flour which will be used by senior year high school students who will take up bread and pastry production.
In her keynote message during the Metro Manila turnover, DepEd Undersecretary for Curriculum and Instruction Lorna Dig-Dino highlighted the importance of hands-on experience in learning skills like baking, saying that paper and pencil knowledge is not an accurate indicator of competence.
Dr. Alma C. Cifra, the chief of the Davao City Curriculum Implementation Division, also lauded the project stating that the interactive learning materials will promote standardization and cost-efficiency in the learning experience.
Ellison Dean C. Lee, Vice-President and Business Unit General Manager of the URC Flour and Pasta Division, also shared that the use of innovative teaching materials can increase the productivity of both teachers and students. He also mentioned that "URC believes in investing in education because it is tantamount to investing in the Filipino worker," thus it will continue to support students who will eventually be the workforce that run companies and industries.
The URC and DepEd partnership also includes a baking competition for students in these pilot schools. URC Flour and Pasta Division Marketing Manager Chinkee Andres said that this element of the project is intended to motivate the students to sharpen their baking skills and assess the effectiveness of the learning materials.