For the past two decades, Cebu Pacific has changed the way people fly—enlarging its base of air travelers from just a little over a million to about 30 million today. The Philippines' leading carrier aims to fly 200 million passengers by 2020, and 300 million by 2022. But while moving people is its core service, CEB has other revenue streams. One of these is cargo—a vital service given the increasing demands for logistics across the archipelago.
In the first half of 2019, cargo operations accounted for 2.8 billion pesos in revenue, an increase of 7% year-on-year, from the transport of over 100 million kilograms of cargo. While cargo revenues account for under 10% of total revenues, the business has exhibited double-digit growth over the past two years alone on the back of strong demand from exporters, importers and e-commerce entrepreneurs.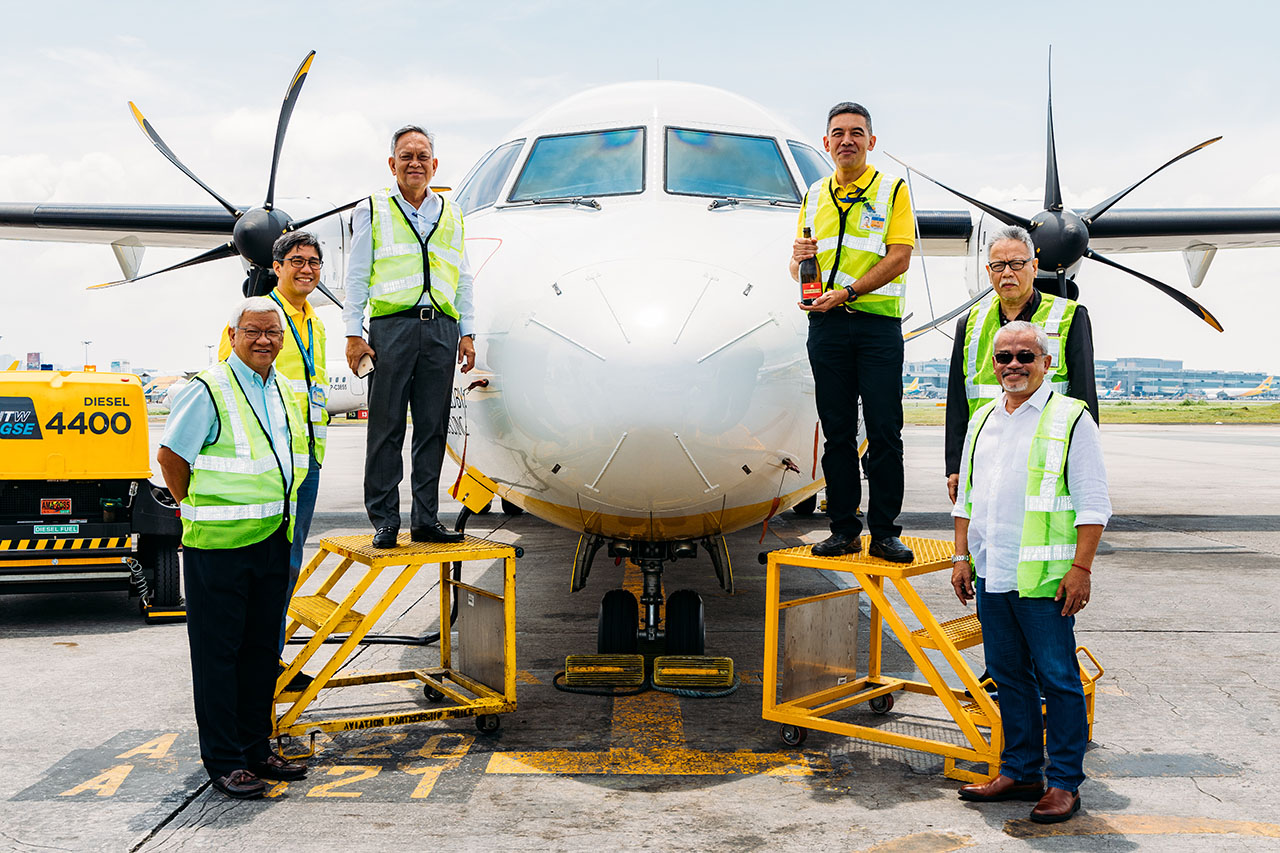 Joining team CEB to welcome the all-cargo freighter were (from left) Capt. Jim Sydiongco, director-general, Civil Aviation Authority of the Philippines; Manila International Airport Authority General Manager Eddie Monreal; and Carmelo Arcilla and Capt. Don Mendoza, executive director and deputy director, respectively, of the Civil Aeronautics Board.
As the country's economy has improved in recent years, so has the demand for quick, reliable, efficient and cost-effective air freight services. To capitalize on the growing market demand, Cebu Pacific had two of its ATR 72-500 passenger planes converted specifically for cargo use. The conversion was performed at the Sabena Technics DNR S.A.S. facility in Dinard, France. The first of the cargo freighters was commissioned into service this August; the second ATR 72-500 will be delivered later this year. The cargo planes, part of a fleet that had been recently retired from passenger service, will be operated by Cebu Pacific subsidiary Cebgo.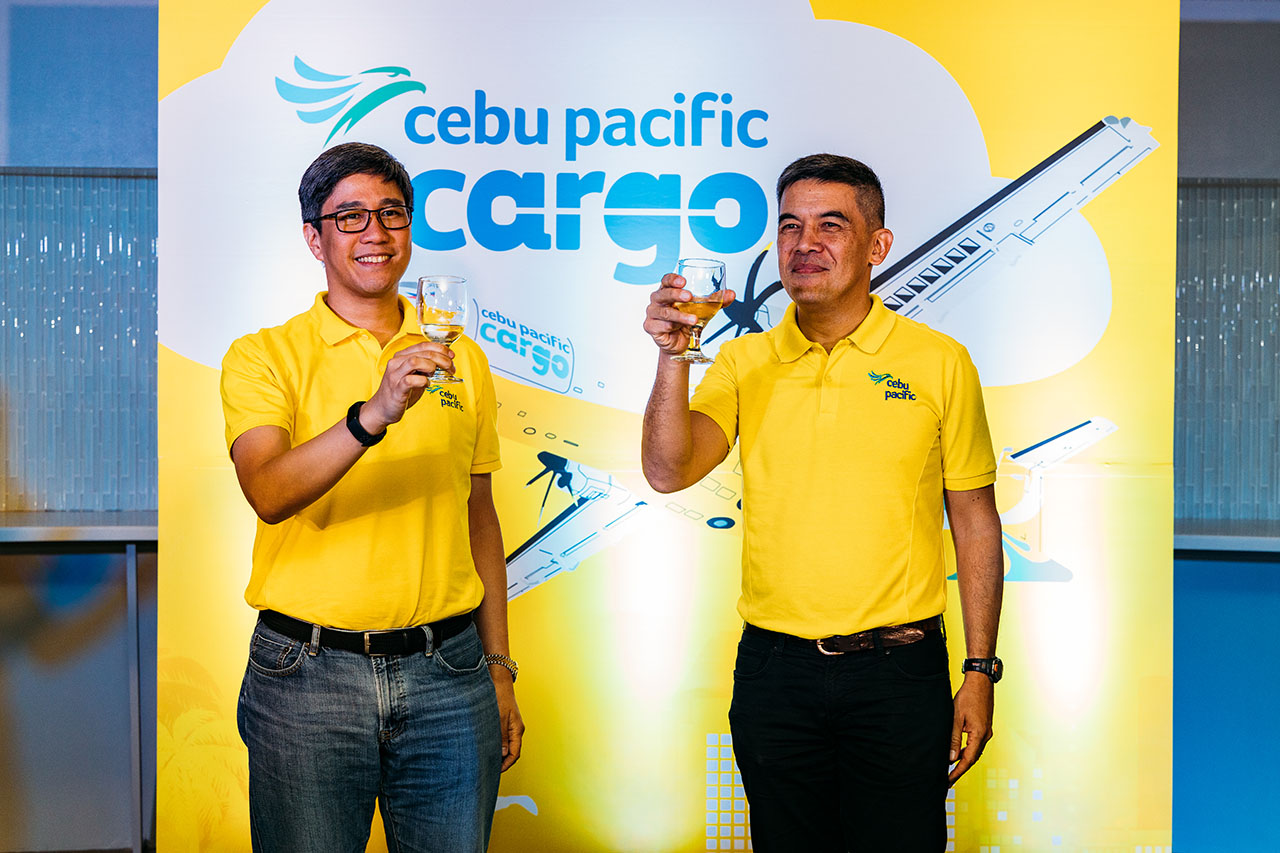 Alexander Lao, President and CEO of Cebgo; and Alex Reyes, Vice President–Cargo for Cebu Pacific, raise a toast.
At the August 14, 2019, launch ceremony for the first of the converted planes, Alexander Lao, president and CEO of Cebu Pacific subsidiary Cebgo, said, "It's another exciting time for the Cebu Pacific group as we formally welcome into our fleet our very first ATR freighter. We are the only Philippine carrier to have this kind of cargo capability; and one of the few carriers in the region to have a dedicated freighter aircraft."
Later, Lao spoke about the growing importance of cargo in Cebu Pacific's business model, and also said that the freighter complements the airline's fleet of Airbus jets, "which, by 2024, will all have the ability to carry palletized cargo. Movement then of goods from small Philippine islands to big international consolidator ports and hubs in the region, will be easier and more efficient."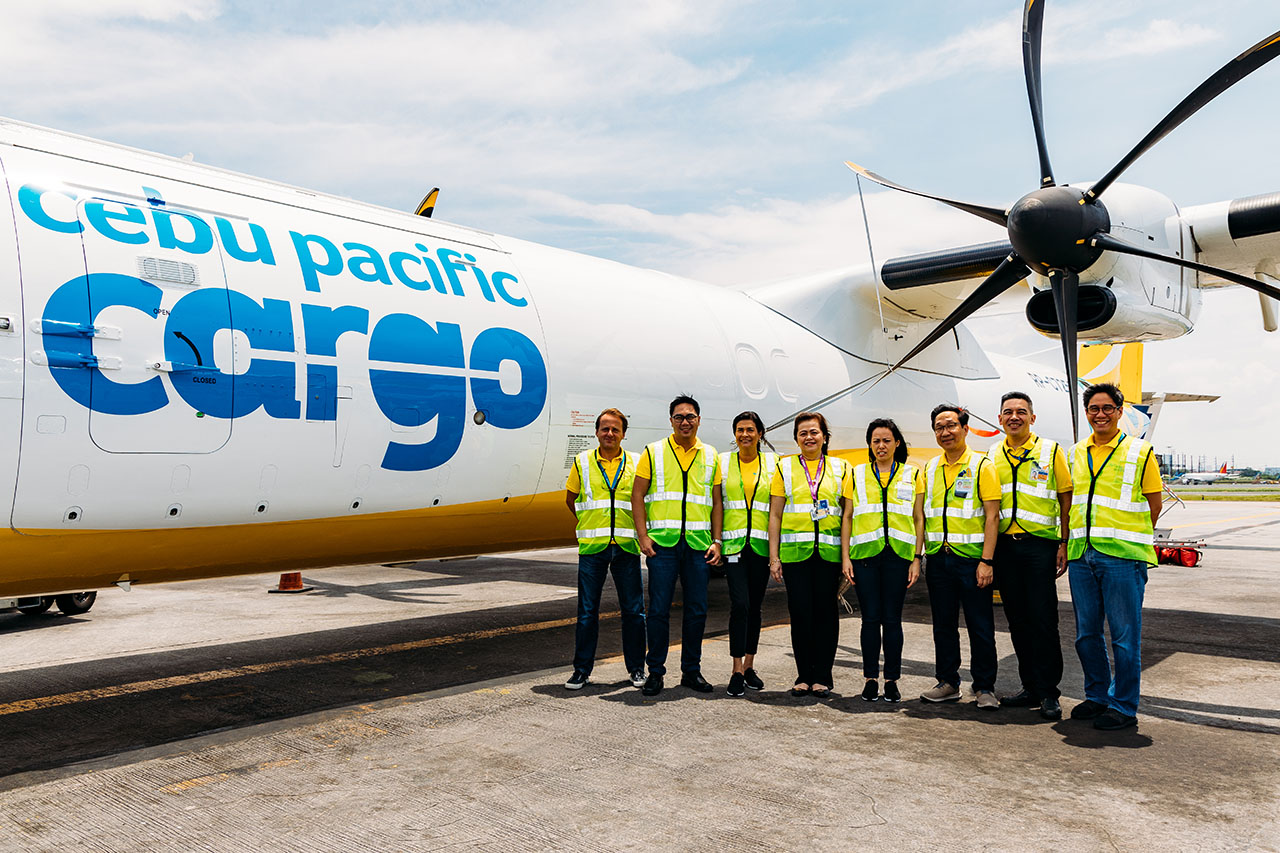 CEB Mancom (from left): Javier Massot, executive adviser for Airport Services; Felix Lopez, VP-People Department; Titit Menchaca, VP-Inflight Services; Laureen Cansana, chief information officer, Atty Dinnie Tieng, VP-Legal; Mike Shau, chief operations officer; Alex Reyes; and Xander Lao.
At the same event, Alex Reyes, Vice President–Cargo for Cebu Pacific, said, "Our ATR freighter will significantly improve our position in the domestic cargo market, addressing the gap between quantity of goods to be shipped, urgency and infrastructure limitations. Of the 90 airports in the Philippines, only about a third can land jets. The rest have runways that are less than 1.2 kilometers long – which is perfect for the ATR.
"With the ATR, we can get to destinations with strong demand for perishable cargo, but with no capability to handle jets. These are places such as Busuanga, Marinduque, and Baguio. With the reconfiguration of the ATR freighter, we will be able to carry up to 8 tons of goods."
The ATR freighter's operations are set to begin on September 4, 2019, with a route planned to take advantage of the harvest season in Mindanao. According to Lao, operations will transfer to the Sangley Airport in Cavite when it becomes operational, which is expected later in 2019.
For more information on Cebu Pacific and Cebgo, visit cebupacificaircorporate.com