Bridgetowne, Robinsons Land's premier destination estate, embraces the power of public art to shape the cityscape.
Standing proudly in the rapidly developing estate is "The Victor" – the first of many planned public art installations – serving as a catalyst for the transformation of Bridgetowne into a thriving arts and culture hub and creating a welcoming public space for residents and visitors alike.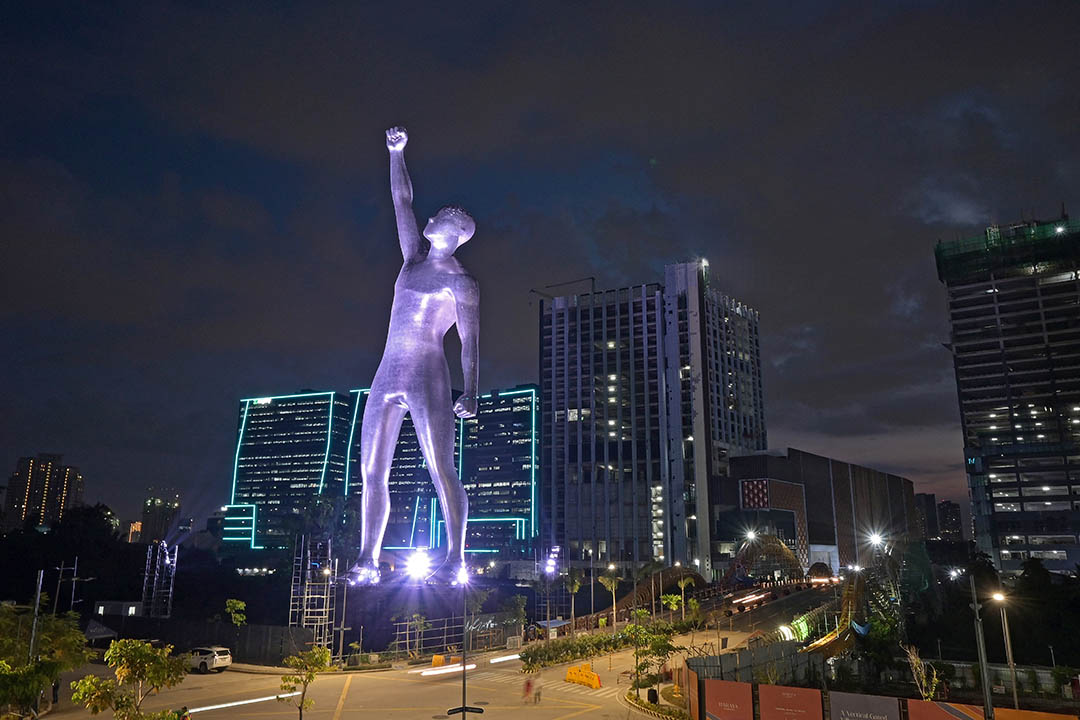 Built in collaboration with renowned Fil-Am artist Jefre Manuel-Figueras, "The Victor" pays homage to the indomitable spirit of our people, capturing the resilience and unwavering determination that resides within every Filipino. Its all-conquering pose, with a clenched fist thrust in the air, is a salute to our countrymen who have achieved greatness both within and beyond their homeland. These individuals, whether they are acknowledged legends, emerging talents, or everyday heroes, symbolize the brave pursuit of challenging the status quo and trailblazing new paths.
The towering art installation is also inspired in part by the remarkable story of John Gokongwei Jr., the founder of the Gokongwei Group. From humble beginnings, the late Mr. Gokongwei overcame great adversity and successfully emerged as an iconic and transformative figure in the industry, and in the process made an enduring impact on his country.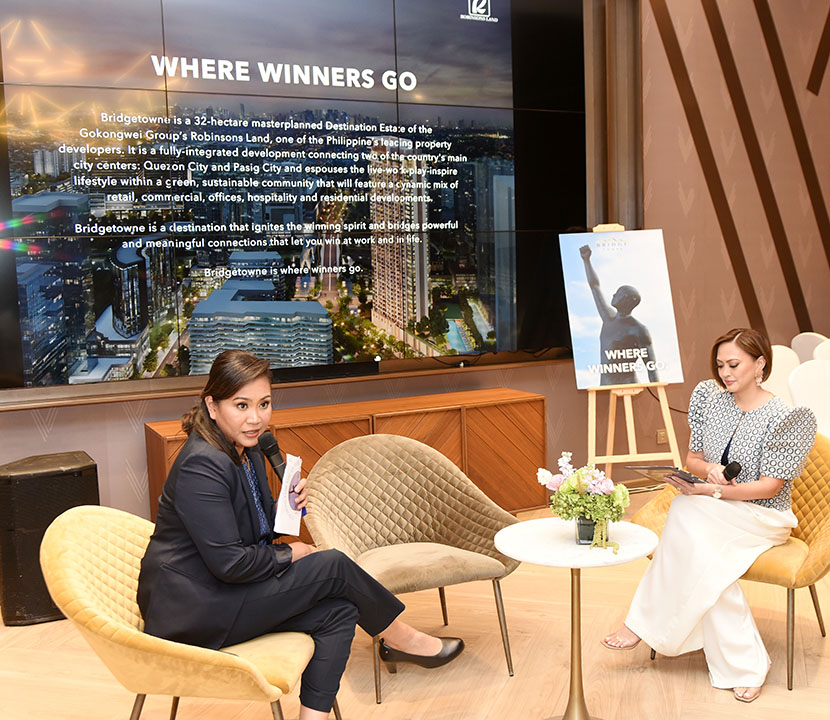 Clad in perforated stainless steel, the masterpiece serves as a testament to his journey of resilience, bridging connections, and igniting the unwavering Filipino winning spirit. It stands to honor his legacy, inspiring all who encounter it to carve their own paths to greatness and make a meaningful difference in the world.
The Victor is destined to be the star of countless social media posts, an icon that captures the beating heart of the city, very much like the Eiffel Tower and the Arc de Triomphe of Paris, Big Ben of London, and the Colosseum of Rome — Mybelle V. Aragon-GoBio, RLC SVP and GM for Robinsons Destination Estates.
Constructed on the eastern portion of the 32-hectare Bridgetowne Destination Estate, the newly unveiled statue weighs 330 tons and stands 60 meters or 20 stories tall, (55 meters for the statue itself and an additional 5 meters for the podium it rests upon), easily surpassing the height of the Statue of Liberty, which measures 46 meters from heel to torch. "The Victor" is, in fact, one of the world's tallest lighting projection art installations, which will undoubtedly make it a must-see attraction for both foreign tourists and locals alike.
"It's destined to be the star of countless social media posts, an icon that captures the beating heart of the city, very much like the Eiffel Tower and the Arc de Triomphe of Paris, Big Ben of London, and the Colosseum of Rome," says Mybelle V. Aragon-GoBio, RLC senior vice president and general manager for Robinsons Destination Estates.
THE POWER OF PUBLIC ART
Bridgetowne, once the site of a production plant and textile manufacturing hub, has been transformed from an industrial space into a livable and emerging hub of community, creativity, and commerce. Recognizing that art has the extraordinary ability to breathe new life into cities, revitalizing public spaces and fostering a sense of community, Robinsons Land invested in the integration of unique public art installations in its open spaces and opened doors to collaborate with Filipino artists.
"We work with local artists to manifest our vision of an urban landscape that empowers individuals to live, work, play, and find inspiration. Art breathes life into cities, infusing them with culture, soul, and emotion. Just as with 'The Victor,' our aim is to inspire and unite people, spark their imagination, and leave a lasting impression on those who see and experience it," said Aragon-GoBio.
This also makes RLC's role as a real estate developer more fulfilling, adds Aragon-GoBio. While real estate development traditionally focuses on constructing buildings and infrastructure, integrating public art into developments adds an extra dimension of social and cultural enrichment in the spaces that RLC creates. These spaces resonate with people on a deeper level, making the real estate company's work more meaningful.
WHERE ARTISTRY MEETS CONNECTIVITY
Visiting Bridgetowne to see "The Victor" offers the opportunity to appreciate another work of art that gives the destination estate its name.
Designed by the late National Artist Francisco "Bobby" Mañosa, a visually stunning bridge connects the 9-hectare Quezon City side (Bridgetowne West) of the development with its 23-hectare Pasig City side (Bridgetowne East). After the passing of his father in 2019, Architect Gelo Mañosa, representing the family's architectural firm Mañosa & Co., completed the project.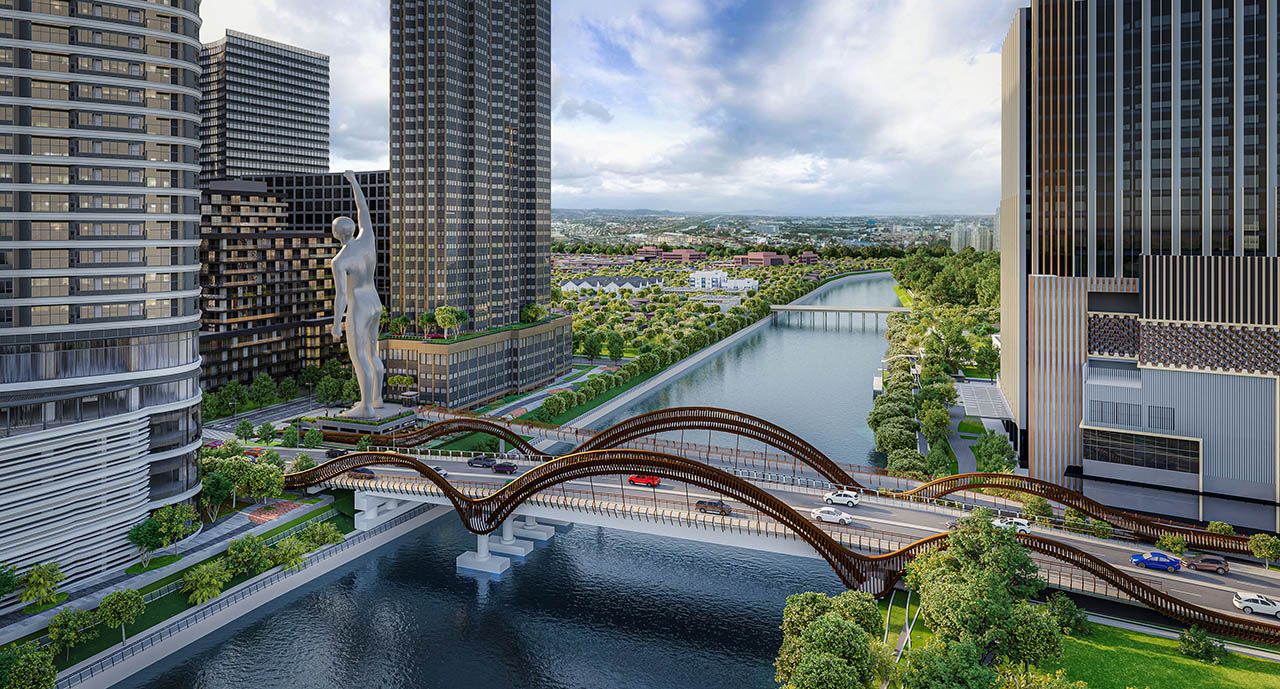 Inspired by the ribbon depicted in the Bridgetowne logo, the bridge is symbolic of emerging triumphant at the finish line, reaching milestones, and accomplishing goals. The bridge is a visual representation of the determination to achieve success that Bridgetowne fosters.
Spanning gracefully across the Marikina River, the bridge is 110 meters in length with an expansive width of 25 meters. It allots four lanes for vehicles and has dedicated lanes for pedestrians and bikers. Serving as a vital component of Bridgetowne's infrastructure, the bridge seamlessly connects one point of Metro Manila to another, significantly reducing travel time for both vehicles and pedestrians.
A DESTINATION ESTATE WHERE WINNERS GO
Bridgetowne is a destination estate offering a multitude of life-enhancing amenities.
The Opus Mall, an upscale 5-level shopping, dining, and recreation destination, is slated to open later this year. The forthcoming Fili Hotel, by Robinsons Hotels and Resorts, the country's first homegrown Filipino 5-star hotel brand, will have 300 well-appointed rooms providing guests with luxurious accommodations and signature Filipino hospitality and craftsmanship.
The estate features sustainable architecture through its line-up of premium-grade office buildings in Bridgetowne West, such as the Exxa-Zeta, Tera, and Giga towers, distinguished by their LEED (Leadership in Energy and Environmental Design) certifications, while the highly anticipated GBF Towers 1 and 2 are poised to achieve LEED Gold certification upon completion.
These buildings prioritize energy efficiency, green practices, and a conducive work environment, attracting multinational and local companies.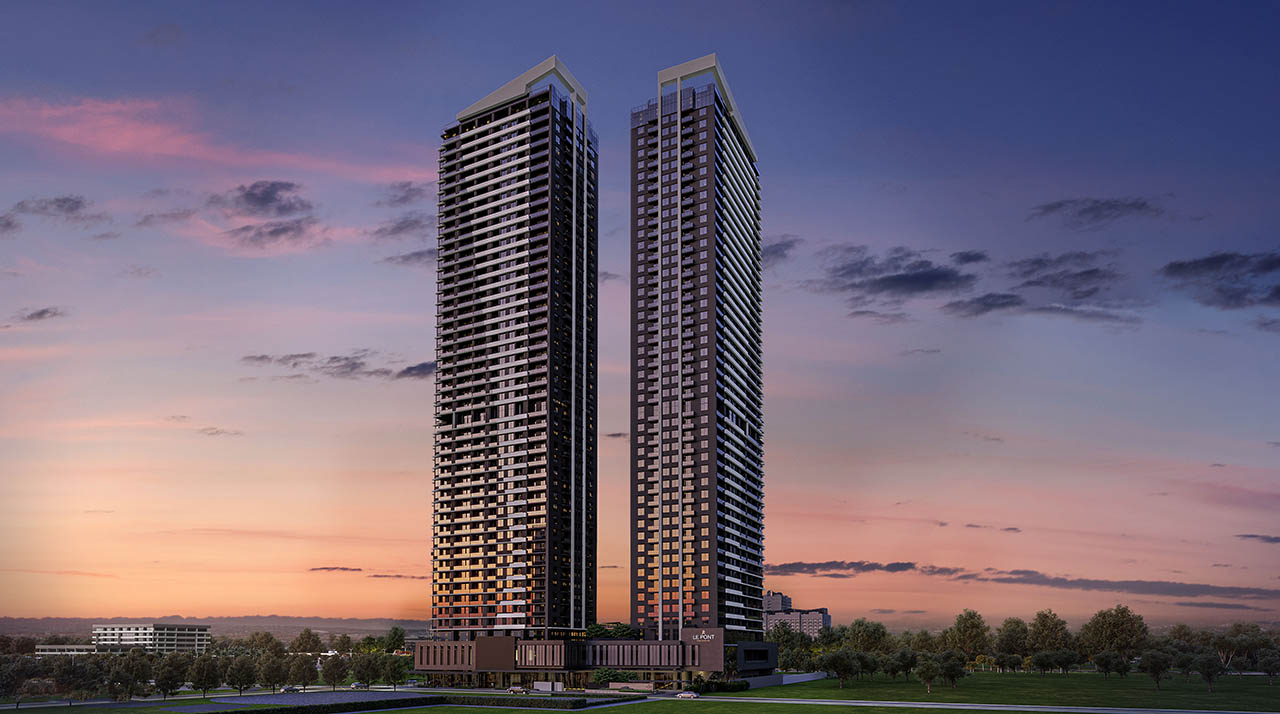 Nestled within Bridgetowne East, a thriving neighborhood is set to rise with RLC's line-up of upscale residential towers that are poised to become the most coveted addresses in the city. Among them are luxury residential developments such as the Velaris (a joint venture with Hongkong Land), Haraya (a collaboration with Shang Properties), and Le Pont, and the premium Cirrus by RLC Residences.
Blue Leaf Cosmopolitan, an events venue known for its modern and sleek design, is also found in Bridgetowne. As the premier choice for grand celebrations, corporate events, meetings, conferences, exhibitions, and product launches, it offers impressive facilities and impeccable service, setting the stage for unforgettable experiences.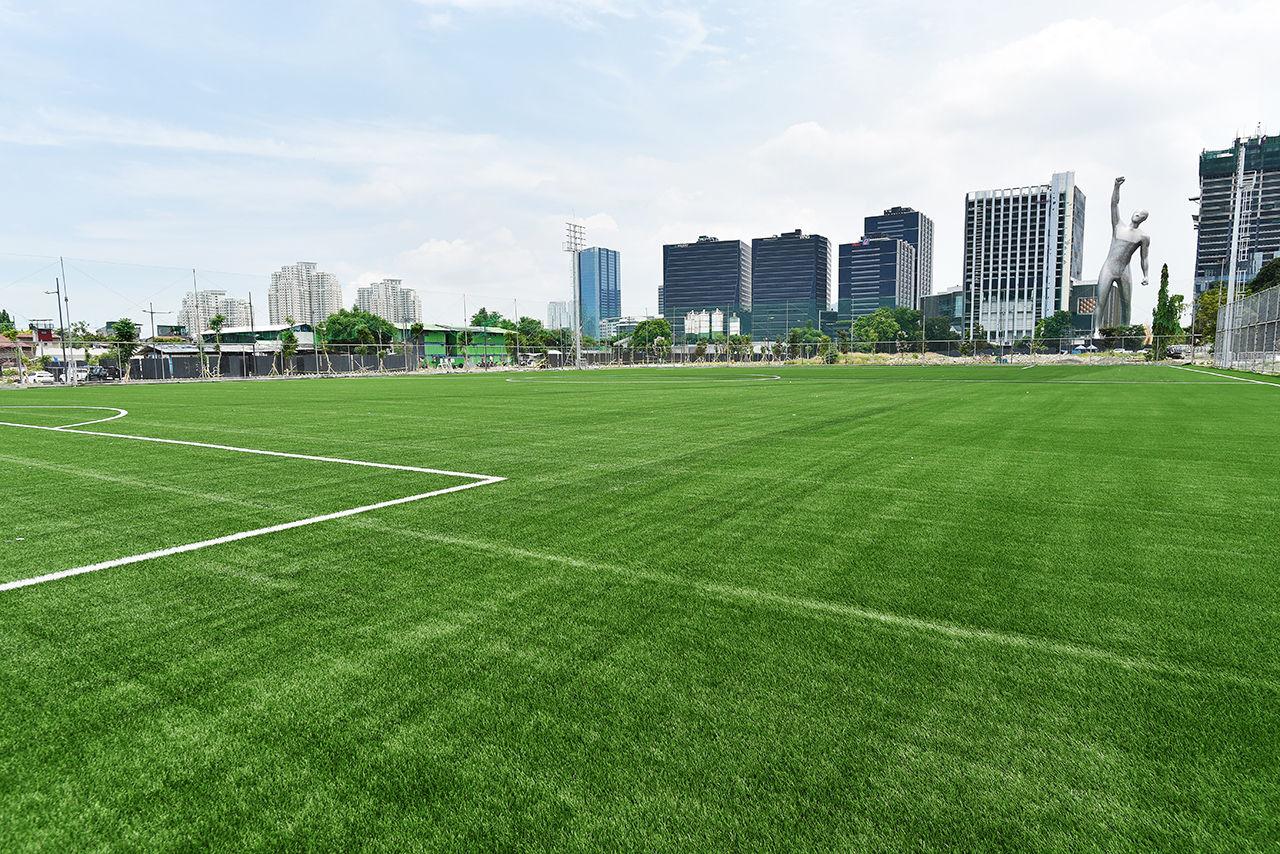 Recreational open spaces that promote wellness are another highlight of the estate. The 6,000 sq. m. Bridgetowne Obstacle Park, the world's largest outdoor obstacle park, provides an exciting venue for open air activities. The upcoming Bridgetowne Football Pitch, which meets FIFA's stringent standards, will be the country's premier football field. An adjacent premium sports bar and lounge will serve as a hub for sports and entertainment, complemented by additional sports facilities and recreational amenities.
With its premium residential developments, sustainable office buildings, upscale retail and dining options, 5-star hospitality, and recreational open spaces, Bridgetowne effectively embodies the "live-work-play-inspire" lifestyle like no other real estate developer.
In 2022, Bridgetowne was named Best Township Development and Best Township Master Plan Design at the prestigious PropertyGuru Philippines Property Awards, further solidifying its position as a benchmark for excellence in integrated developments and setting the standard for future developments in the country.
For more information, partnership or leasing inquiries, visit robinsonsland.com/industrial-and-integrated-developments-division or send a message on facebook.com/bridgetownedestinationestate or instagram.com/bridgetownedestinationestate.