Robinsons Land, the real estate development arm of JG Summit Holdings, received two major honors at the recently held Global Good Governance Awards.
Organized by Cambridge International Financial Advisory, a UK-based consulting firm, this year's 3G Awards were presented at a hybrid ceremony earlier this month in Dubai. First handed out in 2016, the awards aim to promote best practices in governance and sustainability by celebrating "individuals, governments, public and private institutions, and non-governmental organizations that demonstrate making governance and sustainability a strategic priority of their organizations."
By receiving the 3G Championship in Corporate Governance Framework Award, RLC demonstrates its excellence in ensuring transparency, accountability and ethical conduct in its operations, sustainable business growth, and creating long-term value for all stakeholders.
The 3G Best CSR Initiative Award, on the other hand, was presented to the company for the outstanding social impact delivered by its RLove CSR initiative. Founded in 2016, RLove spearheads various social welfare and advocacy projects through philanthropy, volunteerism, and partnerships. It aims to enrich lives and provide a better future for communities where RLC operates.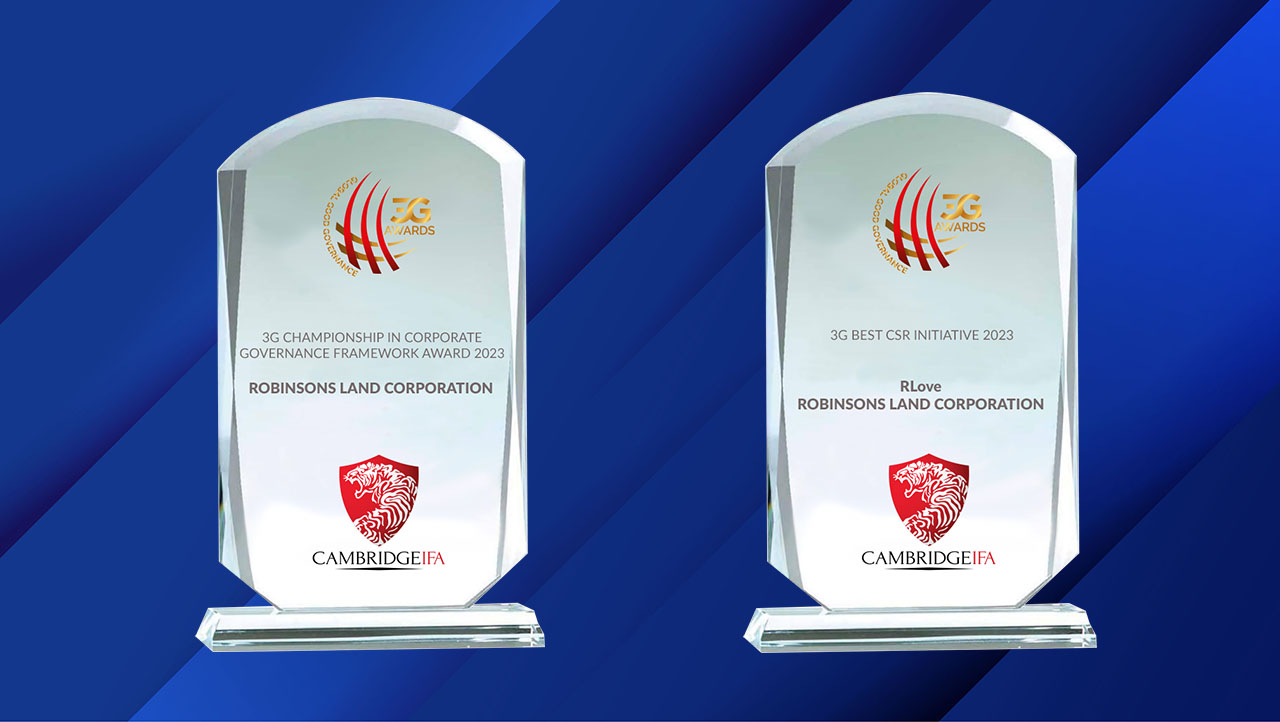 Thanking the 3G Awards organizers for recognizing the company, RLC President and CEO Frederick D. Go said, "These awards will serve as our inspiration to continue our long-standing advocacy to provide sustainable developments in the communities with active participation of all our stakeholders. In addition, with good governance at our forefront, we shall continue to exemplify transparency and accountability in all our actions. We shall strive to uphold the qualities of these awards and provide developments that will uplift the lives of the Filipinos and ensure ethical business practices are always implemented."
RLC Chief Financial, Risk, and Compliance Officer Kerwin Max S. Tan added, "Our inclusion in the prestigious 3G awards exemplifies RLC's adoption of best globally accepted governance practices. We shall continuously act with transparency and accountability to ensure that all the interests of our stakeholders are preserved."
Tan shared that the award further stokes RLC's resolve to promote good governance, sustainability, and the observance of ethical business practices company-wide. Earlier this year, the company's efforts in these areas were also recognized at the Golden Arrow Awards.
Organized by the Institute of Corporate Directors, a non-stock, non-profit association of more than 400 industry professionals engaged in ethical governance, the Golden Arrow recognizes the top Philippine publicly listed companies in corporate governance, based on the 2021 ASEAN Corporate Governance Scorecard (ACGS) assessment results. With its Golden Arrow, RLC demonstrates its compliance to international corporate governance best practices and other measures that bolster its reputation and earn its stakeholders' confidence and trust.
For more information on Robinsons Land, visit robinsonsland.com