In 1992, John Gokongwei Jr., the founder of the Gokongwei Group, and his brothers Henry, Johnson, and James established the Gokongwei Brothers Foundation with the goal of making a lasting impact on our nation's education. "It is my belief that education is the only way to save this country. We need quality education to compete in this world," said the late Mr. John.
To achieve the foundation's noble mission, GBF has, over the course of 30 years, become the country's largest private-sector provider of STEM scholarships. Last year alone, it supported close to 800 scholars, learners, and educators under programs such as Iskolar ni Juan, GBF Next Gen Scholarship for Excellence, GBF-Gokongwei Group STEM Scholarship for Excellence, and STEM Agri Scholarship for Excellence.
For this People & Culture feature, we train our attention on Southstar Drug's Karl Angelo Lorenzo, a recipient of the GBF-Gokongwei Group STEM Scholarship for Excellence, which supports outstanding college students in the fields of science, technology, engineering, and mathematics. This is his inspiring story.
My Gokongwei Group journey started when I was 18 years old.
I was a junior at Mariano Marcos State University in Batac City, Ilocos Norte, and had dreams of becoming a doctor.

So, when Southstar Drug representatives visited our school offering college scholarships for students interested in seriously pursuing careers in Pharmacy, I really wasn't interested. My department chairman, however, took me aside and talked about the benefits of the scholarship and later, perhaps, an opportunity to work with the prestigious Gokongwei Group.
By the end of the conversation, he had convinced me to at least put in an application, and I signed up on the spot. My mother was a single parent of three who struggled to make ends meet on her government employee salary. I realized a scholarship would help ease her financial burdens.
The Gokongwei Brothers Foundation funded my full tuition and monthly allowance in my third and fourth years in college. It also covered my review course for the board. At graduation, I received a Bachelor of Science in Pharmacy with a leadership award. I also received the Philippine Pharmaceutical Association Leadership Award.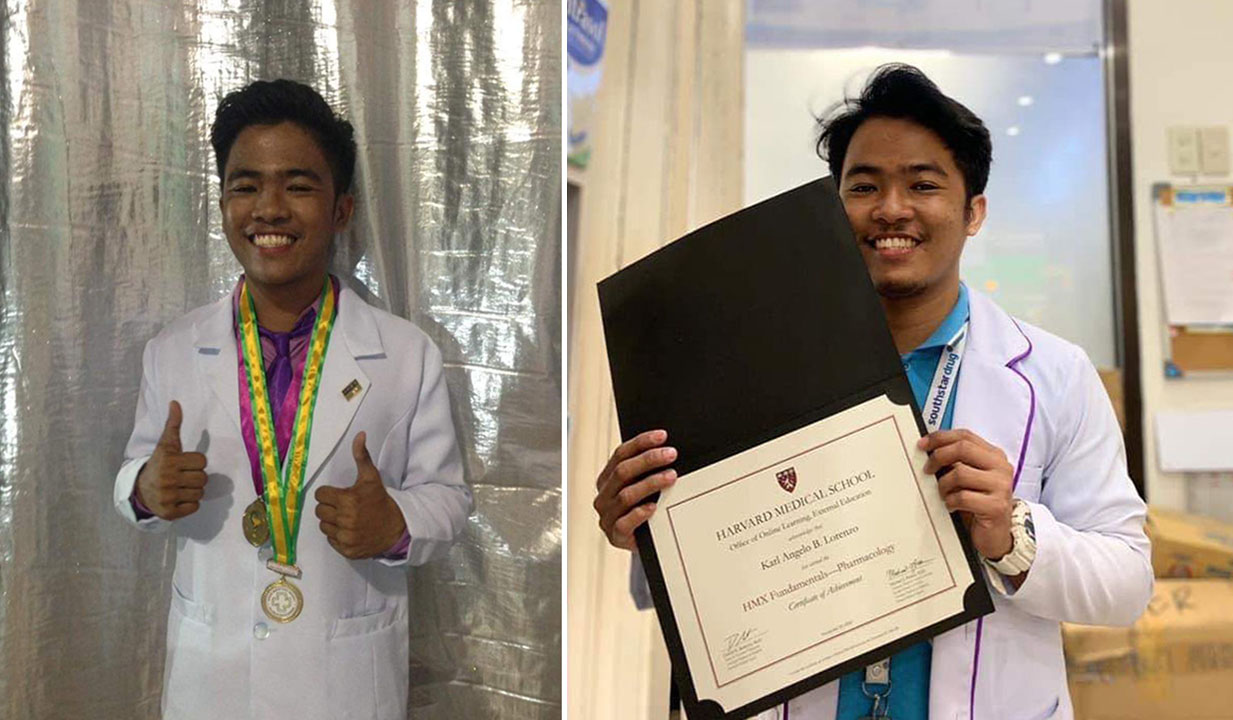 In May 2018, at age 20, I joined Southstar Drug as a branch pharmacist. Seven months later, I was put in charge of our store in Xentro Mall, Lemery, Batangas. In September 2019, I joined Southstar Drug's management training program. Four months later, I was promoted to store head. In December 2020, I also became Operations Trainer for Region IV.

When the pandemic hit, we were all scared since no one really knew what COVID-19 was, and we knew we had to be at work every single day. But we didn't let that fear get to us because we were helping other people. There was a challenge, but there was fulfillment too. Ang hirap pero masaya. Ang saya ng pakiramdam knowing we were there for others. We were there from the very beginning, reading prescriptions through our face shields, recommending medications to our patients. Sobrang daming mga tao pumupunta sa pharmacy, buying vitamins and medication, but everyone was so nice and understanding. We all wanted to help each other.
During the pandemic, I took online courses to learn how to help our patients further. I completed a two-month certificate course with Harvard Medical School in HMX Fundamentals Pharmacology. It was all about understanding how drugs act in the body, as this is vital for effectively treating patients. I participated in an activity in Mechanical Ventilation for COVID-19 also given by the Harvard Medical School and in a journal-based activity on Cardiovascular Considerations for Patients, Health Care Workers, and Health Systems given by the Stanford University School of Medicine.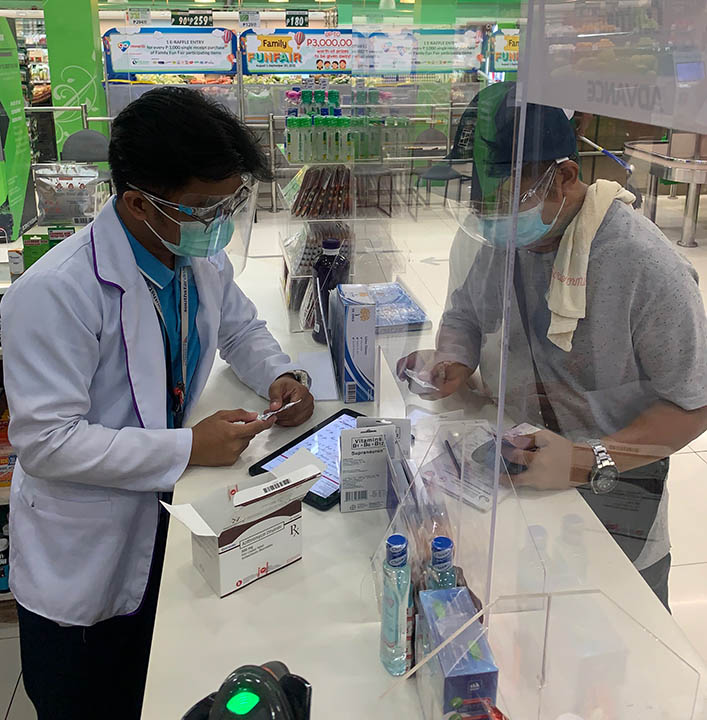 My family is based in Laoag so I worried about them too. My mother had just begun practicing as a registered nurse when the pandemic hit, so she was out there in the frontlines all throughout.
The two of us work together to support my sisters. One of them finished with a degree in hospitality management last year, and my youngest sister is in her third year in Medical Laboratory Sciences.

Ever since I was young, my mother instilled in us the importance of education. Kahit gaano kahirap ang process that I went through—it was very hard and I had to exert a lot of effort—I had my mind set on finishing college. I knew that one day it would be a bridge for me to achieve great things. I'm grateful to the Gokongwei Brothers Foundation for putting me on the path where I am now. GBF helps so many students like me who do not have the financial capacity to pursue their education.
I'm now 25 years old. I marked my fifth year with Southstar Drug in March this year, and was promoted to Area Operations Supervisor-Trainee for Southstar Drug branches in Calaca, Lemery, Bauan, and Laurel in the province of Batangas.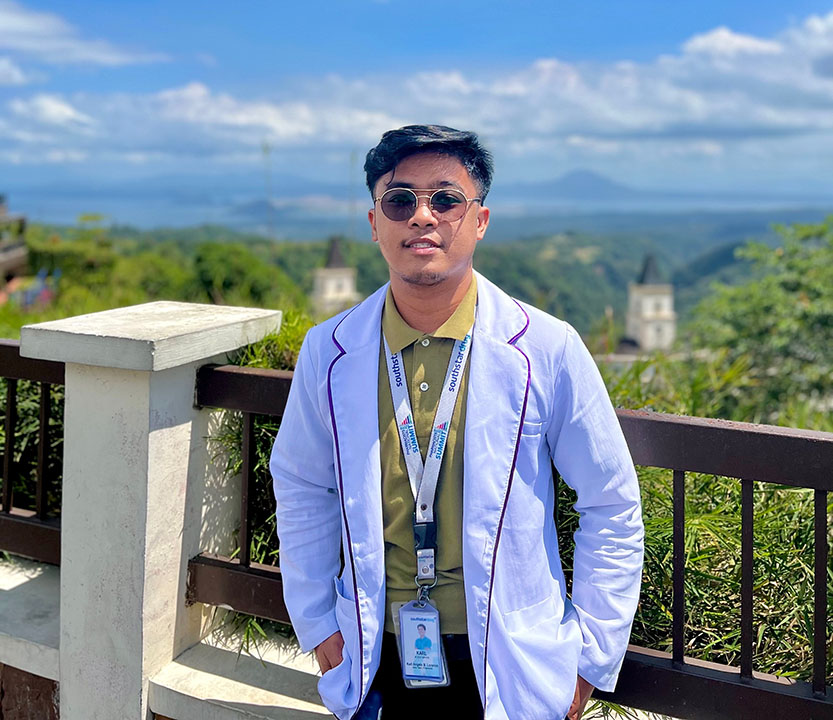 As area manager overseeing eight branches, I make sure standard operating procedures are being followed. I track staff movement, monitor sales within the area, and help provide solutions to problems. My work also includes strategic thinking on how we can increase store traffic to boost our sales. Our business is stable and progressive.
I also focus on our people, looking for opportunities to improve members of our teams.
When I became a scholar of GBF, I learned about the core values of the Gokongwei Group. They have been my guiding principles in being the best I can possibly be to achieve my dreams.
The group's founder John Gokongwei Jr. had an entrepreneurial mindset. He did not have much but he was passionate about his work and in everything he set his mind to. The value of stewardship is what I use as a trainer, passing on my knowledge to the new hires and younger people who come on board. I hope that what I teach them helps them deal with their new responsibilities and thus move our team forward for the success of our organization. I teach them that hard work and integrity, coupled with the right attitude will help them go far.
Since I was young, I have been inspired by so many people I consider lights of hope. What I want to do now is give back to the community by becoming an inspiration and a light of hope to other people who want to achieve a lot of things in life, who have a lot of dreams, yet are financially incapable of fulfilling those dreams. I want to show them that, yes, it is possible to achieve those dreams through education, hard work, and dedication. I want to be a role model to others, I want to inspire people.

I've always wanted to be a catalyst for a better Filipino community. That's always been my dream. I would like to use my voice as a pharmacist to tackle that advocacy, pushing for better care for our patients. And now that I received my promotion, I'm in a position to pursue that dream.

My personal dream is the same as my professional one. It gives me fulfillment knowing we are helping our patients improve their quality of life through medication.
At the Gokongwei Group, nagtutulungan tayo, walang naiiwan. That's what I like about this team. We work not just for ourselves but for the whole community. We are a diverse group, there are so many different people. Iba't iba ang tao in the company and we are all growing together.
My Gokongwei Group journey continues. – As told to Yvette P. Fernandez
The GBF-Gokongwei Group STEM Scholarship for Excellence is granted to students who demonstrate academic excellence, leadership potential, and community involvement, and who also require financial assistance to pursue higher education. Scholarship recipients receive a fixed grant amount every academic year until they complete their college degree. Aside from financial grants, GBF scholars also enjoy scholar development programs including leadership training, upskilling opportunities, and career placement assistance within the Gokongwei Group.
Since the establishment of the GBF-Gokongwei Group STEM SFE Scholarship in 2011, it has produced 277 graduates, with 259 scholars currently enrolled. Southstar Drug, a company under the Robinsons Retail umbrella, has been a supporter of the program since 2016. The GBF-Southstar Drug STEM SFE Scholarship has produced 106 graduates, while 68 scholars are currently pursuing their degrees.
Other Gokongwei Group partners helping to provide scholarships are URC BCFG, URC Flour, URC AIG, URC SURE, JG Summit Olefins Corporation, Robinsons Land Corporation, Robinsons Bank, Robinsons Retail Holdings, JG Summit Corporate IT Department, Cebu Pacific, Aviation Partnership (Philippines) Corporation, and Aspen Business Solutions.
The GBF-Gokongwei Group STEM Scholarship for Excellence's 2023 application period will begin in the last week of May. There will be over 60 slots available for selected STEM college courses in chosen centers of excellence. For more information, visit gokongweibrothersfoundation.org.