If you are reading this article, chances are you're familiar with the Gokongwei Group's unrelenting commitment to provide its customers with better choices, creating shared success with its stakeholders. Embracing this purpose, the highly diversified business group's many employees each have a vital role in creating a positive impact, not just in their respective businesses or departments but on our society as a whole. Rebecca "Vicky" Yap, Vice President of Global Procurement at Universal Robina Corporation, is one of them.
In this People & Culture profile, discover how Vicky is contributing toward a more sustainable and resilient future for the food and beverage company, and how she's providing a source of hope to hundreds of Filipino potato farmers seeking to secure their livelihoods and attain a better standard of living.
Getting an Early Start
It might be a gloomy afternoon, thanks to the rain falling heavily outside URC's headquarters in Pasig, but inside the conference room where we're scheduled to meet, the mood lifts immediately as soon as Vicky strides in. Joking about her initial reluctance to answer our "Miss Universe questions," we soon begin talking like we've been life-long friends, although we've just met.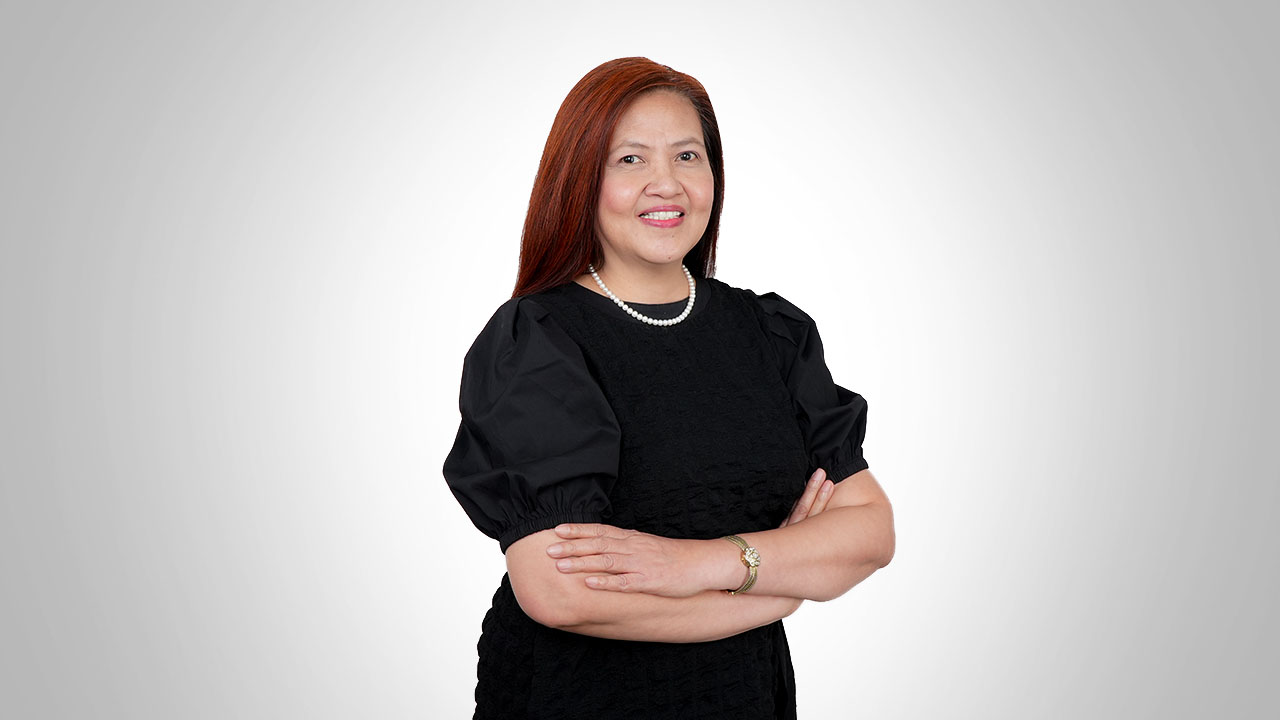 Vicky's easy-going nature, I quickly learn, is something she picked up from her mother. "I had an early introduction to entrepreneurship, female independence, and people skills from my nanay. Growing up, I saw her engaged in small businesses while raising us kids and caring for the family. She had a sari-sari store, a canteen, she'd do some goods trading, and also some finance," recalls Vicky. From her father, a military officer, she learned about discipline and honor ("Guard your name, you only have one," he always reminded her), as well as having a sense of service and duty.
Maybe it's because of this that Vicky, the sixth child in a big brood of eight, shares that she always felt some kind of responsibility to help in her household. "One of the childhood stories that we always laugh about now is that when I was in grade school, my nanay would send me to school not only with my school bag, but also with a Styrofoam box full of ice candy for me to sell."
Her days as a young entrepreneur came to an end when Vicky entered high school, as the school was further away in another town. "The ice candy would have melted by the time I got there," quips Vicky, only half joking.
Initially intending to become a chemical engineer, Vicky changed her mind after signing up for an executive secretarial course the year before she went to college. "I enrolled in the Cora Doloroso Career Center to get the skills necessary for me to get a job while I was taking my undergraduate studies," says Vicky. "The course introduced me to accountancy and business, and I realized I can do well in those fields. So, my goal became to pass the CPA board exam, as I knew it would be important in order to be successful in the world of finance."
Incidentally, her pre-college secretarial course proved to be handy, as she did get a part-time job while working on her commerce degree at Centro Escolar University, where she majored in Accountancy. "That experience taught me the value of hard work and gave me an appreciation of the trust that was given to me. I recall that at 19 years old, I was handling a considerable amount of cash collection and I also did disbursements on behalf of the elderly business owner. On the business side, I learned how managing finances and investments creates wealth and opportunities, so that was another good introduction to how business is done."
This eye-opening period as a young working student was Vicky's first taste of the real world. A few years later, with her diploma and CPA license in hand, her career would begin to take shape.
Emerging from the Backroom
After college, Vicky was hired as a junior accountant by a well-known food manufacturing firm. Starting from inventory management, where she manually enterered goods receipt and goods issue notes into the company's inventory system, she was eventually handed more tasks including costing, a role usually handled by more senior accountants. "It was an unforgettable experience, because at the time, documents for the costing of the piggery operations would be coming from the piggery itself, and you could smell it in all of the papers!" recalls Vicky with laughter.
Noting her potential, management gave her a series of promotions, from senior accountant to financial analyst in the corporate division, and then to a supervisor in credit and collection. After 8 years in corporate finance, she made the leap to the procurement and supply chain side of the business. "I would say my performance in my different roles in Finance guided the management's decision for me to take the role when their purchasing manager retired," says Vicky. "At first, I took the transition from finance to procurement and supply chain as just another change in job or role. Then, as I grew in that role, I found satisfaction and fulfillment knowing the impact of what I did in the business's operations."
Though Vicky couldn't have predicted it at the time, the Asian financial crisis during the late 1990s would open up brighter opportunities ahead. Not long after she accepted her previous company's offer for an early retirement, Vicky received a call that would lead to greater professional and personal fulfillment than she's ever experienced. However, before she landed her next job, she thought she had lost a golden opportunity. "A day before the scheduled interview with URC, my family and I went out and we ate oysters. The next day, we were all sick. I even had to go to the hospital," says Vicky with horror. "It was there where I noticed that my phone had a lot of missed calls and messages. I apologized for missing the interview and I said it would be okay if they offered the position to someone else. To my surprise, they wanted to schedule another interview. When I finally went, I was offered a job on the spot as purchasing manager."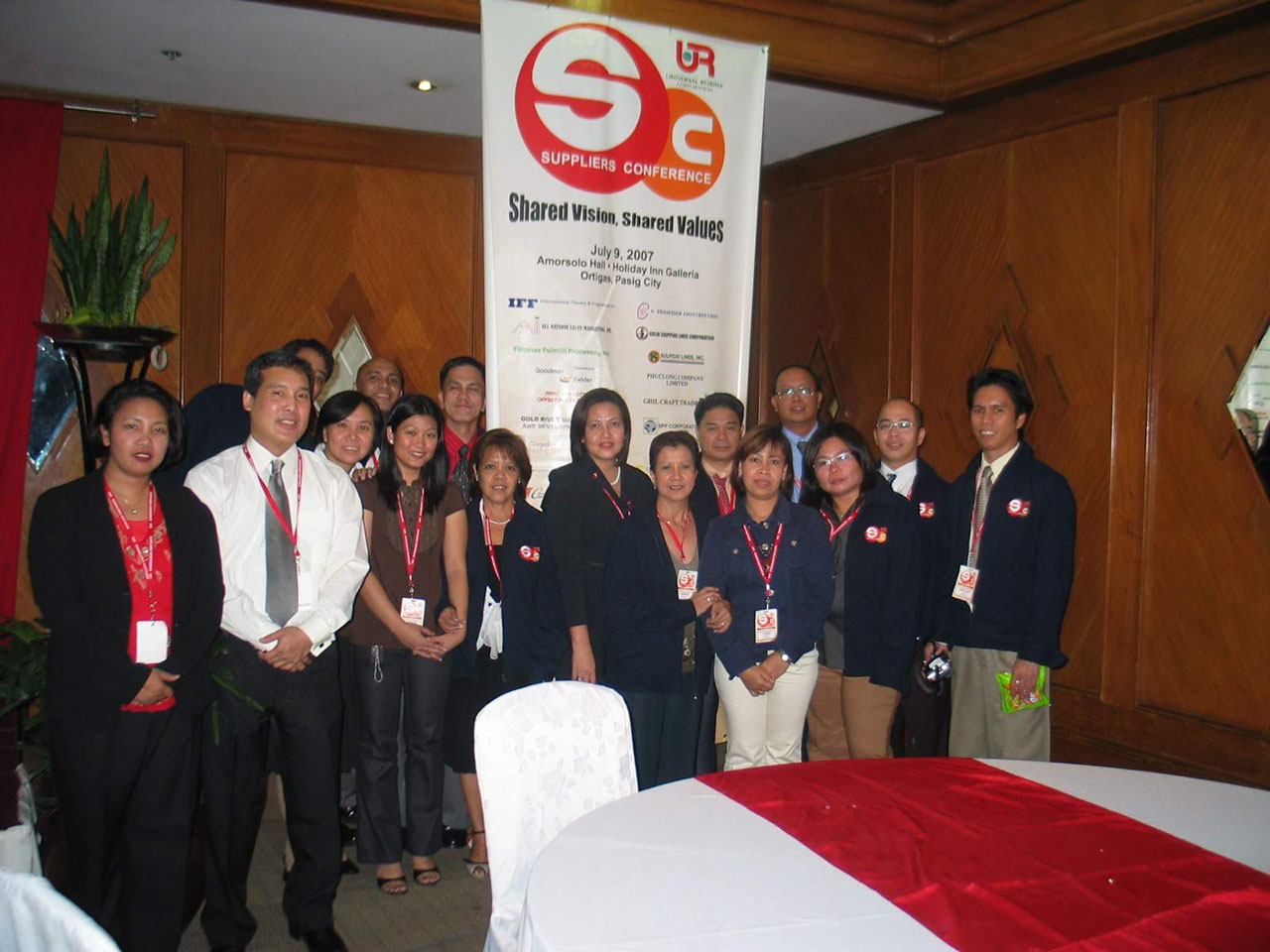 In 2003, upon joining URC, Vicky began laying the groundwork for the standardization of procurement throughout the conglomerate. "My first project was on supplier accreditation with the late Mr. Johnson Go, who was at the time spearheading the project to create an accreditation master list across JG Summit," recalls Vicky. With the supplier master list, the procurement process became more standardized, as potential suppliers and contractors had to fulfill a set level of requirements before they could service any company within the conglomerate.
Apart from a one-month break in 2011, Vicky has been with URC for 20 years, which appears to be a ringing endorsement for the kind of values, culture, and environment that's found in the company. "Indeed, it's a privilege to be part of URC's significant business growth since 2003. It's inspiring and amazing how our founder, John Gokongwei Jr., built the company and how the current generation is steering it to a resilient future. URC is known for its focus on quality, employee development, diversity, and sustainability. For me, what makes URC a great company to work for is its collaborative and supportive culture. Open communication and knowledge sharing are encouraged which fuel teamwork. A supportive environment makes for engaged employees," says Vicky.
Service and Stewardship
Since 2019, Vicky has been URC's Vice President of Global Procurement. There are multiple functions attached to the role, but to help us understand the nature of the job a little better, she says it mainly involves two things: service and stewardship. "Procurement is far more than just Purchase Order issuance. As procurement professionals, we strive to deliver cost savings and value generation through effective negotiations, strategic sourcing, analytical skills, and market knowledge. Our function involves service to the business operations, taking care of the financial and human resources entrusted to us, and making decisions that are aligned with the best interests of the company," begins Vicky as she delves into the nitty-gritty of her work. She adds, "My critical responsibility is to support the growth and profitability of the company through spend management, excellent supplier partnership, procure-to-pay process excellence, sustainable and responsible sourcing, and capability building."
Being in the Global function, Vicky also has to ensure that URC's business units – which include the Branded Consumer Foods Group, Sugar, Flour, the Agro-Industrial Group (AIG), the packaging companies URC Bi-axially Oriented Polypropylene (BOPP) and URC Flexible Packaging (UFLEX), as well as the international subsidiaries – are all aligned in terms of goals and systems of governance.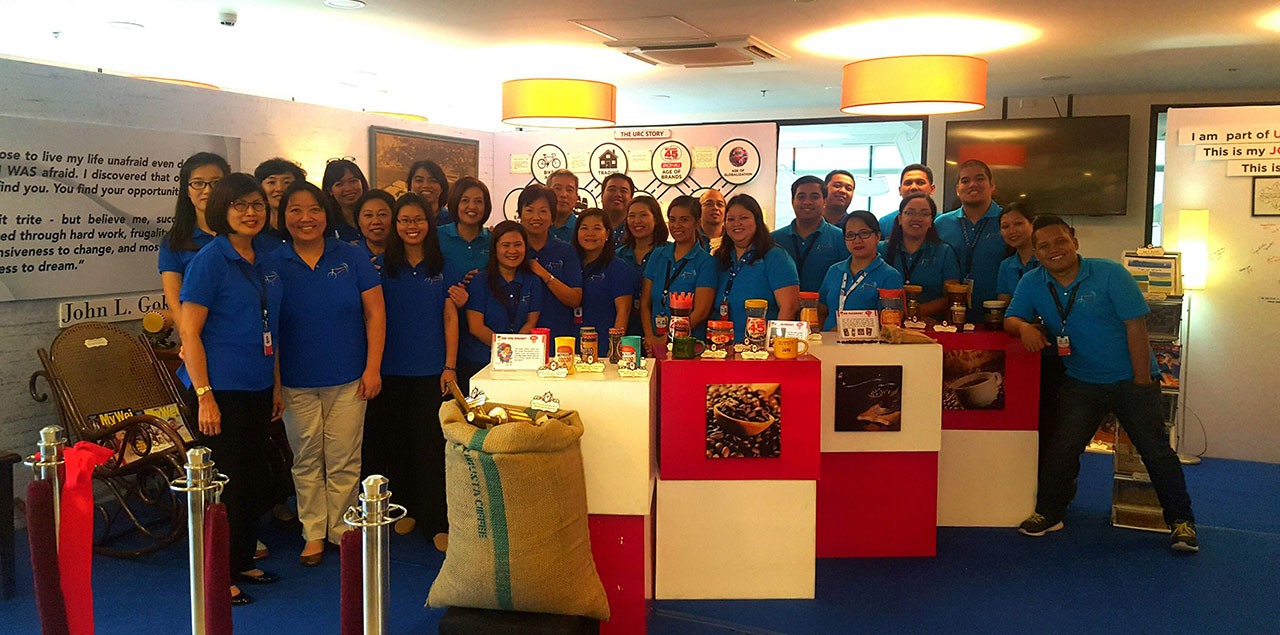 While there seems to be a lot on her plate, Vicky is thankful for the support of the category managers on her team who help with the decision making. When the situation gets a little overwhelming, she takes a brief pause to consider what should get her full attention. "You just need to remind yourself what's the priority at this moment – What can wait? And what cannot? – then you get clarity on what should be done first. You cannot do everything all at the same time."
As stressful as it may seem, there are many things Vicky absolutely loves about the job. "Each day presents new challenges; each day is different. You don't know what will happen tomorrow. With that, there are opportunities for growth and the chance to make a positive difference," she says.
Changing Lives and Making a Difference
When asked about the key highlights in her journey at URC, Vicky mentions three topics. The first was the transformation of the Procurement role from a transactional function to one with important strategic implications, which involved challenging the status quo. The second was going through several "black swans" (in supply chain terms, these are the improbable, rare, or unlikely events that have severe or even catastrophic business impact) such as the 2008 financial crisis, the COVID pandemic, the Suez Canal blockage in 2021, and the ongoing Russia-Ukraine war, which helped Vicky "discover my own resilience and how doing what is right and not just what is acceptable is always good."
Leaving the most fulfilling point in her journey for last, Vicky's third career-defining highlight in URC so far involves the initiatives that greatly benefit her fellow citizens. "Doing the sustainability and CSR projects enabled me to realize that by my work, positive changes can happen to people and communities. My visits with farmers for our Sustainable Potato Program are always a humbling experience. After the visits, I go home with my heart full and inspired to do better as an employee and as a person," shares Vicky.
The Sustainable Potato Program began in 2019 when URC partnered with the Department of Agriculture to attain three objectives. The first is to provide farmers access to high-quality seeds. Second, to provide training programs to further build the farmers' capability to scale up productivity, and third, to provide market access for their harvests.
The idea behind it began to form after Vicky and her team's various engagements with farmers in Benguet. "From them we learned that potato is a high value crop, that it can be stored longer and it's not as perishable as other vegetables such as lettuce, cabbage, eggplant, and others. But we also learned that farmers have very limited, if not difficult, access to high-quality potato seeds. This is because potato seeds are imported, and the cost is prohibitive for the farmers. The farmers just use and re-plant potato tubers from whatever is left from their harvest, which gives them low yield and productivity. We took this as an opportunity to support the farming community."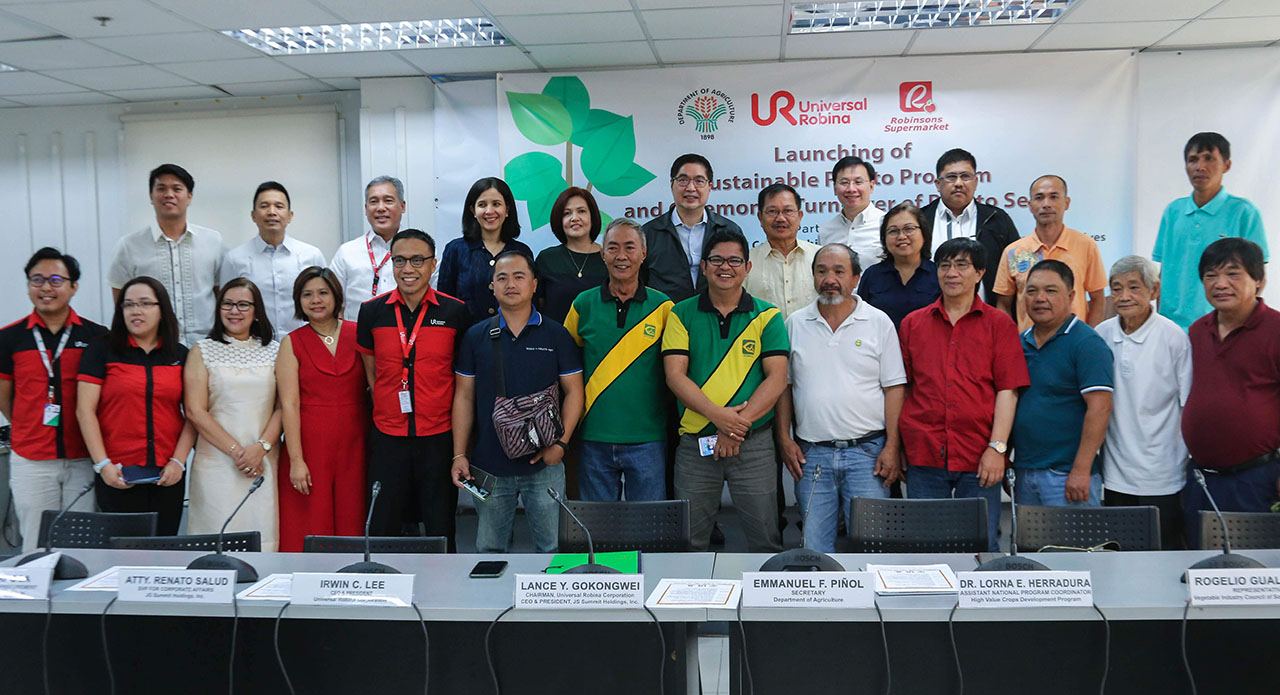 So far, the results of the program have been very encouraging. "To date, URC has distributed over 300 metric tons of potato seeds worth around 20 million pesos to more than 700 farmer beneficiaries," says Vicky proudly. Hammering home the point about how URC, as a company of JG Summit, helps create shared success, she adds, "The program provided an average income of PHP 135,000 per farmer per planting cycle, and a 27% increase in the national potato production yield."
The program was launched in the Cordillera Administrative Region and has since branched out to farming communities in Bukidnon and Davao del Sur. Originally slated as a five-year program, there are plans to extend this due to the disruption caused by the pandemic. Recounting a recent visit to Bukidnon for the distribution of potato seeds to a farmers' cooperative, Vicky tells us about meeting a woman who could not stop crying because of her deep gratitude to URC. "She was one of our new beneficiaries. She said it was an answered prayer and told me that the future is looking good for them. Pag-asa, nagkaroon sila ng pag-asa. You can imagine the impact of one farmer getting 10 kilograms of potato seeds. For them, it can change their lives."
Apart from extending the life of the sustainable potato program, URC is now looking at other crops which could provide much benefit to local farmers. Vicky reveals that the company is currently collaborating with the Department of Agriculture's High Value Crops Development Program to develop a similar initiative for the country's Robusta coffee farmers.
Building Supply Chain Resilience and a Better World
When Vicky was discussing some of the strategies she uses to iron out deals that URC and its suppliers or contractors can all be happy with, she said that it's important to always be prepared while you're at the negotiating table. To explain, she quotes a passage from one of her favorite books, Never Split the Difference: Negotiating as If Your Life Depended on It by Christopher Voss. "It says, 'When the pressure is on, you don't rise to the occasion—you fall to your highest level of preparation.' Interesting, right?"
Recent events have shown that preparation is not only good for negotiation, but in building procurement and supply chain resilience as well. "Supply chain disruptions are known risks which could come from natural calamities (climate change), geopolitical uncertainties, financial crises, which all have happened in the past," shares Vicky. "Still, nobody was prepared for the global magnitude of the COVID supply chain disruptions. It made sourcing and managing supply chains difficult, with all sorts of materials stockouts, shipping delays, materials quality issues, and inflated prices."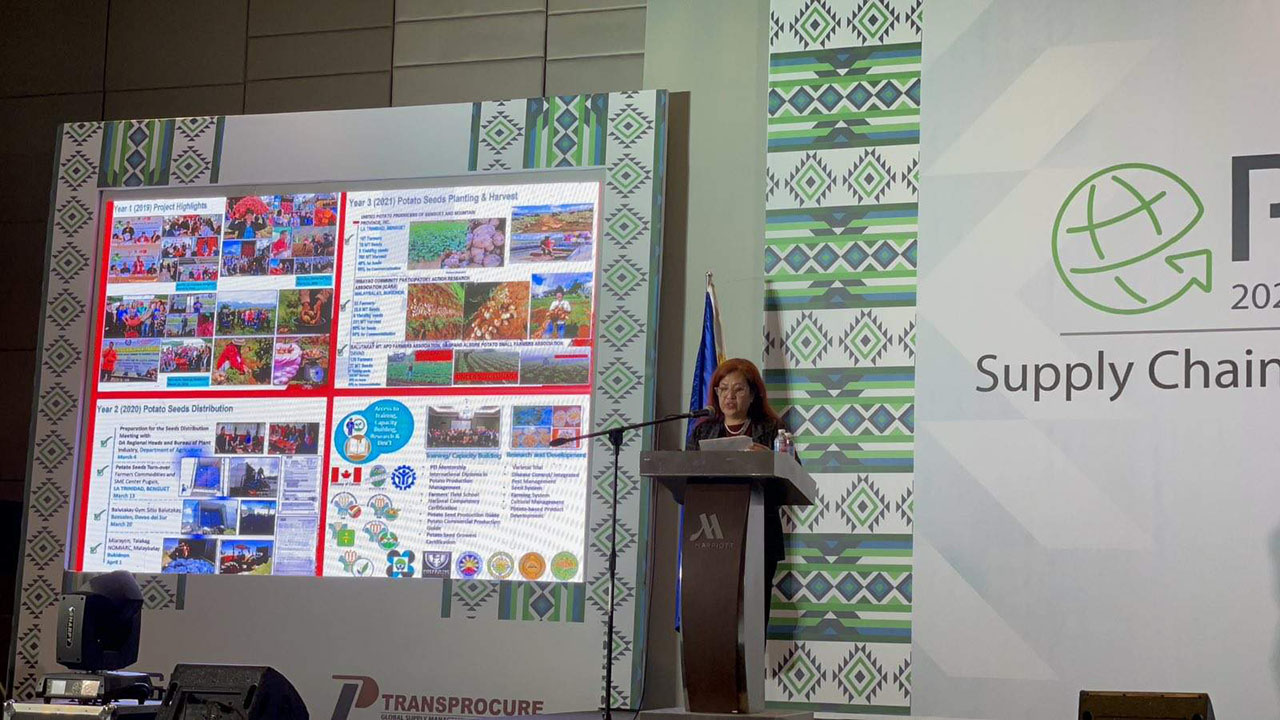 As the aphorism goes, what doesn't kill you only makes you stronger. Determined to apply the lessons learned from the so-called black swan events, URC is fast improving its procurement strategy and reinforcing its global supply chain structure. "There are also positive things and opportunities that came out from the bad COVID situation. You find resiliency in the team, true supplier partnerships, and several initiatives under procurement resiliency strategy were highlighted and expedited. Case in point are the supplier diversification and materials harmonization programs. It's also exciting how AI and machine learning technology will further shape procurement and supply chain management," says Vicky.
URC often states that the pursuit of becoming a sustainable global enterprise is a daily endeavor in the company. As a wife and a mother to two grown children, Vicky is very much aware of the importance of leaving the planet in good shape for the generations to come, and is using her corporate position to do the right thing. "Procurement plays an important role in Sustainability. We are the ones making decisions on where and how we source our raw materials, and we can really make a difference in terms of our sourcing impact to the environment and communities. One of our initiatives is Sustainable Procurement where Environmental, Social and Governance (ESG) principles are incorporated into procurement processes and policies, ensuring that business with suppliers is conducted in a manner that aligns with CSR principles," shares Vicky.
URC's journey toward sustainable procurement focuses on three areas: sustainable raw materials, sustainable supply chain, and sustainable agriculture. To achieve its goals, Vicky reveals that the company has asked its suppliers to sign and observe the supplier code of conduct and also for them to perform ESG disclosure. She adds, "Two years ago, we started the use of Responsibly Sourced Palm Olein (RSPO) and Good Agricultural Practices (GAP) compliance for suppliers of our chipping potatoes. We also initiated our corn traceability and sustainable potato programs. Apart from that, we are supporting the URC sustainability team on plastic neutrality. We're part of the group that's looking into the viability of alternative packaging materials."
In a shade under two hours, we've learned so much on URC's proactive approach towards supply chain resilience and sustainability, all thanks to Vicky's generous insights. Learning from the unprecedented global supply chain disruptions of the last few years, she's helping URC emerge stronger than ever, as the company harnesses opportunities for growth and improvement. Leading initiatives such as responsible sourcing and traceability programs, Vicky embodies URC's dedication to creating a better future. Through her example, we can appreciate that with sincere CSR efforts and by encouraging sustainability and ethical practices, businesses and their employees can not only thrive, but also make a positive difference in the world. -- Pierre A. Calasanz