The year was 1984.
Cristy dela Cruz had just graduated with a degree in Business Administration major in Accounting from the Polytechnic University of the Philippines, and was sending out her resume looking for her first job. She applied at a number of companies, including Consolidated Foods Corporation (CFC), one of the first companies of the Gokongwei Group.
"I was familiar with the products. My parents had a sari-sari store in Quezon City, and I grew up with the company's snacks and biscuits: Chippy, Presto, Jack 'n Jill pretzels," she says.
Many companies had a hiring freeze due to the political uncertainty in the country, but Cristy was thrilled to receive an offer from CFC's sister company, Universal Robina Corporation. She accepted, and was assigned to the corporate audit team.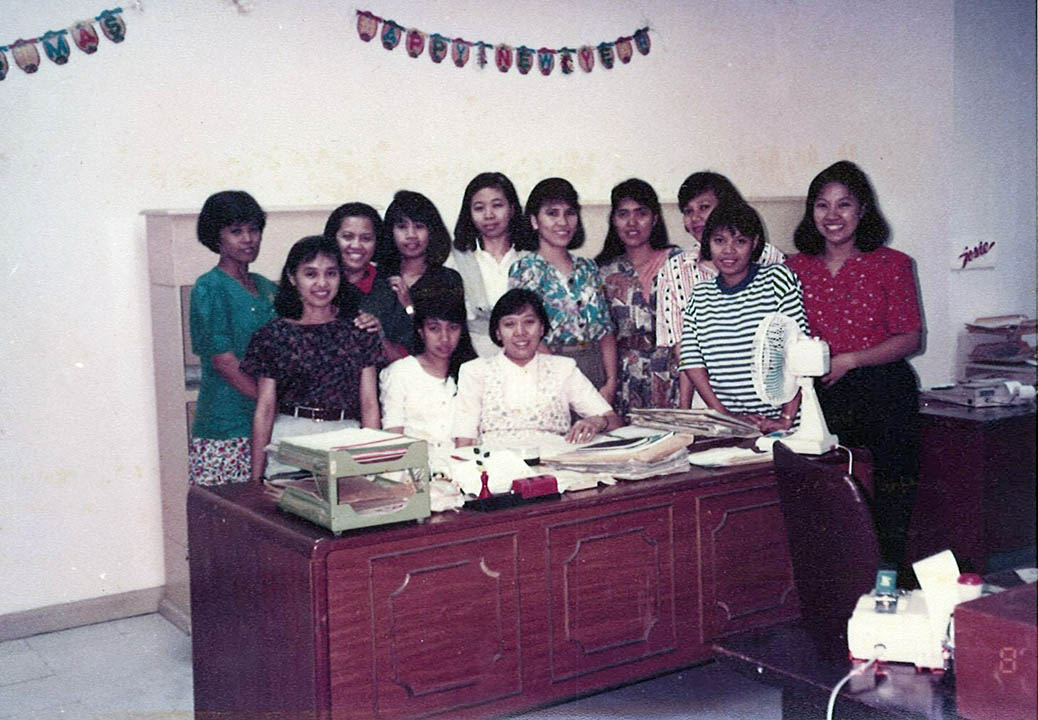 Two years later, Joel Estacio also joined URC's audit team after finishing his degree in Business Administration with a major in Accounting from Pasig Catholic College. He was assigned to Robina Farms in Bulacan.
"The farm was about 240 hectares. For six months, I counted the chickens, pigs, sacks of feed," recalls Joel. The bucolic life was apparently not for him, because six months later, there was an opening on the manufacturing side of the business, and he took it, transferring from Robina Farms to a CFC plant.
Eventually, Joel and Cristy ended up working in the same building in Bagong Ilog, Pasig. That's where the corporate audit divisions of the different Gokongwei Group companies were located, including CFC, Robina Farms, the hotel group, grocery division, and textiles.
Cristy says it never even crossed her mind that she and Joel would eventually be an item because she was older than him by three years.
They were a happy bunch at corporate audit, and everyone regularly went out as a group.
"Parang family lang, barkada," says Joel. "We were together all the time. There was a time when we needed to take short courses at University of the Philippines Diliman and we went together."
At one point, both Joel and Cristy were assigned to the Rosario plant in Pasig, where Blend 45 coffee and Cloud 9 chocolate bars were manufactured.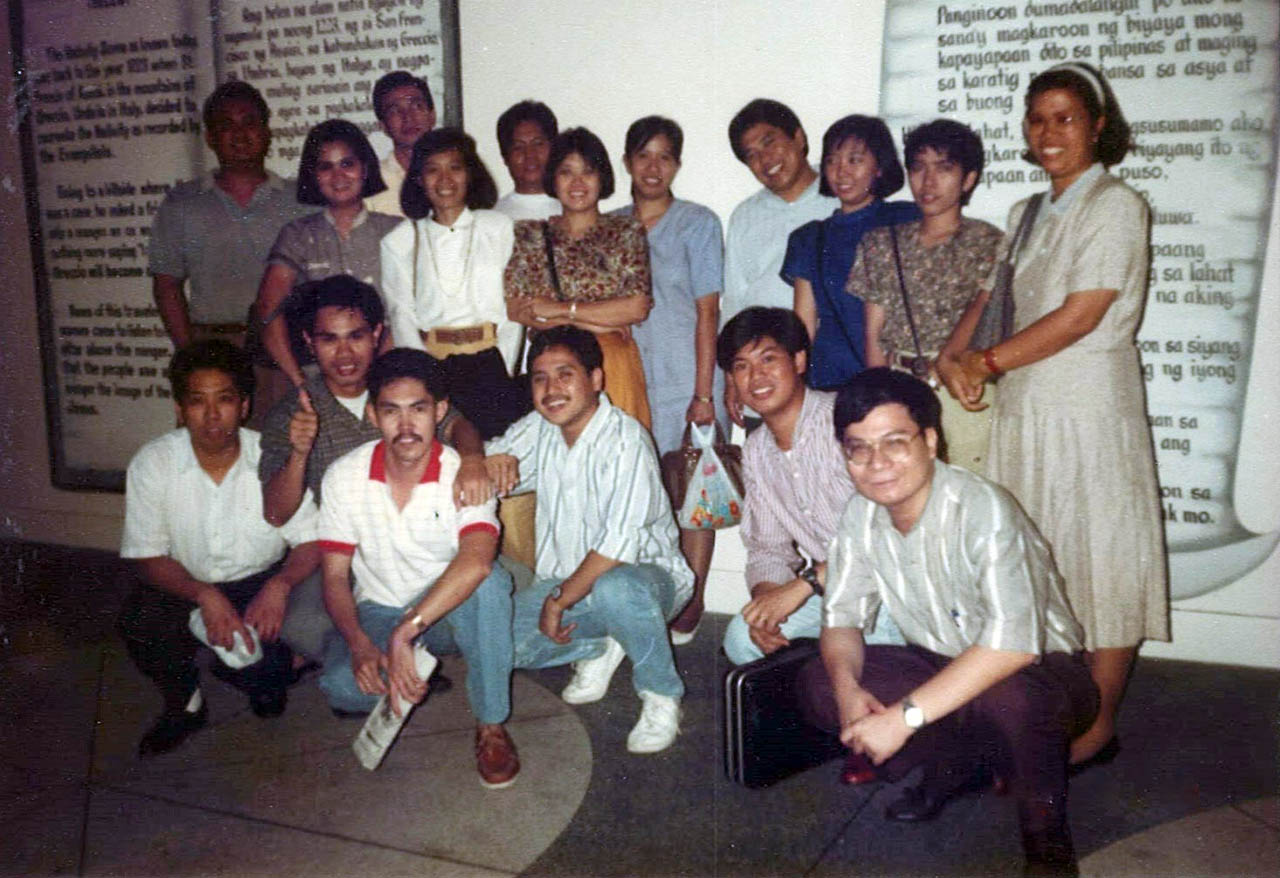 "Mula umaga hanggang gabi, we were together for one year," says Joel. "That's when it started to develop."
"It was a gradual progression. We were on an outing. Someone suggested that we go out. I guess that's when it happened. After that we started dating," he continues.
Cristy says they wanted to hide it at first, because "nakakahiya sa barkada."
But their then-boss Vickie Chua (now Pulmones) asked them about it bluntly, and the couple finally admitted they were a couple.
By 1992, Joel and Cristy were married.
"We share the same wedding anniversary day as Mr. John and Mrs. Elizabeth, March 19," says Cristy, referring to John Gokongwei Jr., founder of the Gokongwei Group, and his wife.
There are giggles around the table where we're seated. Jana, Jelica, and Joyce have heard their parents' love story told time and again over the years, and yet the family is still all smiles talking about it at an outdoor café on this stifling hot day.
Jana and Jelica have continued the family's Gokongwei Group journey. Joyce is the only family member who is not part of the group.
"You never know. I'm not closing doors to any opportunities that may come my way," says Joyce, who graduated with a degree in Human Ecology from UP Los Baños during the pandemic, and is now working with a design and engineering consulting company.
Jana, 30, the eldest Estacio daughter, remembers tagging along with her mother to work on Saturdays, back when employees used to work six days a week, and has vague memories of the canteen at the Bagong Ilog Office.
"My parents gave me the freedom to choose my own path," says Jana, who decided on Economics, specifically, Development Economics at UP Los Baños.
In her first year of college, Jana applied for a scholarship with the Gokongwei Brothers Foundation and was given a Php75,000 grant.
"My tuition was really cheap at the time, so this covered tuition and allowance. It really helped me," Jana says.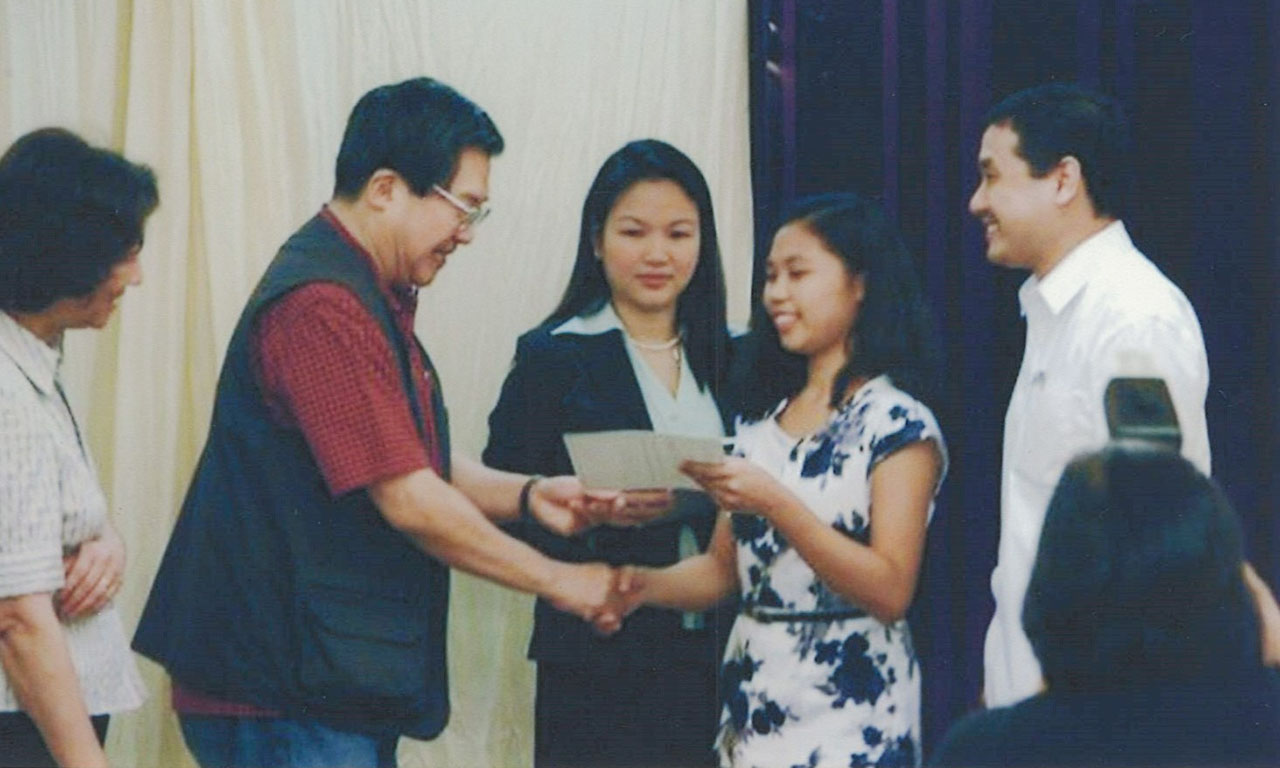 She got even luckier on the birthday of James Go, one of GBF's founding brothers, and currently chairman of JG Summit Holdings Inc., a member company of the Gokongwei Group.
"On his birthday, Mr. James gave laptops to selected children of employees," says Joel. "Jana was one of them. When he would see me after that, he would ask, 'How is the laptop I gave your daughter? Is it still working? Is it useful to her?' He always remembered."
Jana was hired by URC eight years ago as a junior associate in program management and business analytics. Her first assignment found her involved with the Finance and IT department in the implementation of the Business Planning and Consolidation program and the SAP Budget Monitoring System.
"There was restructuring within the organization, and I became part of investor relations," says Jana. "They had a project on sustainability, and I was put on the ad hoc team which worked on the first Sustainability Report of URC."
"Sustainability was an emerging trend back then, especially in the U.S. and Europe," says Jana. "Embedding sustainability in the core of our business increases its competitive advantage and social license to operate."
At the time, she said, the company had to hire an external consultant to learn more about the topic, and she realized there was a need for Sustainability professionals.
"Working on the report was my motivating factor in taking my master's degree in Sustainability," says Jana.
When Jana joined URC's investor relations department, she was put on the ad hoc team which worked on the company's first Sustainability Report. 'Embedding sustainability in the core of our business increases its competitive advantage and social license to operate,' says Jana.
In her master's application letter she wrote, "The quest for sustainability management is becoming evident and being able to study this course will help deepen my understanding of the underlying issues and concepts."
And wouldn't you know it, the only school that offered the course that was a good fit for her needs was found at Ateneo de Manila University. At the John Gokongwei School of Management.
"It was destiny," says Jana, currently in her last semester and working on her thesis.
Jana's sister Jelica, meanwhile, started in the Gokongwei Group as a chemist. After graduating from U.P. Diliman with a degree in Chemistry and passing the boards, she joined the central laboratory at URC, and was given the opportunity to join the company's research and development team. Later, she did data governance for the Global Innovation team.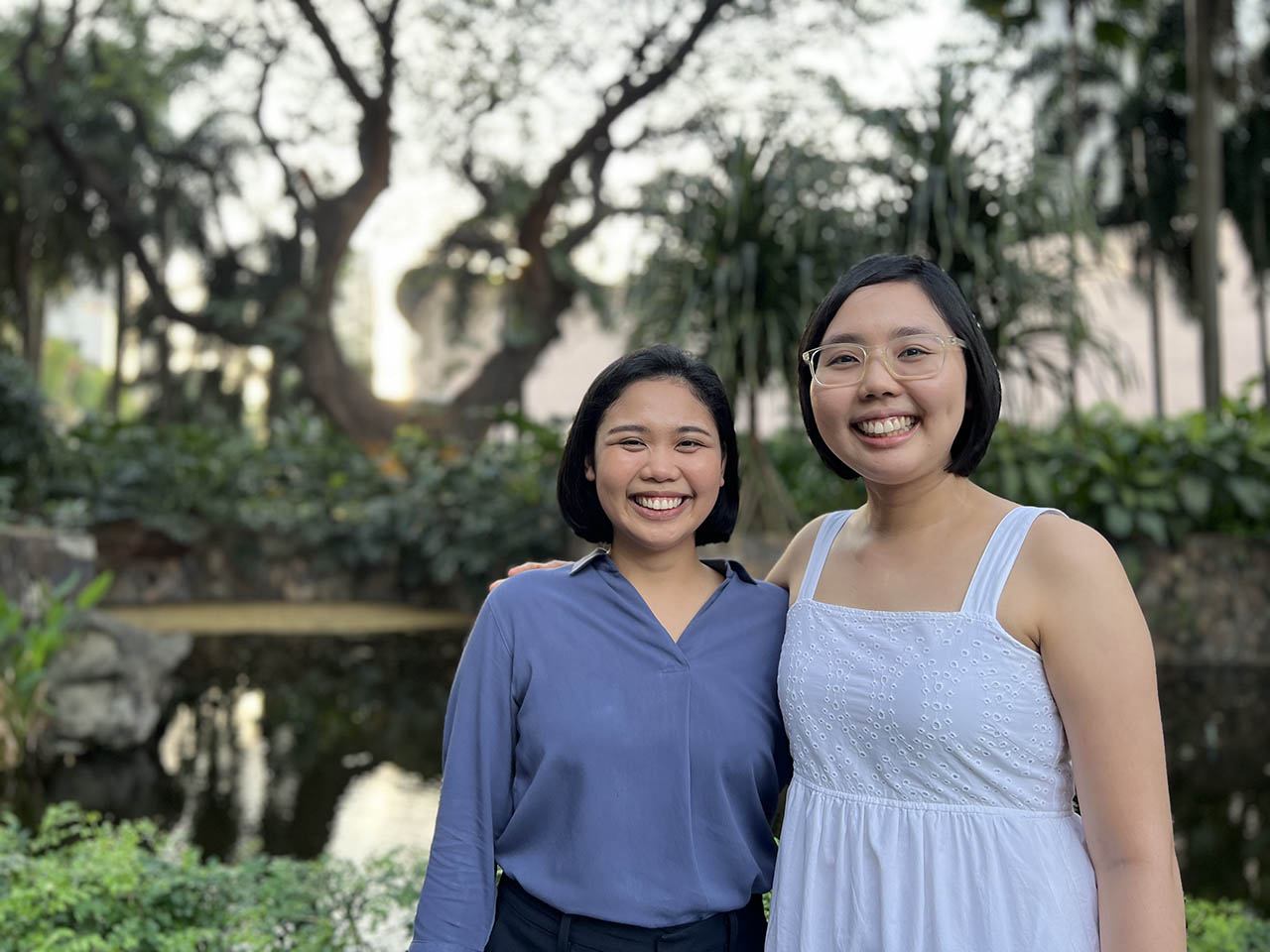 "Over the years I've had different experiences within the group. Some were given to me, some I asked for," says Jelica. "I've been very grateful for all I've learned and all the people I've met."
During the pandemic, Jelica said she took the time to reflect on her career, and that's when she discovered life coaching. An opportunity came about, and she became an Agile coach at URC.
"I've shifted from the mindset of doing all the technical projects to working on how to make these projects more successful. Now I work with people and learn how they think and how they can work together. That sparked my interest, to understand how to help people unlock their potential. I really love it."
Cristy beams with pride as she listens to her family. Her Gokongwei Group journey saw her moving from corporate audit at URC and CFC, Chic Centre, and the Manila Times, to corporate treasury at the Manila Midtown Hotel, to treasury at Robinsons Land.
One very distinct memory she recalls from three decades earlier is of Mrs. Elizabeth lining up at the Robinsons Land office to pay a bill for a lunch she had at one of the company's restaurants.
"Such a humble lady," says Cristy. "She could've sent someone to pay, but she lined up herself."
She remembers another anecdote that is part of the textile group's lore. About how a very strict security guard refused to let Mr. John into the Litton Mills plant because he wasn't wearing his ID, and also because Mr. John had some sort of tobacco in his pocket, which was strictly prohibited in the No Smoking zone.
The story goes, a surprised Mr. John commended the guard for being a stickler for the rules, and abided by them like everyone else. He didn't go into the plant that day.
Cristy says after she had Jelica, she decided it was time to retire from corporate work to focus on being a full-time mother, raising two children, and then a third later on.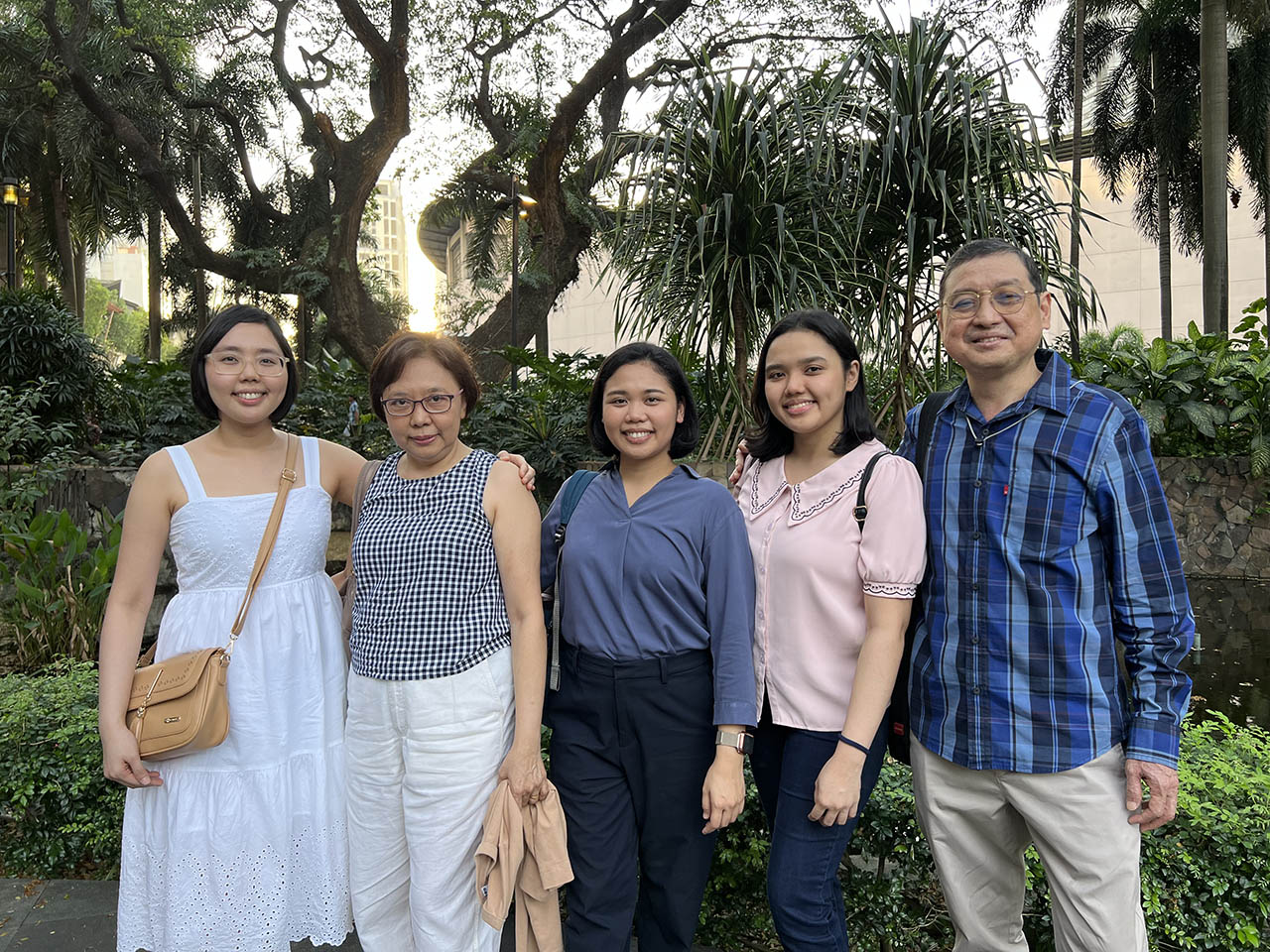 Joel, meanwhile, went from auditing food to food and cosmetics to warehouse operations. He audited the textiles products and soap manufacturing plants, the agro-industrial products, and commodity food. His next rung on the corporate ladder was with groceries and dairy products, as well as cosmetics, before handling media, agro-industrial supplies, and consumer food again.
I've had offers elsewhere over the years, but I never considered moving. My family and I share the same values as the company. We share the same values as Mr. John, the importance of family, of education, and hard work. I am at home with the company — Joel Estacio
He moved to branded consumer food and beverages until he was named an audit manager of the industrial division of JG Summit. It was at this point that he also finished his master's degree in business administration at the Philippine School of Business Administration. For the last decade, he's been URC audit director for IT and operations. He handles the operations and systems audit of URC.
Now 58, he's just two years away from retirement. He's spent the last 37 years at the Gokongwei Group, his entire career.
He says after all these years, he is still learning day by day.
"The challenge continues to be how to adapt to the ever-changing dynamics of business, especially now that technology is very much in the picture. How to audit, assess vulnerability, recommend how it will be mitigated," he says. "We have to adapt audit techniques using technology and tools to make us more effective in meeting the requirements of the business."
"I've had offers elsewhere over the years, but I never considered moving. My family and I share the same values as the company. We share the same values as Mr. John, the importance of family, of education, and hard work. I am at home with the company," says Joel.
"I have very high respect for the owners. I worked with Mr. John, Mr. James, Mr. Henry, Mr. Johnson," he says. "We were a much smaller company then, and we had to go to the offices of the owners and explain the reports. It was a great opportunity to work with them, and I respected them all."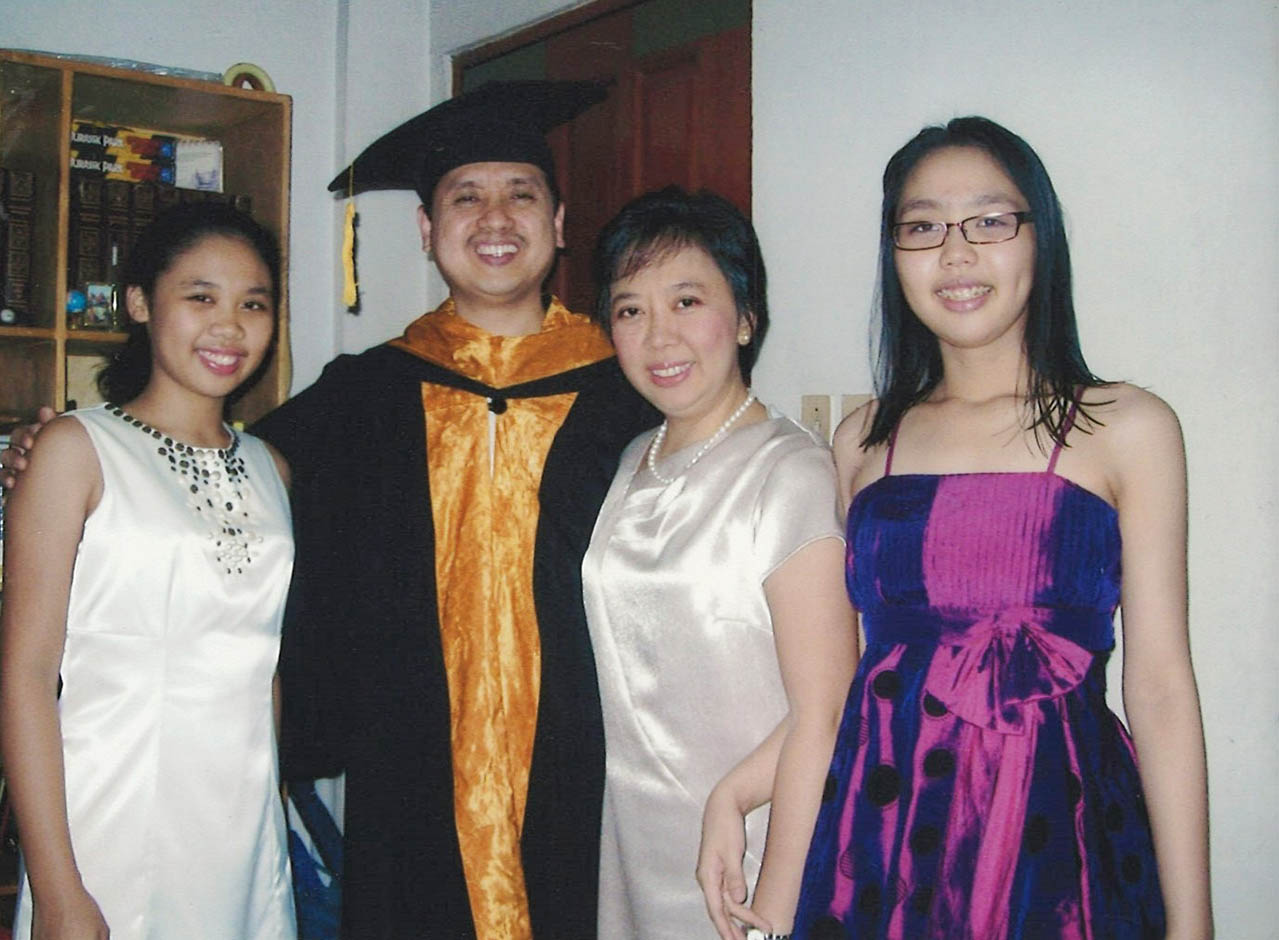 On a side note, Joel remembers how, on days when they were scheduled to present to the owners, the nurse from the clinic went around, checking the blood pressure of those who were waiting to present. "Namumutla yung mga iba sa kaba," he says of the expectation of the razor-sharp scrutiny regularly exercised by the owners.
Joel reminisces about how when Lance came on board as the new boss, everyone introduced themselves and presented their résumés to him.
In terms of the work culture, I can really see the collaboration between different departments. We provide service across the Gokongwei Group and work toward the success of the group. It's really like a family. — Jana Estacio
"He scanned our résumés and must've looked at our length of service. Many of the officers in audit had been there a long time too," he says, his face alight. "Mine was the last résumé he looked at. He said, 'and the winner is… Joel!' At the time I had been with the company for 30 years. It was an honor for me that Mr. Lance recognized that."
In 2020, when Joel was hospitalized with COVID, he recalls the human resources team checking in on him on Mr. Lance's behalf. "They take care of their people," says Joel.
Jana agrees with her father, and says the Gokongwei Group feels very much like a family.
"In terms of the work culture, I can really see the collaboration between different departments," she says. "We provide service across the group and work toward the success of the group. It's really like a family.
"Our boss, Mike Liwanag [Chief Strategy Officer of JG Summit Holdings], manages the team like a family too. He listens to our opinions, understands where we're coming from. We're all collaborative, not competitive. There are no silos. That's the reason why I've stayed for so long."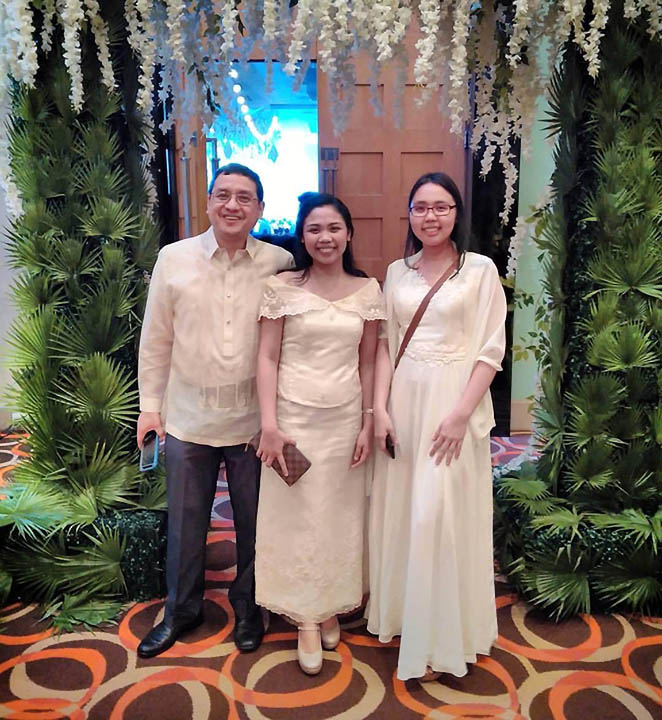 Both Jana and Jelica say they do not know if they will be with the Gokongwei Group for the long haul like their "lifer" father, but for now, they are enjoying what they do.
"There are always opportunities to grow within the group as long as you work towards value creation and do your best. We've seen that with our Papa's career, and in our own as well," says Jelica. "We just want to know we are somehow adding value wherever we are."
This year, she and her father are finally based in the same building. "We sometimes go to work and go home together, depending on our schedules," says Joel. "Sometimes, if we get off at the same time, we go out for dinner."
If you love what you're doing, if you enjoy it, then you will be more successful in whatever you do. I'm glad we all found that success at the Gokongwei Group. — Joel Estacio
Joel says he's happy two of his daughters followed in his and Cristy's footsteps and joined the Gokongwei Group.
"We never influenced them on what to take up in college or where to work, and yet I am very happy my daughters ended up where they are. The group takes good care of its people, and allows us to grow," says Joel.
"When my daughters were growing up, I told them they should decide for themselves what they wanted to do. I told them, 'You know what you want. Pursue what you love to do,'" he says. "I told them, 'If you love what you're doing, if you enjoy it, then you will be more successful in whatever you do.' I'm glad we all found that success at the Gokongwei Group." — Yvette P. Fernandez