Everyone deserves a chance to live a better life, regardless of their circumstances. With that in mind, the Gokongwei Brothers Foundation established its Technical Training Center in Rosario, Pasig, in 1999. The center housed the Foundation's flagship Iskolar ni Juan Tech-Voc Program, which provides a scholarship for underprivileged but talented youth. It has also been the training ground for current and potential Universal Robina Corporation employees.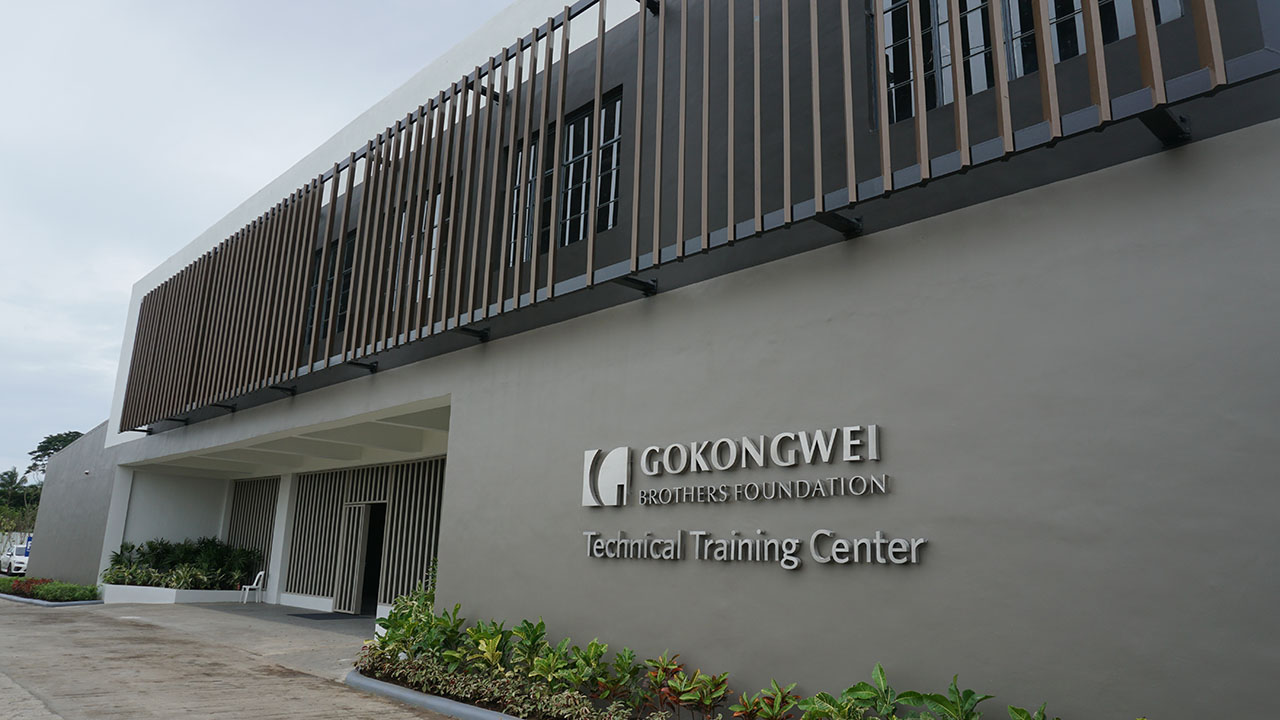 The facade of the newly unveiled Gokongwei Brothers Foundation Technical Training Center in Calamba, Laguna.
This month, GBF unveiled the Technical Training Center at its new location in Calamba, Laguna. In order to effectively implement the Iskolar ni Juan Tech-Voc Training Program, which foresees extending certification programs in other STEM-related fields in the coming years, the new building is strategically placed near a number of Universal Robina Corporation plants in Laguna and has ample space for future expansion.
The new facility will also continue to house the technical learning programs of our manufacturing groups, estimated to provide technical training and workshops to close to 2,000 staff this year alone. Built on a 4,000sqm lot, this 3,300sqm training center hosts 12 industry-standard laboratories, meeting rooms and classrooms of various sizes, a library, a dorm study area, a canteen, a clinic, and the administration office, among its other facilities. The construction of the Technical Training Center, which cost Php100 million, took 11 months, from October 2018 to August 2019.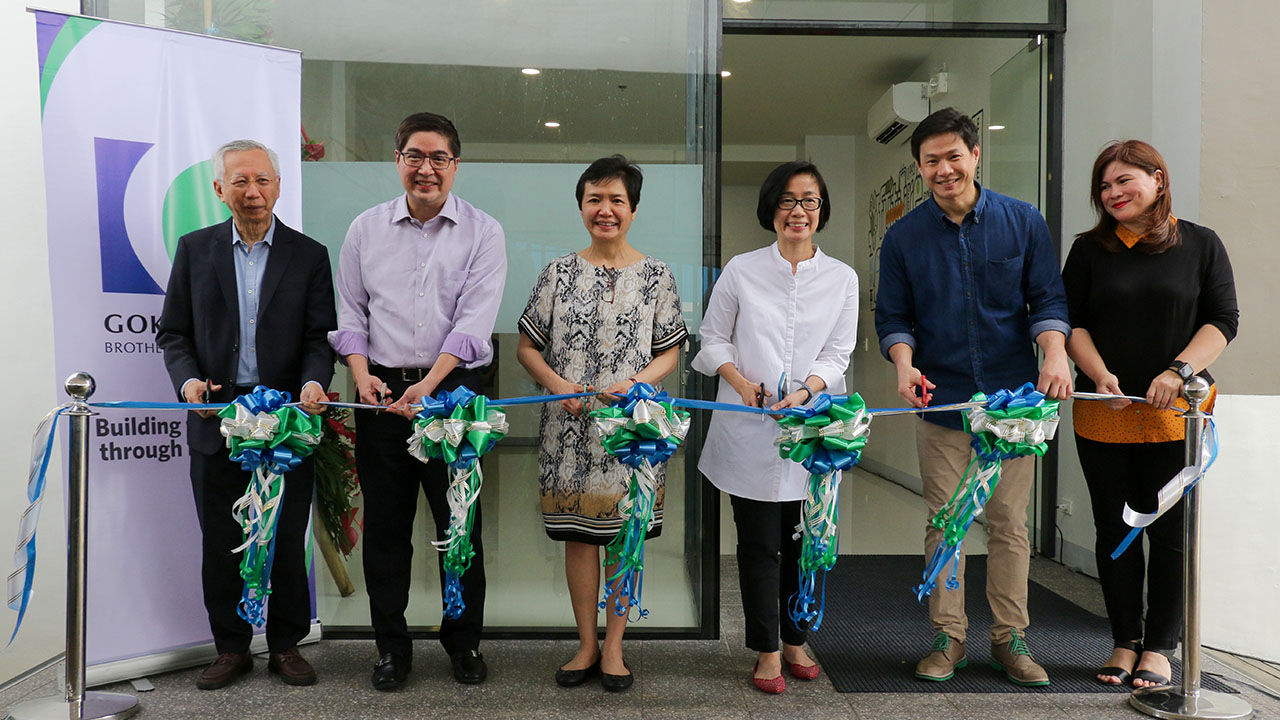 From left: JG Summit Independent Director Antonio Go, JG Summit President and CEO Lance Gokongwei, Robinsons Retail Holdings President and CEO Robina Gokongwei Pe, Summit Media President and GBF General Manager Lisa Gokongwei-Cheng, JG Summit Vice President of Organization Development and Talent Management David Gulliver G. Go, and GBF Executive Director Grace Colet formally inaugurate the new GBF TTC.
On September 17, 2019, there was a grand celebration to commemorate its official opening, attended by JG Summit Holdings management, URC executives, Robinsons Land partners, and members of the Gokongwei family including JG Summit President and CEO Lance Gokongwei, Robinsons Retail Holdings President and CEO Robina Gokongwei Pe, Summit Media President and GBF General Manager Lisa Gokongwei-Cheng, and David Gulliver G. Go, JG Summit Vice President of Organization Development and Talent Management.
In her opening remarks, Gokongwei-Cheng shared her plans for TTC, saying, "We hope to build other programs that will reflect the new skills needed in a changing world, now that we have a great facility on which to build that."
Guests were later requested to direct their attention to the vibrant artwork adorning the walls of the facility's ground floor. Dubbed "Mr. John's Wall," it includes John Gokongwei Jr.'s famous quote regarding the "boldness to dream" in an appropriately bold typeface. Each drawing on the wall holds greater meaning, with the bicycle symbolizing the business mogul's admirable work ethic and quick responsiveness to change amidst uphill challenges and obstacles. There is also a boat fashioned out of a tire, recalling Mr. John's tale of survival using the rubber tubing when he went overboard during a storm. Other designs allude to other properties under the JG Summit Holdings conglomerate. There are other inspirational quotes scrawled across the many surfaces of TTC, including thoughts from luminaries such as Nelson Mandela and Martin Luther King Jr.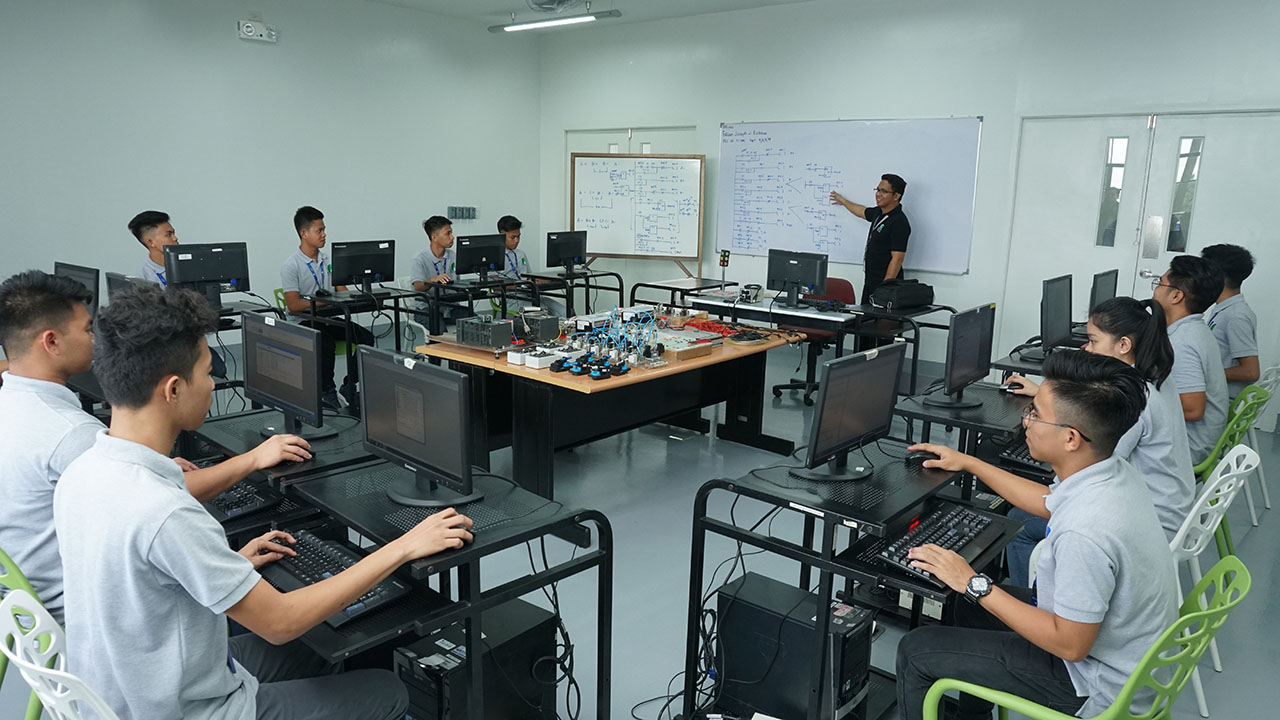 GBF Iskolar ni Juan students attending a class.
The official ribbon-cutting ceremony took place in front of the school lobby. Shortly after this, guests took group tours around the facility. Executives were able to survey the surroundings, observe ongoing classes, and take a closer look at the teaching tools used, which includes actual machinery and components found in the URC factories.
The tour concluded with a luncheon where guests were treated to a rousing musical performance by the INJ Batch 10 class. GBF Executive Director Grace Colet discussed the rigorous process to ensure the best and brightest attend TTC by collaborating with up to 20 external partners and 10 public schools and getting the top 6% from the applicants.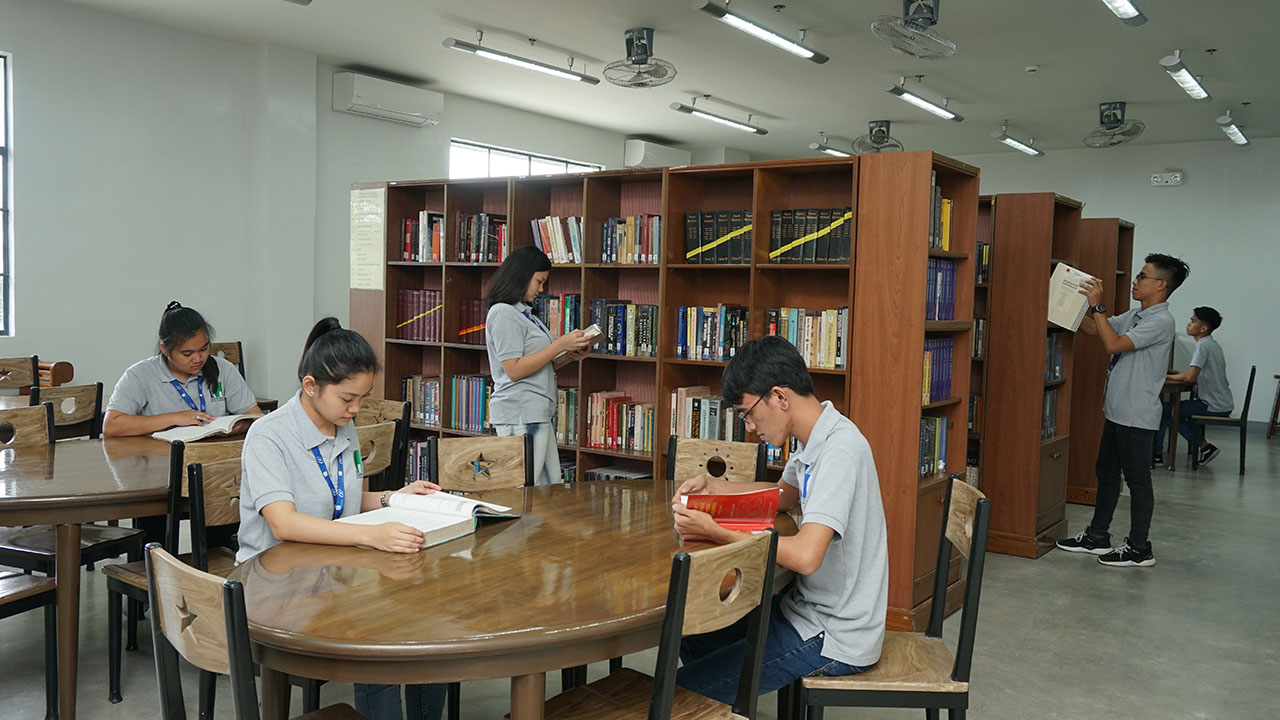 Scholars enjoying the use of the library and a quiet study area.
Lance Gokongwei, who also acts as GBF Corporate Secretary, shared his thoughts regarding the facility, "Seeing is believing. It's a pleasure to be here [at TTC] and to see the fruits of all the hard work and dedication of the entire GBF team. It's a wonderful bright building full of the latest and most necessary equipment and teaching tools." He continued, "We measure success from the outcomes that we can produce in changing the lives of our various scholars and students."
Iskolar ni Juan is an intensive one-year training course offering TESDA-registered programs in Mechatronics Servicing and Instrumentation and Controls Servicing that was established in 2014. Besides receiving free board and lodging, students who enter the INJ scholarship program will get on-the-job training in URC's Branded Consumer Foods Group (BCFG) and Sugar and Renewables (SURE) divisions. High-achieving participants with outstanding scholastic output and an impressive OJT performance will be offered permanent employment. So far, 201 out of the 331 graduated scholars have already been employed by URC.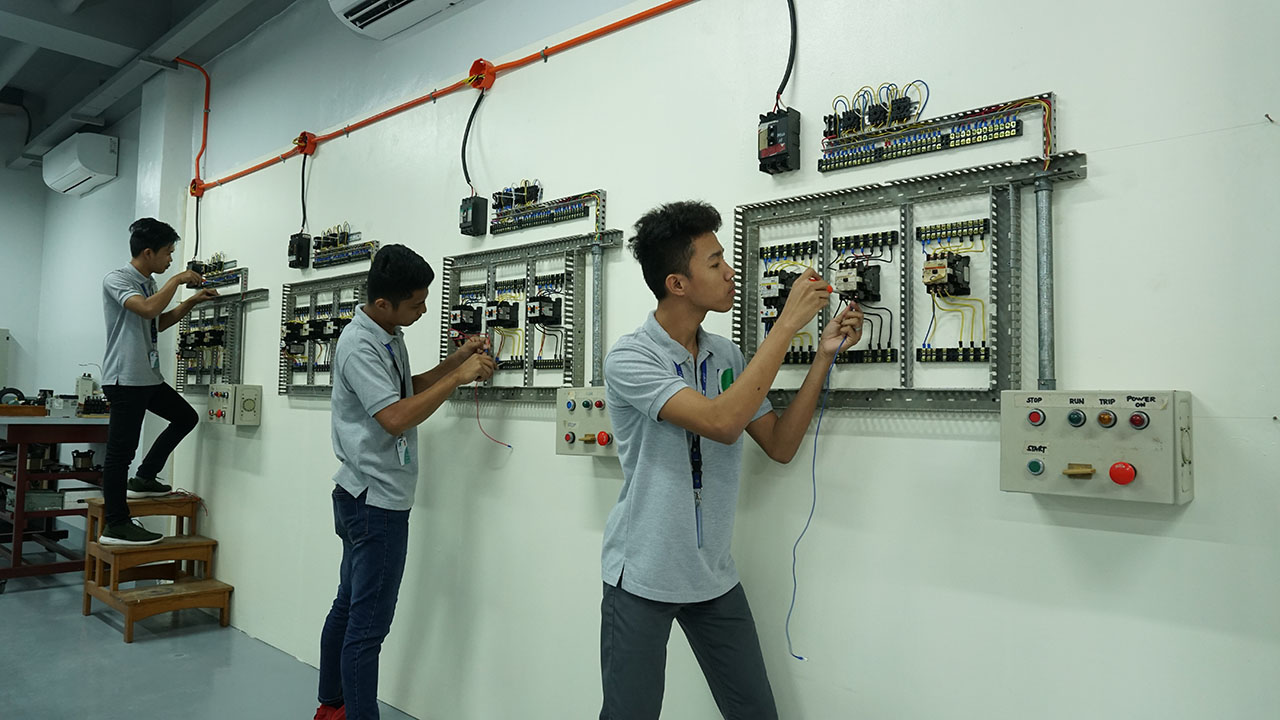 Scholars receive training in either Mechatronics Servicing or Instrumentation and Controls Servicing. Both programs are TESDA-certified.
The facility's dormitory can accommodate up to 132 scholars and 40 URC employees for technical training. According to Technical Training Officer Reggie Robles, the program proper hosts small batches at a time to ensure an effective and specialized learning experience for the students.
GBF looks forward to seeing more financially disadvantaged but deserving students fulfill their true potential at TTC. As top Instrumentation Servicing II student Rica Rose Abellera said in her speech, "I started from nothing but now I am here as one of the Iskolar ni Juan. This program is proof that education is for all and that anyone can be successful. From the bottom of my heart, together with my co-scholars, we would like to say thank you to the Gokongwei family and to all the people involved in this program who opened doors for us, who have big dreams not only for ourselves but for our family and our community. Our success is also a contribution to the success of the Universal Robina Corporation. Maraming salamat po!"
Gokongwei Brothers Foundation has other scholarship programs and collaborations with various key academic institutions including the Department of Education and the University of the Philippines. You may find more information on the recently launched GBF website, www.gokongweibrothersfoundation.org