On the observance of 73rd Philippines-Australia Friendship Day last May 22, 2019, the Bantay Bata Children's Village in Norzagaray, Bulacan, received a donation of more than 1,000 novels, textbooks, reading and children's books, bringing joy to the facility's 33 children. The books will be housed at the Bantay Bata Library of the ABS-CBN Lingkod Kapamilya Foundation. Making the donation possible was the tie-up between the Australian-based foundation, Give A Textbook, and the country's largest carrier, Cebu Pacific.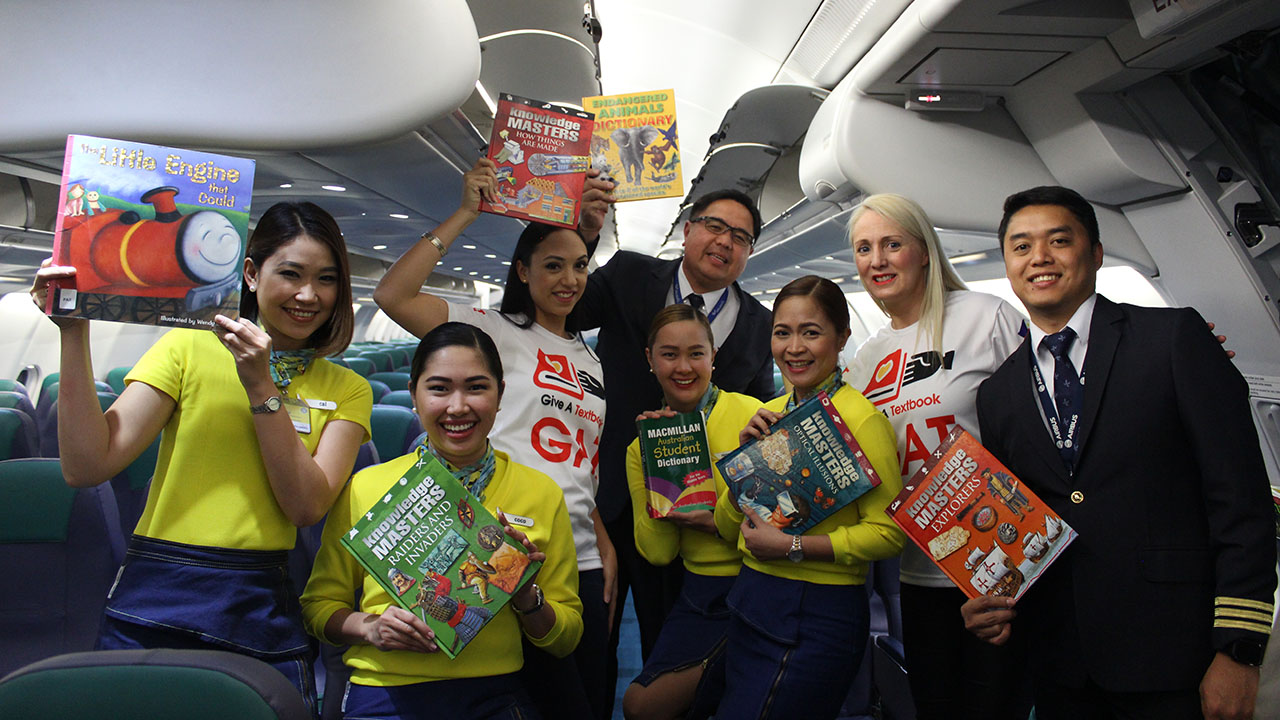 Give A Textbook's Samantha Bonney and Sue Pappas with the Cebu Pacific flight crew as they flew the donated books to Manila from Australia.
The seeds of the partnership were planted earlier this year when Samantha Bonney, the Melbourne-based founder of Give A Textbook, reached out to the airline with details of her planned book donation to the Philippines. Bonney, whose mother is Filipina and has family still residing in San Carlos City, Negros Occidental, discovered during her trips to the Philippines that there were still many communities that didn't have access to basic books. In 2016, she founded Give A Textbook to give books, which would otherwise end up as clutter or in landfills, a new lease of life through donations to communities that would better appreciate their social and educational value.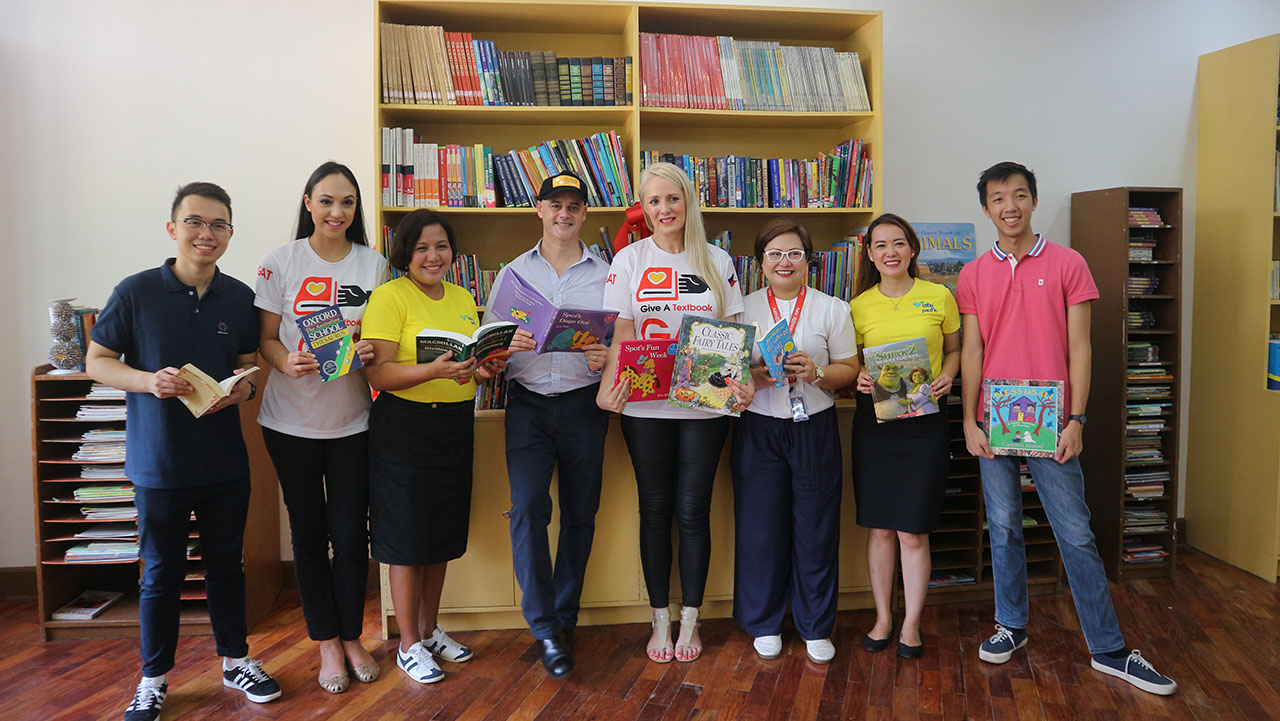 ABS-CBN Foundation Marketing Officer Haynes Figueras; Samantha Bonney, founder, Give A Textbook; Charo Logarta Lagamon, Cebu Pacific Director for Corporate Communications; Mat Kimberly, Deputy Head of Mission, Australian Embassy-Philippines; Sue Pappas, board member/treasurer, Give A Textbook; AFI Marketing Officer Sheryl Gabuya; Roxanne Gochuico, CSR Specialist, Cebu Pacific; Bantay Bata 163 Marketing Officer Carl Tan.
So far, Give a Textbook has collected over 35,000 unwanted books from Australia. As can be imagined, the logistics of shipping them to their new homes is one of the charity's main challenges. Bonney says: "Prior to Cebu Pacific's support, we used to send the books via sea cargo. Although this was the most cost-effective way, unprivileged Philippine communities would be waiting up to two months to receive them. Thanks to Cebu Pacific, the books can be received within 24 hours, in most cases."
A week before the turnover ceremony at the Children's Village, Cebu Pacific flew in the first donation of first 1,000 books, free of charge, via its direct Melbourne to Manila flight, saving the charity thousands of Australian dollars, and easing the transport of the books to the intended beneficiaries.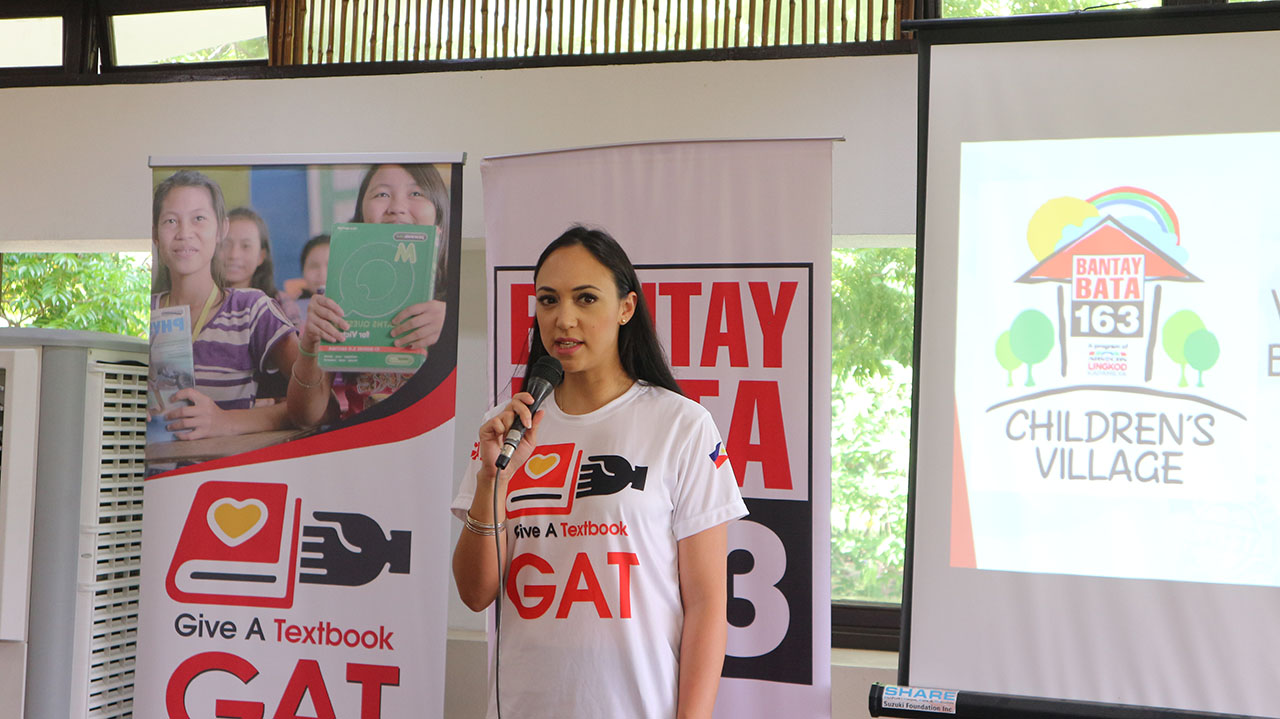 Give A Textbook founder Samantha Bonney speaks at the book turnover ceremony.
Cebu Pacific flies direct between the Philippines and Australia, on two routes: Sydney to Manila, and Melbourne to Manila, and vice-versa. With seamless connection to the widest domestic network in the Philippines, Cebu Pacific makes it convenient to move passengers and cargo where they need to be.
"We're thrilled to have partnered with Give A Textbook with the Australian Embassy in Manila and ABS-CBN Lingkod Kapamilya Foundation for this great initiative," said Charo Logarta Lagamon, Cebu Pacific Director for Corporate Communications, during the turnover ceremonies.
With a strong sustainability mindset and as a flag-carrier for the Philippines, Cebu Pacific shares the values of environment conservation, community engagement and education with Give A Textbook.
More books have been donated to a community in Cebu Pacific's hometown of Cebu as part of the continuing celebration of Philippines-Australia Friendship Day.
If you would like to take part in this initiative, email: info@giveatextbook.or or visit www.giveatextbook.org.

For bookings and inquiries, visit www.cebupacificair.com or call the reservation hotline on : +632 702.0888 (Manila); +633 223.0888 (Cebu); The latest seat sales can be found on Cebu Pacific's official Twitter (@CebuPacificAir) and Facebook pages.