On September 28, 2022, Cebu Pacific operated a Singapore to Manila passenger flight powered by sustainable aviation fuel (SAF), becoming the first Philippine carrier to incorporate SAF into its commercial operations.
The leading Philippine carrier's maiden commercial SAF flight was made on an Airbus A321neo using 35% blended SAF produced by Neste, the world's largest producer of renewable diesel and jet fuel, and supplied by Shell Eastern Petroleum.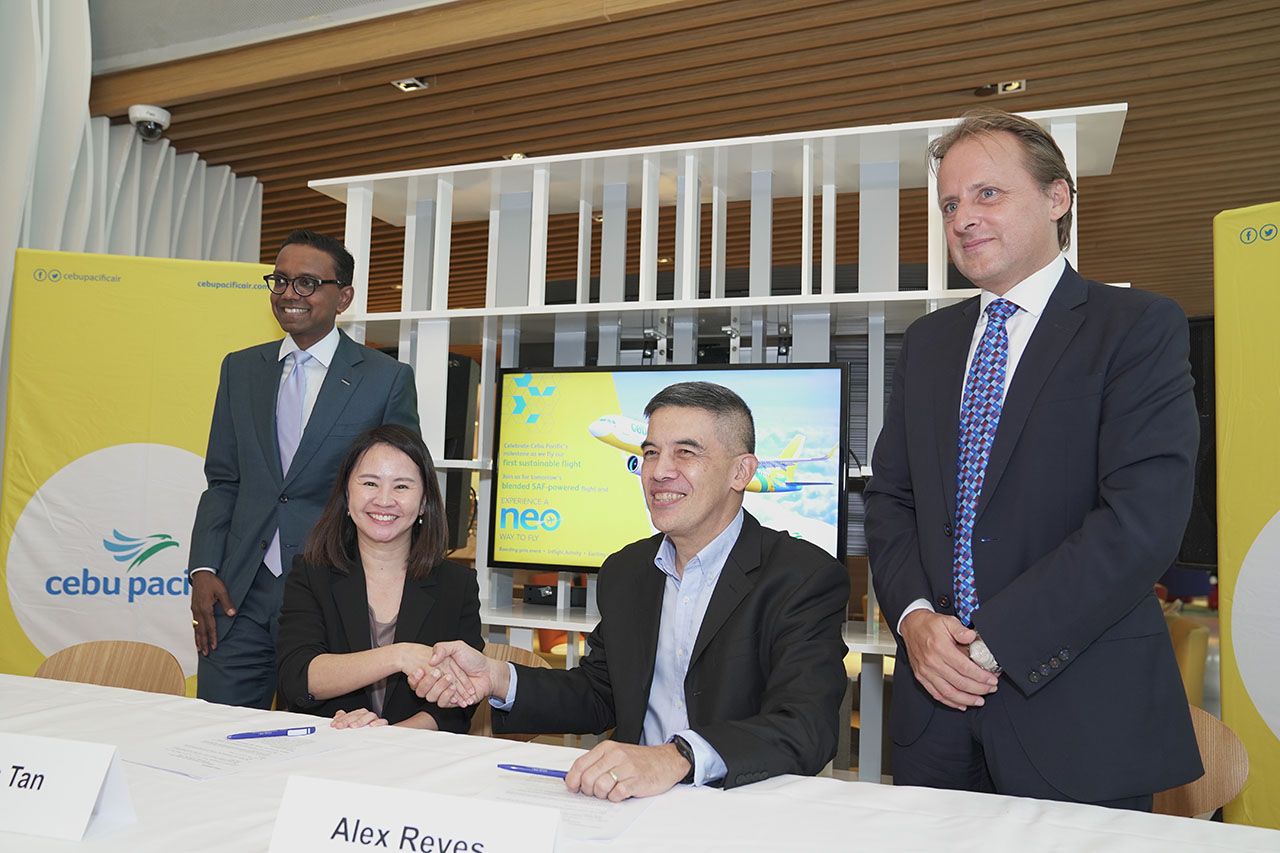 From left: Anand Stanley, President Airbus Asia-Pacific; Doris Tan, Head of Shell Aviation Asia Pacific & Middle East; Alex Reyes, Cebu Pacific Chief Strategy Officer; and Javier Massot, Cebu Pacific Chief Operations Officer, at the MOU signing between Cebu Pacific and Shell. IMAGE CEB

"SAF will help the aviation industry reduce its carbon emissions," said Alex Reyes, Chief Strategy Officer at Cebu Pacific. "We encourage more producers to increase the supply of SAF in the region. Our first passenger flight using SAF is a culmination of months of cooperation with valued partners and is an important component of our sustainability program."
The send-off event at Singapore's Changi International Airport Terminal 4 was highlighted by festivities to showcase Philippine culture and to mark a milestone in Cebu Pacific's history.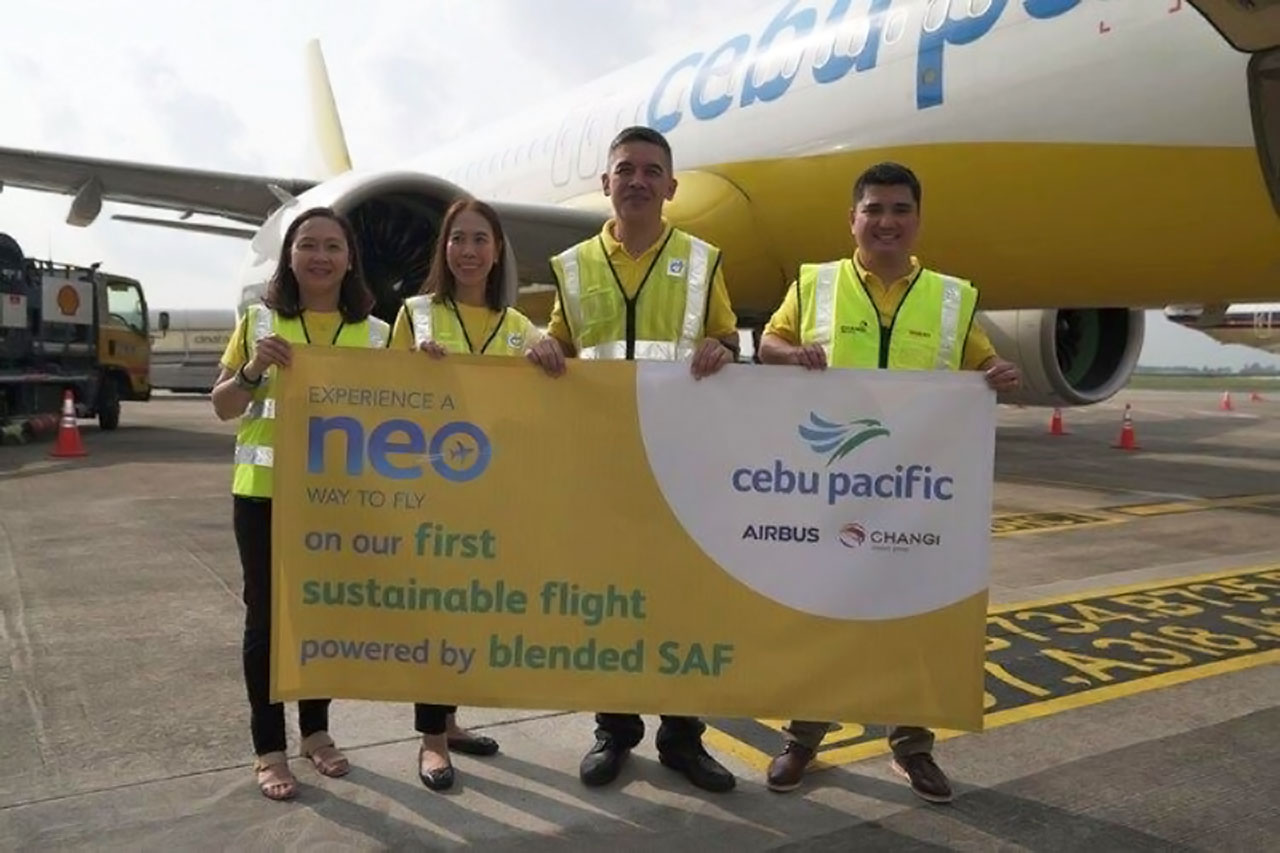 ebu Pacific officers celebrate the first commercial flight powered by blended SAF at Singapore's Changi Airport. From left: Nanette Mailum, Director for Corporate Strategy; Carmina Romero, Director for Corporate Communications; Alex Reyes, Chief Strategy Officer; and Dio Angelo Alojado, Director for New Business Development.
"We applaud Cebu Pacific for taking the first step on their SAF journey and are honored that they have chosen to do so from Changi Airport. Changi Airport Group looks forward to supporting more airlines on their SAF journey, to power sustainable air travel together," said Yeo Kia Thye, Managing Director, Airport Operations Planning and Airside of the Changi Airport Group.
A day before the commercial flight, Cebu Pacific signed a long-term strategic partnership with Shell Eastern Petroleum to collaborate on making SAF more widely available, demonstrating the two parties' commitment to decarbonization and sustainability. The Memorandum of Understanding explores the supply and purchase of SAF in Asia-Pacific and the Middle East, with an initial supply volume of at least 25 kilotons per year.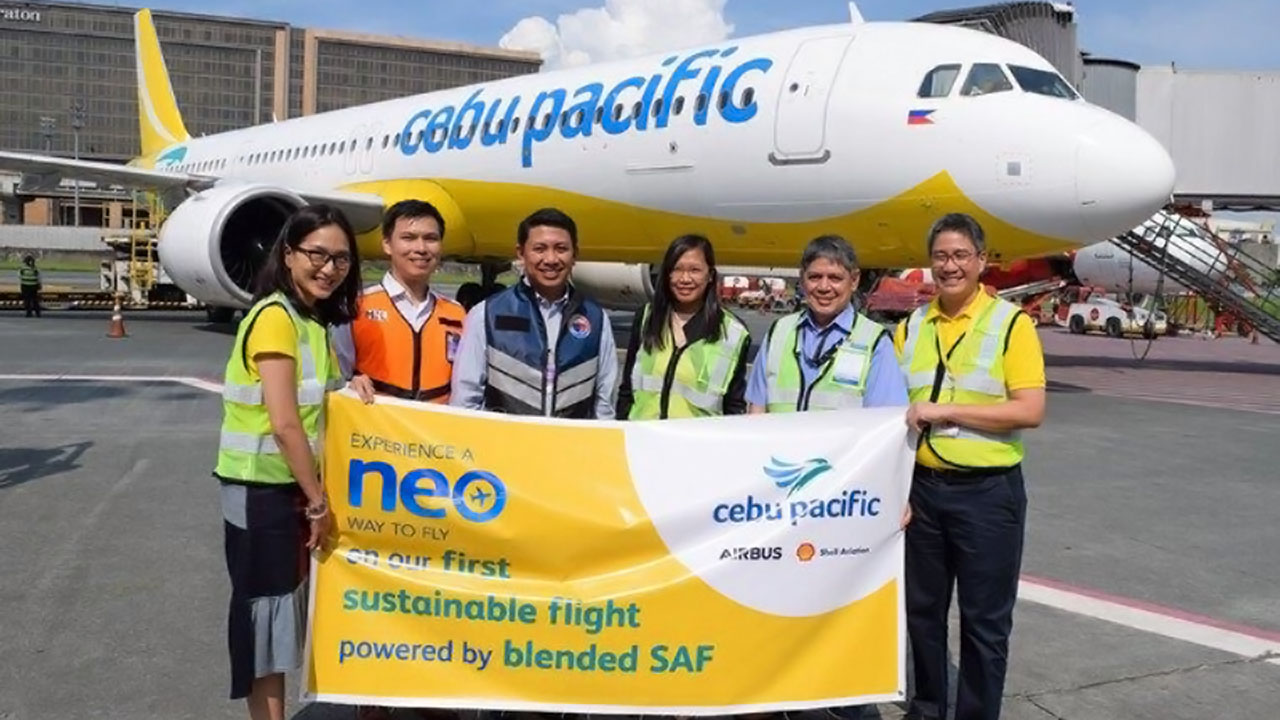 Welcoming the arrival of CEB's sustainable flight at the NAIA Terminal 3 are (from left): Candice Iyog, CEB Vice President for Marketing and Customer Experience; Bryan Co, Special Assistant to the Manila International Airport Authority General Manager; former MIAA General Manager Cesar Chiong; Atty. Clarabel Anne R. Lacsina, Acting Board Secretary of the Civil Aeronautics Board; Capt. Florendo Jose Aquino III, Acting Chief of the Civil Aviation Authority of the Philippines' Flight Operations Department; and Xander Lao, CEB Chief Commercial Officer. IMAGE CEB
"We are excited to work with Cebu Pacific in this five-year collaboration as we both believe that SAF is the best option available now for aviation to decarbonize by 2050. This agreement is testimony to the growing demand in the Asia Pacific region and we are ready to meet that need," noted Jan Toschka, President of Shell Aviation.
SAF is a "drop-in" replacement for fossil fuels made up of 100% renewable waste and raw materials, such as used cooking oil and animal fat waste. Using SAF results in up to 80% reduction in carbon emissions over the fuel's life cycle. The chemical and physical characteristics of SAF are almost identical to those of conventional jet fuel, and these can be safely mixed with regular jet fuel to varying degrees. SAF does not require any adaptations to the aircraft or engines and does not have any negative impact on performance or maintenance.
CEB used SAF for the first time in May on a delivery flight of a brand-new A330neo from France to the Philippines. In line with its sustainability initiatives, blended SAF will be part of the standard procedures in all future Airbus NEO deliveries.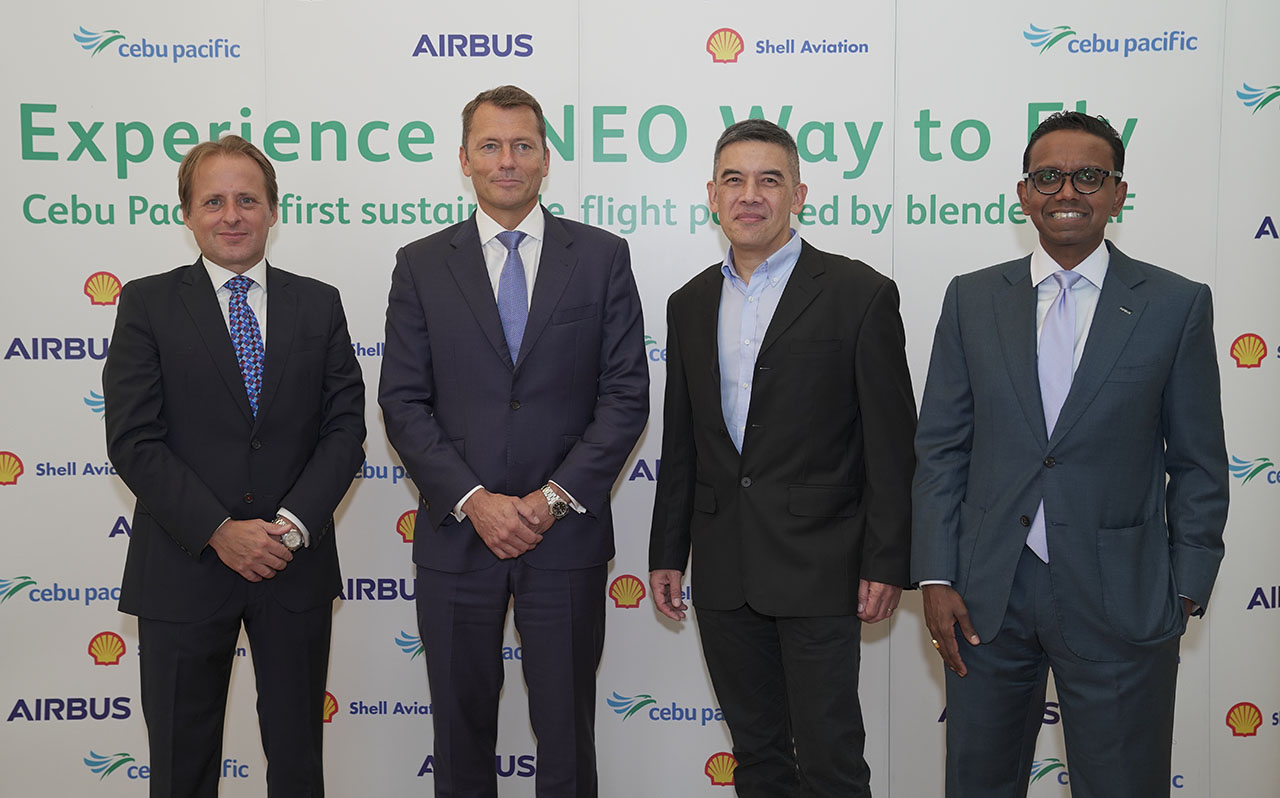 For the maiden SAF flight, Cebu Pacific utilized its A321neo, which belongs to the Airbus A320neo family. It offers the widest single-aisle cabin in the sky and incorporates the latest technology, including new-generation engines and Sharklets, delivering a 20% reduction in fuel consumption per seat compared to previous generation A320 aircraft. As with all in-production aircraft, the A320neo family is certified to operate with a 50% SAF blend and Airbus is committed to enabling the use of up to 100% SAF by 2030.
Speaking at the event, Anand Stanley, President Airbus Asia-Pacific, said: "At Airbus we are fully committed to ensuring a sustainable future for our industry and we are pleased to partner with Cebu Pacific on this journey. Together we have a shared commitment to reach the industry goals of net zero by 2050 and the increased use of SAF will lead to a significant reduction in carbon emissions. Aircraft manufacturers, airlines, energy providers, airports and regulators must all work together as we work towards the decarbonization of our industry."
Cebu Pacific will take delivery of one more A330neo in November and one A320neo in December. As part of the airline's sustainability efforts, it aims to transition to an all-NEO fleet by 2028 and incorporate the use of blended SAF for its entire commercial network by 2030.
The airline's sustainability target is aligned with the global aviation industry's goal of achieving net zero carbon emissions by 2050.
For more information on Cebu Pacific, visit cebupacificair.com