In releasing its inaugural Sustainability Report, JG Summit Holdings highlights the growing role Sustainability plays in enabling the conglomerate to achieve its long-term ambitions. The 2019 Sustainability Report, which hews to the theme "Thriving through generations," is the first for the entire group, although some of its Strategic Business Units have previously developed reports of their own. The pioneering effort was led by Universal Robina Corporation (URC), which released its report in 2018, followed by Robinsons Land Corp. (RLC) and Cebu Pacific (CEB), whose reports were released last year.
The conglomerate views the release of the 2019 Sustainability Report as a turning point in its Sustainability journey. As part of the conglomerate's ongoing transformation, its strategic directions will be based on the principles set forth in the company's new Purpose, which is the "unrelenting commitment to provide our customers with better choices, creating shared success with our stakeholders."
This promise to both customers and stakeholders takes a long-term view, hence the importance of Sustainability in achieving the company's goals. In their message to stakeholders, JG Summit Chairman James L. Go and President and CEO Lance Y. Gokongwei state, "This means that as we grow, perform, and maintain accountability in our operations, we also ensure that our stakeholders continue to have equal opportunities to thrive in the future."
The conglomerate's commitment to Sustainability is further evident in its recently redefined core values, which are Entrepreneurial Mindset, Integrity, and Stewardship. In the latter, JG Summit underscores the need for employees to be responsible with the resources entrusted to them, whether they be financial, environmental, or people.
The 2019 Sustainability Report shows that JG Summit has made meaningful inroads in 13 of the 17 Sustainable Development Goals as defined by the United Nations. JG Summit currently has initiatives to significantly address the following SDGs: SDG 2 – Zero Hunger, SDG 3 – Good Health and Well-Being, SDG 4 – Quality Education, SDG 5 – Gender Equality, SDG 6 – Clean Water and Sanitation, SDG 7 – Affordable and Clean Energy, SDG 8 – Decent Work and Economic Growth, SDG 9 – Industry, Innovation and Infrastructure, SDG 11 – Sustainable Cities and Communities, SDG 12 – Responsible Consumption and Production, SDG 13 – Climate Action, SDG 14 – Life Below Water, and SDG 15 – Life on Land. The four other SDGs are SDG 1 – No Poverty, SDG 10 – Reduced Inequality, SDG 16 – Peace and Justice Strong Institutions, and SDG 17 –Partnerships to Achieve the Goal.
The conglomerate's approach to Sustainability is presented through the Gokongwei Group Sustainability Framework. These consist of five key areas that are most material to the Group's business and its stakeholders: Shared Success, Climate Action, Resource Efficiency and Circularity, Better Choices, and Employee Engagement and Development.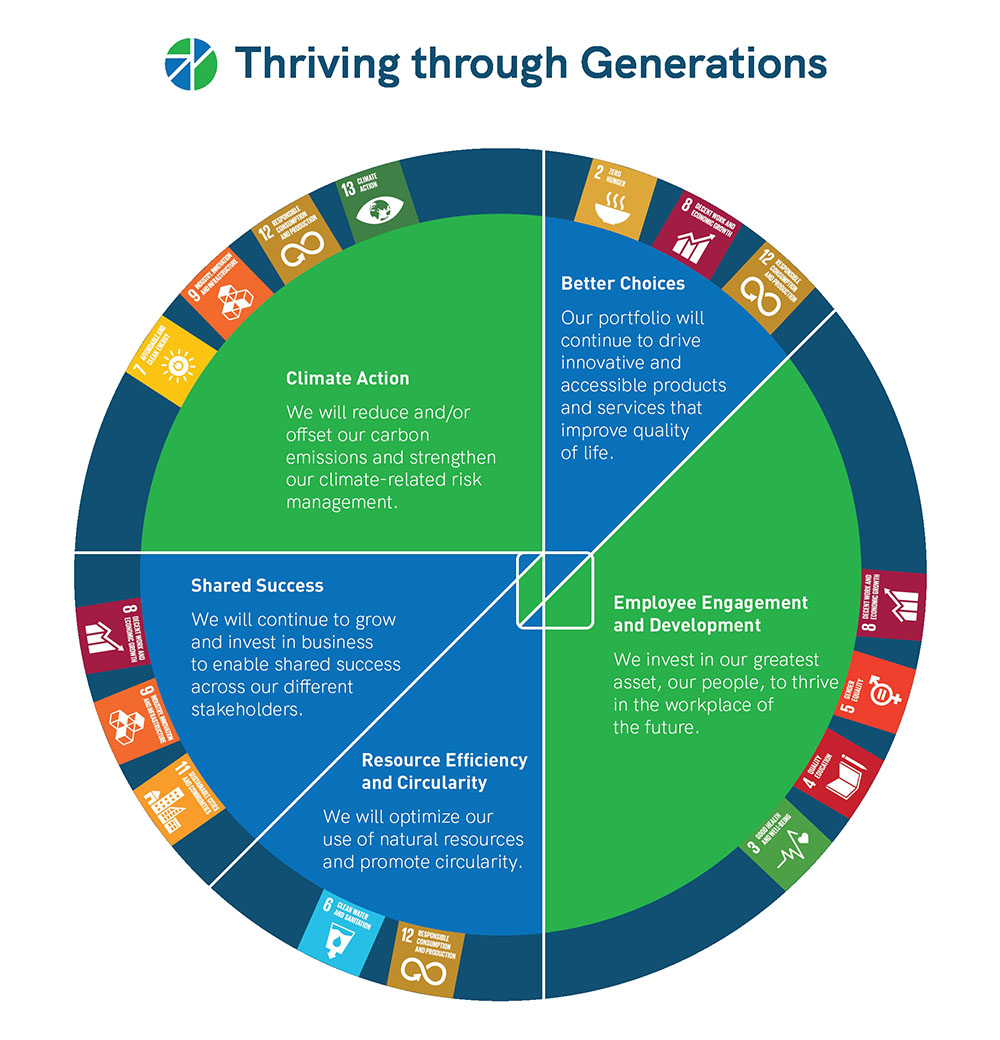 In creating Shared Success, the conglomerate points to its well-diversified portfolio that continues to bring long-term value to stakeholders through the economic opportunities that the group's business activities provide. It offers the examples of Robinsons Bank (RBank), whose wide range of financial options has enabled many Filipinos to expand their businesses; RLC, which has built economic growth centers through its 52 malls and 23 office buildings; JG Summit Petrochemicals Group (JGSPG), whose resin and polymer products serve a range of manufacturing industries; and Cebu Pacific, whose wide network and affordable fares have been a significant driver of economic growth.
In addressing Climate Action, JG Summit acknowledges the impact its businesses may have on the environment, thus it has taken steps to manage its energy consumption and reduce greenhouse gas emissions. Important measures include CEB's acquisition of modern, more fuel-efficient aircraft and a state-of-the-art weather forecasting system that has protected more than 100,000 passengers from potential weather risks. Another notable measure is the respective investments in renewable energy by RLC and URC to lower their dependence on traditional power suppliers.
On the challenge of Resource Efficiency and Circularity, JG Summit continually identifies ways to maximize the use of materials and finite resources. URC leads the way in the conglomerate's circular practices by repurposing disposed materials and reusing them in operations and packaging. The aspect of responsible waste management was addressed in several ways, such as CEB's Juan Effect, which invested Php3 million in information and education campaigns and distributed 363 trash bins in Siargao and Boracay; RLC's Recycling Market, which netted 140 tons of recycled products in 2019; and the combined efforts of URC, RLC, and JGSPG in the International Coastal Cleanup drive, which removed a total of 2.05 tons of waste.
URC takes a bold step in the framework's Better Choices, as it is revamping its product portfolio to increase the ratio of "Better-for-You" options for wellness. RLC also takes Better Choices into consideration by always going beyond what is expected from a typical real estate developer. Better Choices can also be found through RBank's focus on financial inclusion through the Simplé Savings Account, digital banking, and national expansion. Throughout the conglomerate, Better Choices is taken to mean Ensuring Customer Wellbeing, Driving Quality at the Supply Chain, Reaching Underserved Markets, and Listening to Customers.
Finally, JG Summit recognizes that its people are the backbone of the company, hence the focus on Employee Engagement and Development. With the wide scope of the conglomerate's business interests, various systems, with employee welfare at their core, have been put in place in the business units. The company considers employees as long-term partners, hence it fosters a safe and inclusive workplace, provides generous benefits, and ample opportunities for career growth.
Yvonne Flores, JGSHI director for CSR & Sustainability, said this inaugural Sustainability Report is the culmination of a long transformative process with the end goal of broadening the conglomerate's business perspective to include economic, social, and environmental contexts and impacts. The process began with the critical steps of identifying and building the foundation of the company's Sustainability journey as championed by the Sustainability Leads of the different Strategic Business Units. "It is also a clear demonstration of the Sustainability Leads' recognition of the critical role they play as co-stewards in helping steer the company to become a more sustainable enterprise. In today's world, it's not good enough to simply make claims about your level of sustainability performance. You need to provide tangible, credible demonstrations of your level of Sustainability following proper guidelines for Sustainability Reporting," said Flores.
Read the 2019 JG Summit Sustainability Report in its entirety here.