For Filipino Japanophiles, August 9, 2019, couldn't come soon enough, after it was announced earlier this year that Cebu Pacific would be launching a direct flight to Narita, Japan, from Clark International Airport.
After months of anticipation, Cebu Pacific flight 5J-5068 officially departed Clark that day at 6:48 a.m. and landed at 12:10 p.m., a few minutes ahead of schedule. On the heels of the Clark-Narita flight, Cebu Pacific also launched two new routes to the Visayas region, from Clark to Bacolod and Clark to Iloilo. These new routes highlight CEB's growing footprint in Northern and Central Luzon, where it aims to better serve a growing customer base.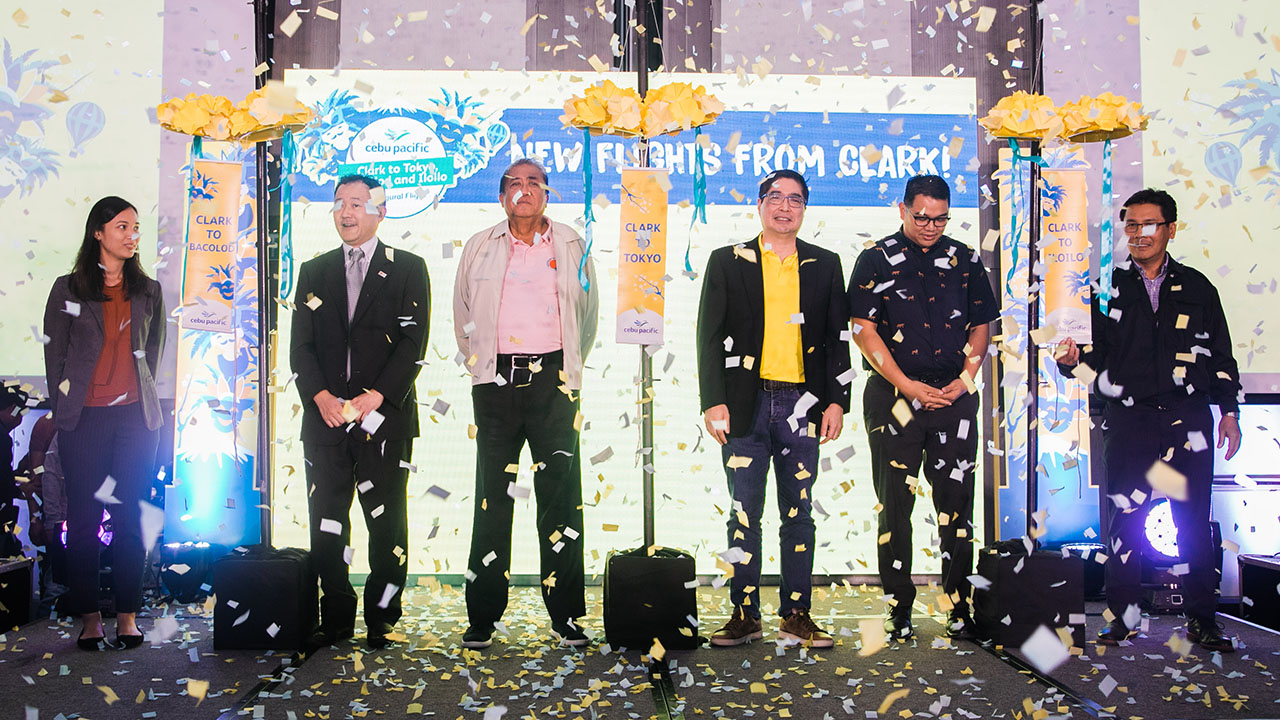 Maan Banawa from the
On the flip side, the new routes at the Clark airport enable tourists to enjoy the dramatic scenery and attractions that northern Philippines has to offer—from an exhilarating 4x4 drive to Mount Pinatubo, surfing in La Union to marveling at the Banaue Rice Terraces.
During the formal launch program, Cebu Pacific President and CEO Lance Y. Gokongwei spoke about Clark in glowing terms, and on how it has long been an important hub for the airline. "Cebu Pacific was the first airline to operate to Clark International Airport in 2006 with a daily service to and from Cebu. And I am proud to say that from 2006, we have never stopped flying to Clark. We have always believed in the potential of Clark as a gateway to northern Metro Manila and to central and northern Luzon, a hub with over 25 million residents," said Mr. Gokongwei.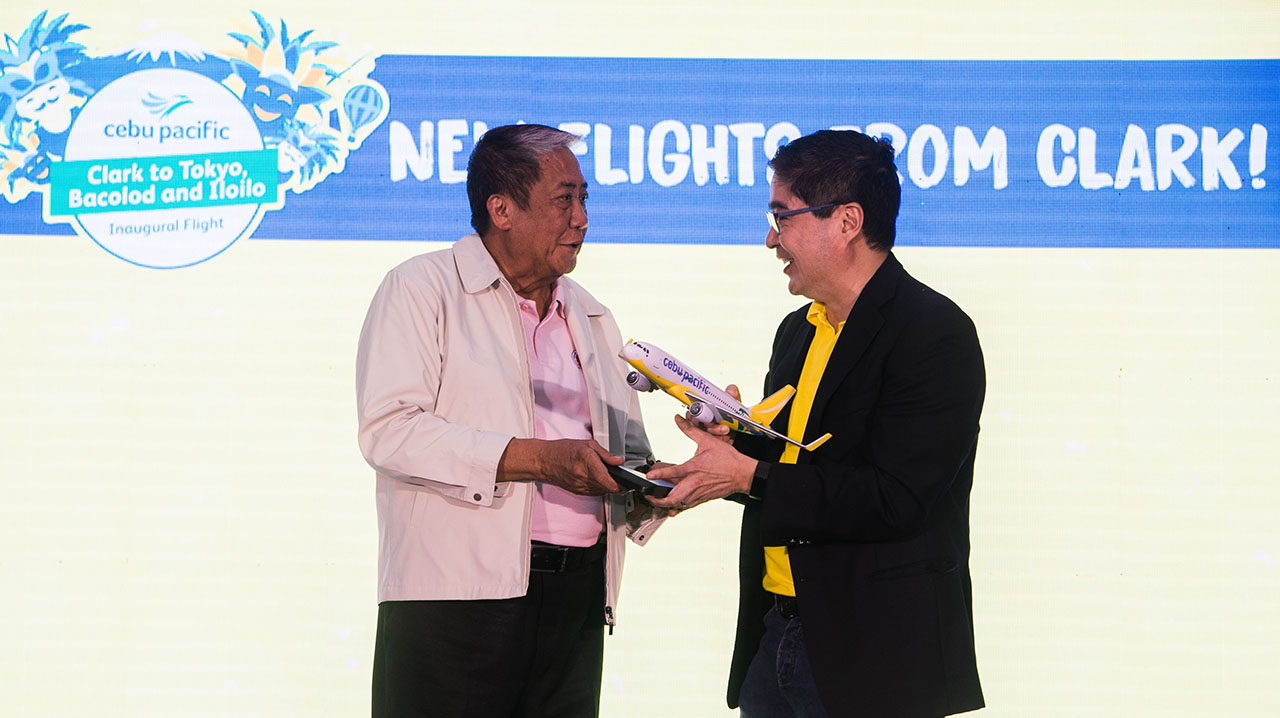 DOTr Secretary Tugade receives a commemorative scale model plane from Cebu Pacific President and CEO Lance Gokongwei.
Later in the speech, he mentioned the carrier's commitment to continue expanding operations in Clark. "Clark can! As we say. Clark can enable everyone to fly with more travel options that are available, accessible, and affordable. Our continued investment in Clark is integral to Cebu Pacific's own goals of carrying over 200 million passengers by 2020, and serving over 300 million by 2022."
On the importance of the new route, where Cebu Pacific becomes the first carrier to offer a direct connection from Clark to Tokyo, Mr. Gokongwei said that it would enable better access for tourists and investors, but more importantly, give "tens of thousands of Filipino workers and migrants in Japan the opportunity to come home more frequently and more easily."
The opening of flights from Clark to Bacolod and Iloilo, on the other hand, is expected to spur more tourism in the Visayas region.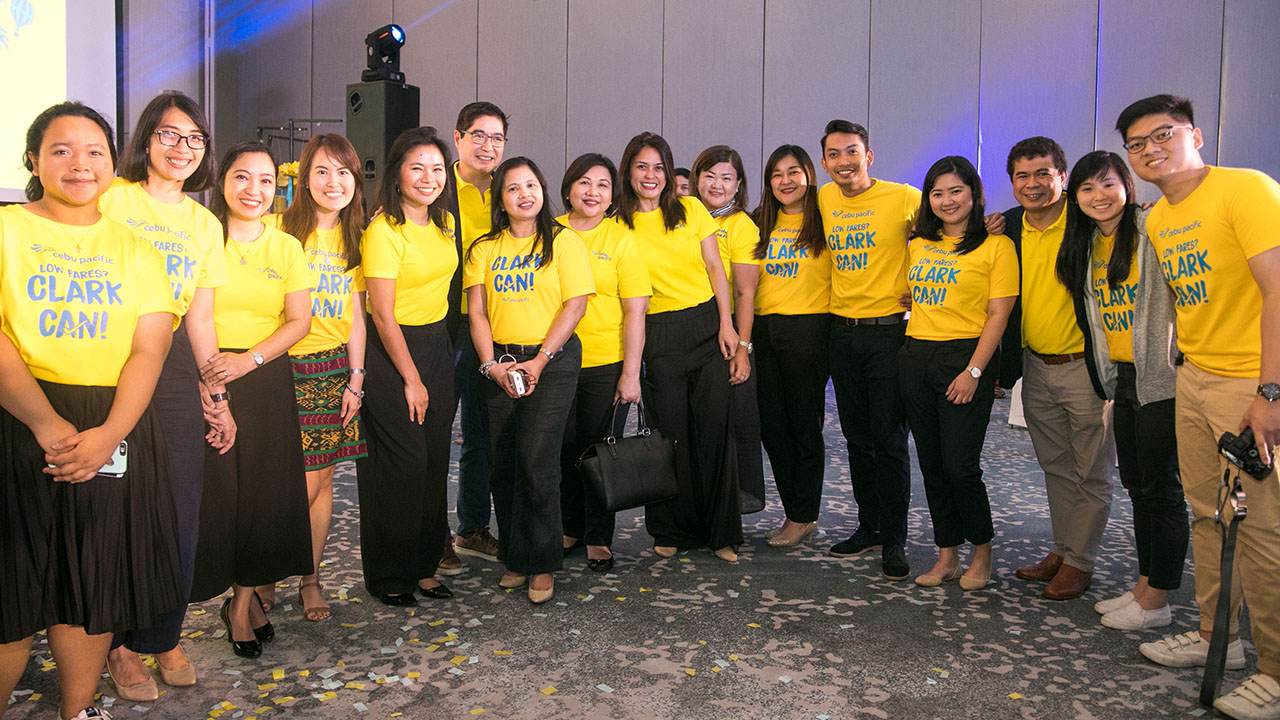 Cebu Pacific President and CEO Lance Gokongwei with airline officers and staff in their "Clark Can!" shirts.
Flights from Clark to Bacolod and Iloilo run daily, while direct service to and from Narita is scheduled four times weekly (Monday, Wednesday, Friday, Sunday).
With the expansion of its route network in the Clark hub, Cebu Pacific will become the largest carrier in Clark in terms of capacity by end-2019, capturing 28% of total number of seats offered by all carriers operating in Clark. According to Mr. Gokongwei, this will be covered by 184 flights per week across all routes, including the Clark to Puerto Princesa route, which will be launched in the fourth quarter of 2019.
For bookings and inquiries, visit www.cebupacificair.com or call the reservation hotlines: +632 702.0888 (Manila); +633 223.0888 (Cebu). The latest seat sales can be found on CEB's official Twitter (@CebuPacificAir) and Facebook pages. You may also download the Cebu Pacific official mobile app on the App Store and Google Play.