After introducing its sustainability targets in May 2019, Universal Robina Corporation (URC) strengthened its commitment to "purposeful transformation" by hosting the first URC Sustainability Summit from June 10 to 11 at Crowne Plaza Manila Galleria.
Attended by 200 'sustainability champions' of the company, the two-day summit, which had the theme "Live Sustainability. Live URC," began with technical tours of URC plants and other sites of JG Summit's strategic business units (SBUs) to showcase best sustainability practices. The following day, delegates attended plenary talks on Sustainable Development Goals (SDGs) 2030, Industry 4.0, and the Circular Economy. Breakout sessions on water, energy, waste, compliance, and people were also held for a more immersive knowledge sharing on sustainability issues and practices.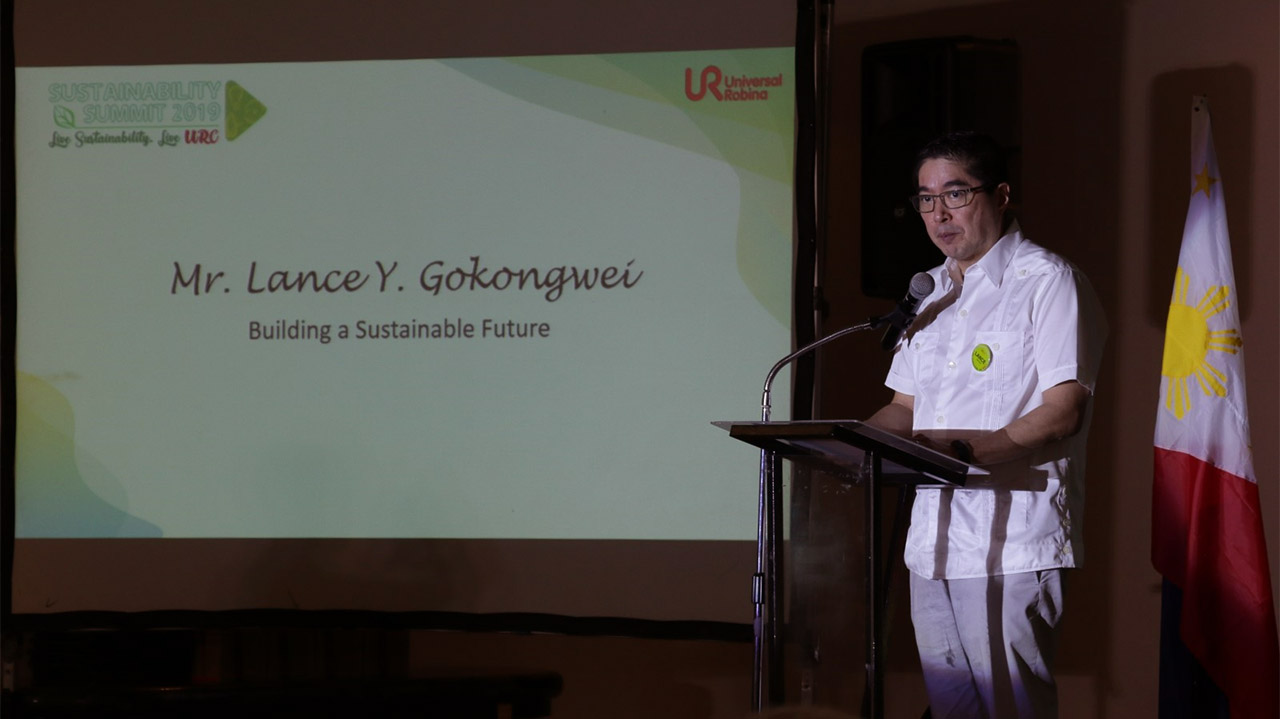 URC Chairman Lance Y. Gokongwei addresses the attendees of the first URC Sustainability Summit.
In his address to the summit's delegates, URC Chairman Lance Y. Gokongwei called for a committed pursuit of the company's sustainability agenda. Gokongwei also assured the participants of full management support to ensure that the company meets its targets. "As your Chair, I am with you in these commitments and I will hold you all to deliver on these targets. We look forward to seeing these projects at the excom and to support these projects that would ensure the achievement of these commitments," Gokongwei told the summit's participants. "Running a truly sustainable business is a must. It's not anymore a nice-to-have, but rather a necessary component of a well-run business.
Organized by the Operational Governance and Sustainability (OSG) unit of URC, the first URC Sustainability Summit was another pioneering effort of the food and beverage giant to foster a culture of sustainability not just within the company but also across JG Summit. According to Shirlyn Reyes, Director for OGS: "By bringing together our leaders, immersing them to best practices, and creating a platform for knowledge-sharing, we hope to rally our sustainability champions and forge a stronger unity towards the realization of our purposeful transformation."
In the Business of Doing Good
URC's sustainability agenda targets the improvement of its energy use ratio by 30 percent and its water use ratio by 30 percent by 2030. Other targets include zero injuries in the workplace, the achievement of Food Safety System Certification and consistent quality performance, and focused on developing 60 percent recyclable packaging to reduce the packaging footprint.
URC also plans to conduct more programs and training sessions to develop a sustainability mindset among its employees. To further support local communities, where many of the company's talents come from, URC eyes programs focused on education, nutrition, and the environment.
These targets aim to support the achievement of aligned UN SDGs by 2030, where private sector involvement is seen playing an indispensable part. URC's sustainability agenda specifically supports the SDGs on climate action, responsible consumption and production, quality education, zero hunger, decent work and economic growth, and clean water and sanitation. According to the Business & Sustainable Development Commission's Better Business Better World report, achieving the SDGs could generate up to US$12 trillion in market opportunities.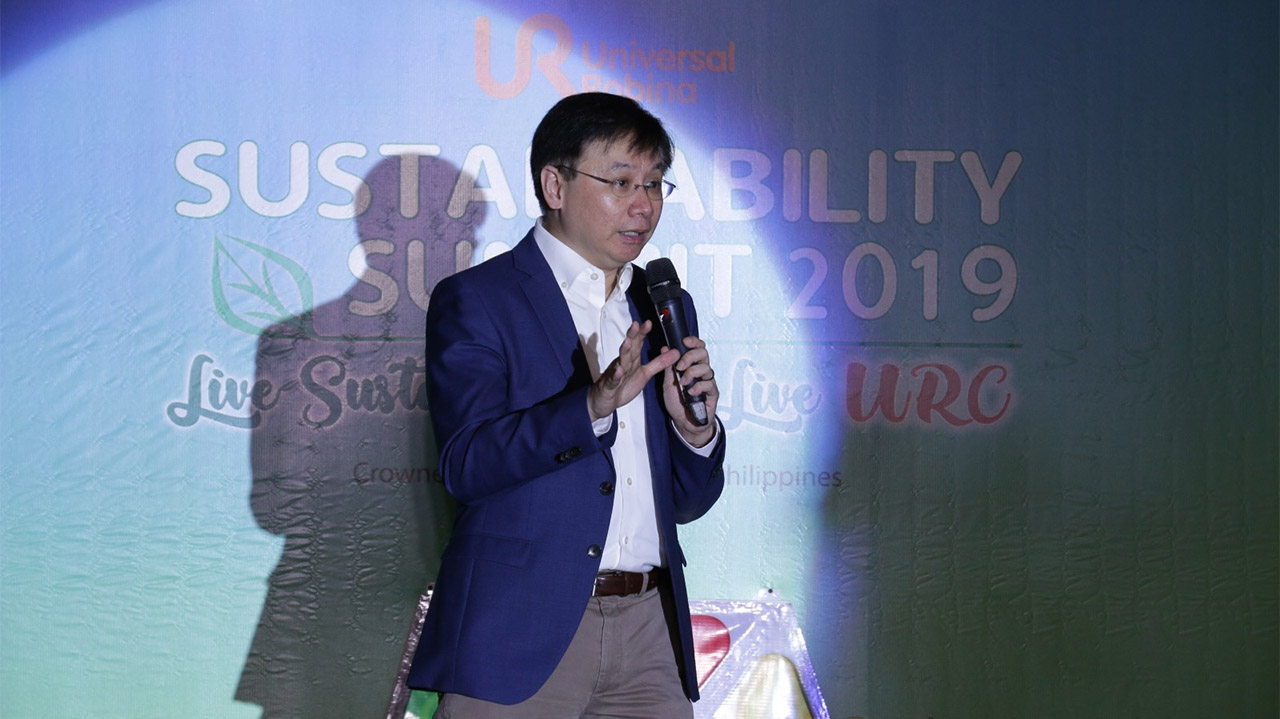 URC President and CEO Irwin Lee stresses that the company can "do well by doing good."
"We should believe that we can do well by doing good, that this is not just about doing what's right for the environment, but doing what's right in general will contribute to us being successful. That's why our objective in URC is to become a leading sustainable enterprise in the food and beverage sector," said URC President and CEO Irwin Lee. "If we want to do well and still do good, then we have to do a lot of things to make sure that our economic performance is sustained, but also do that in a way that is right for all our stakeholders."
Spotlight on Best Practices
During the technical tours, outstanding practices by different SBUs of JG Summit made the case for what Lee called doing well by doing good. The installation of a rotameter as part of URC Pampanga Plant 1's water conservation efforts, for example, was able to reduce water consumption by 1,092 cubic meters per month. Another benchmark practice in URC Pampanga is the use of spent tea leaves in beverage production as added fuel to the plant's boiler.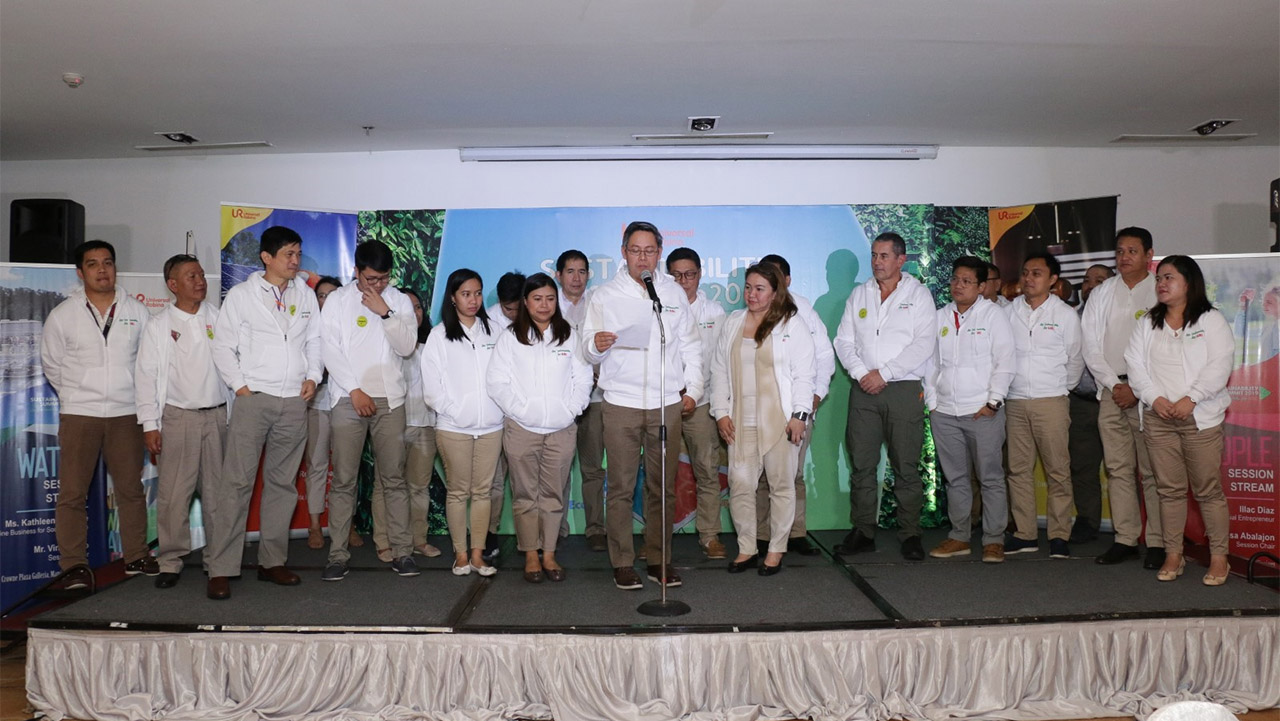 Summit participants read the commitments to the Sustainable Development Goals.
The technical tour also touted the possibility of learning opportunities between URC and other SBUs. Robinsons Starmills, for example, provides a model on how other SBUs can increase their use of clean power and generate more energy savings. Home to the world's largest mall solar rooftop facility, Robinson's Starmills was able to generate 10 million kilowatt hours of power and 79 million pesos in savings since May 2016. In terms of environmental impact, the facility was able to cut annual carbon dioxide emissions by 2.2 megatons, which is equivalent to 37,000 trees planted.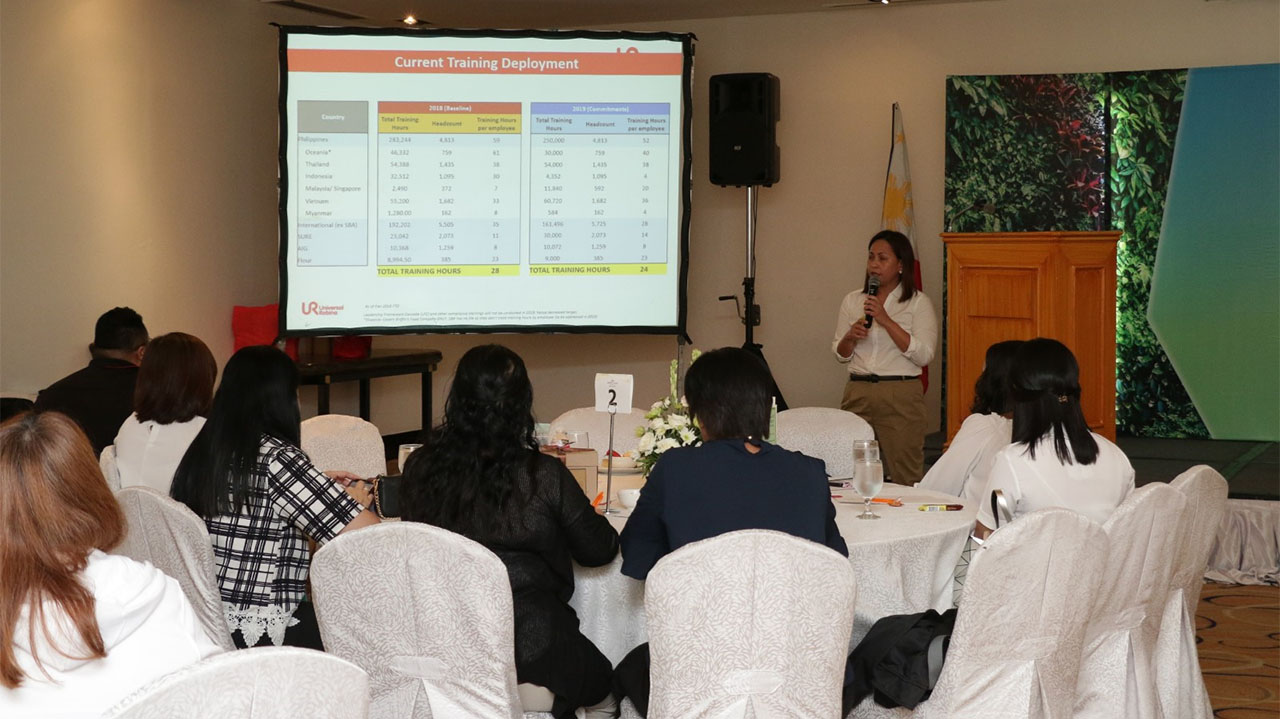 The summit aims to foster a culture of sustainability in the organization and beyond.
Aside from optimizing operations, URC's sustainability agenda also eyes a greater role in nation-building through programs directed at different stakeholders. During the summit, two of these programs were lauded. One of these is the URC Sustainable Potato Program, which aims to boost a competitive potato industry in the Philippines. Another key initiative is the Flourish Pilipinas Program, which aims to shape a future generation of bakers through a strategic partnership with the Department of Education.
To monitor its progress, URC committed to vigorously report its economic, environmental, and social impact to stakeholders—the government, investors, employees, shareholders, community members, and other partners. This move is expected to increase transparency and provide insights on boosting the company's performance towards meeting its 2030 commitments.
To find out more about URC and its portfolio of products, click here.