In 1992, the Gokongwei brothers John, Johnson, Henry, and James donated significant portions of their shares of stock in JG Summit Holdings, Inc. to establish the Gokongwei Brothers Foundation (GBF). The foundation aims to have a lasting impact on education in the Philippines.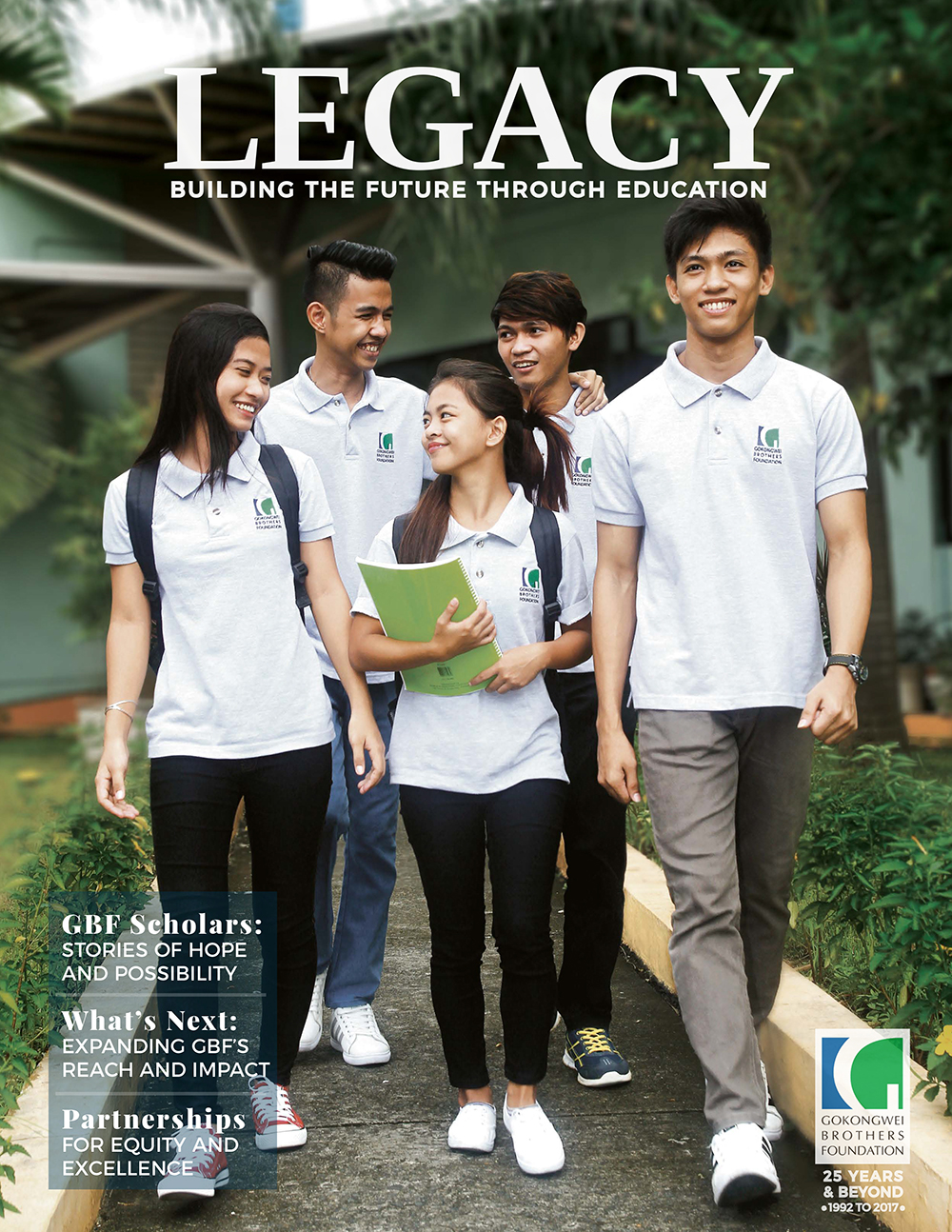 Read GBF's 25 th Anniversary Legacy Magazine here
Partnering With Top Academic Institutions
GBF recognizes strength in collaborating with leading education institutions. In honor of GBF's endowments, Ateneo University and De La Salle University renamed their departments the Ateneo de Manila John Gokongwei School of Management (2002) and the De La Salle University Gokongwei College of Engineering (2011), respectively. These endowments consist of significant allocations for student scholarships and faculty research.
The DLSU endowment has also led to the establishment of the John Gokongwei, Jr. Innovation Center (DLSU-JGIC) at the DLSU Science and Technology Center in Biñan, Laguna. Inaugurated in 2018, DLSU-JGIC partnered with a global gaming giant to offer undergraduate degrees in interactive entertainment, among many other new courses in this center.
The Gokongwei family has also donated funds to other academic institutions such as Immaculate Conception Academy, Xavier School, the University of San Carlos, Sacred Heart School-Ateneo de Cebu, and the University of Asia and the Pacific.
Empowering The Youth Through Scholarships
Scholarship programs help fulfill GBF's desire to give deserving young people a better future through purposeful, practical, and transformative education. One of the foundation's pioneer programs, the China Scholarship, sent young professionals to top universities in Beijing and Shanghai, China, to help future leaders better understand the country's fast-growing economy and rigorous business culture so they can bring back the knowledge gained to serve the Philippines. Seventy-four students graduated from the program for the years 2007 and 2009.
Since 2006, GBF has offered scholarship programs producing 337 graduates as of September 2017. At present, GBF offers seven scholarship programs for college, technical-vocational, and high school students:
GBF NextGen Scholarship for Excellence for Children of JG Summit & Affiliates Employees

This program offers financial support to academically excellent JG Summit and Affiliates employees' children with strong leadership potential and extracurricular involvement. NextGen scholars belong to the top 20% of the batch and may pursue any field of study at any local college or university.
Graduates: 83 | Current scholars: 45

GBF Iskolar ni Juan Tech-Voc Program

GBF with Universal Robina Corporation Branded Consumer Foods Group grants this fully-subsidized one-year scholarship to high school graduates or out-of-school youth. Boarded at the GBF Technical Training Center, scholars take GBF's signature TESDA-registered program followed by on-the-job training and employment at URC-BCFG.
Graduates: 91 | Current scholars: 176

GBF STEM (Science, Technology, Engineering, Mathematics) Scholarship for Excellence

This scholarship is offered to outstanding students belonging to low-income families and taking science and engineering degrees in top-ranked Philippine schools. Only students at the top 30% of the batch qualify for this program.
Graduates: 25 | Current scholars: 60

GBF-JG Business Units STEM Scholarship for Excellence

The scholarship aims to groom future leaders of JG Summit companies by immersing students in the industry and providing employment opportunities after they graduate. The program admits students who are in the final two years of their science and engineering undergraduate studies and the top 30% of the batch in top-ranked Philippine schools.
Graduates: 21 | Current scholars: 101

DLSU Gokongwei College of Engineering Grant

This scholarship supports commendable students who are taking any undergraduate engineering program at DLSU-GCOE.
Graduates: 11 | Current scholars: 93

Ateneo John L. Gokongwei Scholarship

This full scholarship is awarded to outstanding but financially needy students of the Ateneo John Gokongwei School of Management.
Graduates: 22 | Current scholars: 4

St. Stephen's High School Scholarship Program

GBF's first high school scholarship benefits indigent but exemplary students enrolled at this Chinese school, with financial assistance covering Grades 7 to 12.
Graduates: 10 | Current scholars: 5
Building A Definitive Learning Facility
GBF envisioned a continuing school where young engineers and technical professionals could train to help build an industrially strong Philippines. In 1999, the GBF Technical Training Center was constructed in Rosario, Pasig. Initially supporting the upgrading of skills of JG Summit's technical workers, it is currently the home of the GBF Iskolar ni Juan Tech-Voc Program.
Collaborating With JG Business Units & Strategic Partners
Recognizing the need for synergy in order to expand its reach and impact, GBF supports the advocacies of various JG business units and external partners.
In 2000, GBF together with Robinsons Land Corporation (RLC) launched the Children's Library inside Robinsons Malls to promote love for reading among children by giving them access to a collection of books, comics, and educational audio and video materials.
GBF supported RLC's 2015 launch of RLove, an employee-initiated corporate social responsibility program that focuses on four main avenues of community service: disaster response, community development, health care and nutrition, and education. GBF has launched various scholarships in partnership with different JG Summit business units such as the Universal Robina Corporation Branded Consumer Foods Group, Flour Division, and Agro-Industrial Group; RLC; JG Summit Petrochemicals Group; and South Star Drug.
In 2011, to address the immediate needs of preschool-age children in underprivileged communities, GBF built 18 two-classroom preschool buildings in various provincial sites as part of the "Silid Pangarap" program of Aklat, Gabay, Aruga Tungo sa Pag-Angat at Pag-Asa (AGAPP) Foundation. GBF also provided training for teachers to equip them with tools that would give their students the best foundation for their future.
Leaders
Board of Trustees
Chairman

John L. Gokongwei, Jr.

President

James L. Go

Secretary

Lance Y. Gokongwei

Members

Elizabeth Y. Gokongwei
Robina Gokongwei Pe
Patrick Henry C. Go
Johnson Robert G. Go, Jr.
Antonio L. Go
Management
Contact Us
6/F Robinsons Cybergate Tower 3 Robinsons Pioneer Complex, Pioneer Street, Mandaluyong City, Philippines