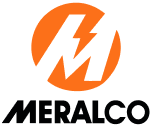 Manila Electric Company (Meralco) is the largest private sector electric distribution utility company in the Philippines. It holds a 25-year congressional franchise under Republic Act No. 9209. It provides electricity to 6.3 million customers in 36 cities and 75 municipalities in a franchise area covering 9,685 km2 that includes Metro Manila, the provinces of Rizal, Cavite, Bulacan and portions of the provinces of Pampanga, Batangas, Laguna and Quezon. The franchise covers the core of the country's industrial, commercial, and population centers. The Company celebrates its 115th year of service in 2018.
The power segment, primarily power distribution, consists of operations of Meralco and its 65%-owned subsidiary, Clark Electric Distribution Corporation (CEDC), a registered private distribution utility serving exclusively within its franchise area including the Clark Freeport Zone and the sub-zone as determined pursuant to Presidential Decree No. 66.
The Company participates in retail electricity supply (RES), through a Local RES known as MPower, a business unit within Meralco, and a wholly-owned subsidiary, Vantage Energy Solutions and Management, Inc., which was granted a license to operate as a RES by the Energy Regulatory Commission (ERC) in 2017.
Meralco through wholly-owned subsidiary, Meralco PowerGen Corporation (MGen) is developing a portfolio of power generation plants. It also has a minority equity interest in power generating company Global Business Power Corporation (GBPC). FPM Power, which is 40% owned by Meralco through MGen, has a 70% interest in PacificLight Power Limited, which owns and operates a 2x400 MW LNG-fired power plant in Jurong Island, Singapore.
Through several subsidiaries in the services segment, Meralco provides engineering, design, construction and consulting services, bill collection services, distribution and energy management services, and communications, information systems and technology services. The Company formalized its entry into the renewable energy space with the creation of MSpectrum, Inc. a wholly-owned subsidiary.
Meralco is listed in the Philippine Stock Exchange (PSE: MER).
JG Summit currently holds 29.56% stake in Meralco.
Contact
Head Office
Manila Electric Company Lopez Building, Ortigas Avenue Pasig City