A Pledge to the Generations
JG Summit Holdings, Inc. (JGS) stands by its unrelenting commitment to provide better choices and create shared success with its stakeholders. Under the leadership of JGS Founder and Chairman Emeritus John L. Gokongwei, the company has built a network of companies from different industries, such as food and beverage, real estate, aviation, financial services, and petrochemicals, providing goods and services that have become part of the Filipinos' daily lives.
At present, with the constantly changing business landscape brought about by the evolving needs of the public and the looming risks posed by climate change, sustainability is a must for businesses to thrive. Recognizing this, the sustainability agenda is put forefront as the company ventures into new directorship with Lance Gokongwei as new Chairman. "For JGS, doing our business sustainably not only means protecting our operations from external risks but also continuing the Gokongwei legacy of service," explains Gokongwei.
With this, JGS created the Gokongwei Group Sustainability Framework to serve as the company's proposition in the years to come as it continues to thrive with greater sustainability through future generations. The Framework consists of six key focus areas presenting what sustainability is for JGS, why it is important, and how we would move forward with our sustainability journey. These key focus areas are Shared Success, Climate Impact Management, Resource Efficiency & Circularity, Better Choices, Leadership & People Development, and Corporate Governance.
Under the Shared Success focus area, JGS works to achieve growth that is shared with our closest stakeholders through equitable distribution of economic wealth. Within the company, we ensure the provision of competitive compensation to our employees. Externally, JGS empowers local communities as demonstrated by Robinsons Bank's (RBank) microfinance loans which provides financial assistance to small business owners and Cebu Pacific's (CEB) growth in domestic destinations which helps boost local tourism. In doing so, the company ensures that investments delivered are directed for the good of the nation.
However, the business is also faced with challenges presented by the continuing threat of climate change. Not only are there physical risks to our infrastructure and sources of natural capital, there are also socio economic implications to our supply chains and the working conditions of our people. Recognizing that we can help mitigate the effects of climate change through improvements in our operation, JGS seeks to address these risks through two of our focus areas, Climate Impact Management, and Resource Efficiency and Circularity.
With the goal of reducing emissions, Robinsons Land (RLC) has been investing in solar rooftops while CEB has begun transitioning to more fuel-efficient planes. On the aspect of optimizing natural resource consumption, Universal Robina Corporation (URC) is currently increasing the proportion of recyclable materials in its packaging, RLC is building more LEED-certified infrastructures. In the long run, JGS aims to create circular economy initiatives across its business units, improve waste management systems, and explore collaborative projects engaging local communities and recyclers.
While maintaining resilience despite the climate risks, JGS continues to provide accessible and high quality products and services through its SBUs. With Better Choices as a focus area, JGS ensures that we contribute to improving the quality of life and addressing the needs of the common Filipino. For instance, URC has committed to meet its Health and Wellness Criteria by 2030 and JG Summit Petrochemicals Group (JGSPG) continues to be a pioneer by providing local essential industries with a key upstream resource at par with world-class standards.
As our primary partners in delivering shared success and providing better choices, our employees are also given vast opportunities for growth and safeguarded by stringent health and safety measures. Our strategic business units demonstrate these principles of Leadership and People Development, our fifth focus area, through their respective programs. CEB's Cadet Pilot Program offers Filipinos chances to become pilots despite financial constraints. JGSPG also has high standard safety policies and implementation procedures.
Lastly, our focus towards Corporate Governance serves as our foundation in delivering the ambitions from the focus areas mentioned through our senior leadership team and champions across the JG Summit group. Our thrust towards Corporate Governance will also emphasize strengthening our group-wide risk management that will ensure business continuity in the coming decades.
With the Sustainability Framework in place, the company's initiatives can be better streamlined and synergized with its business units allowing impact to be appropriately managed throughout the Group. It also promotes improved transparency, as JGS publishes its maiden sustainability report disclosing baseline sustainability performance to monitor the effectiveness of JGS' sustainability programs from here on out.
Universal Robina Corporation (URC)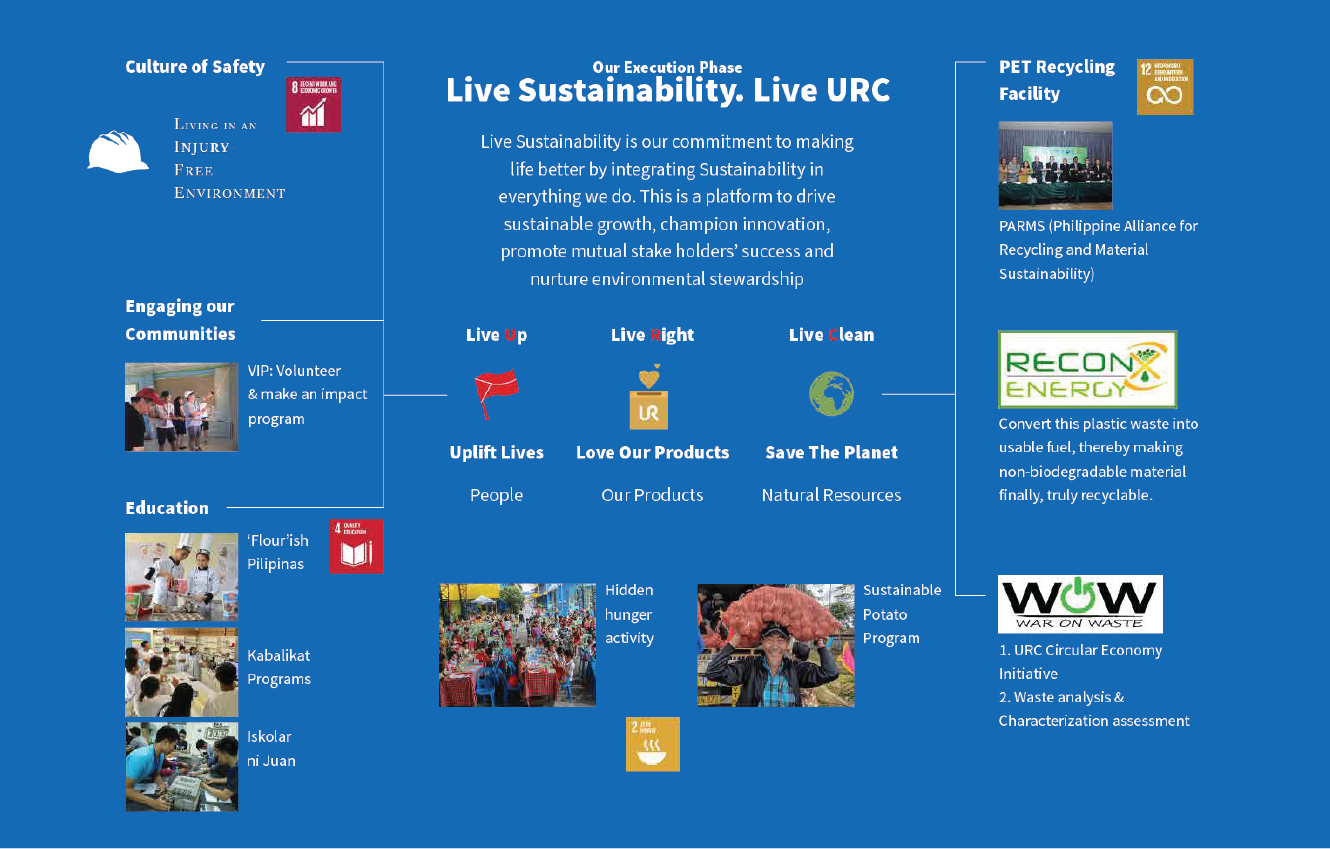 The results of our 2018 baseline gave us the basis to develop our 2030 commitments. Irwin Lee involved the different country heads and division heads in the program to align their support in delivering our commitments. In the second quarter of 2019, we released our 2030 sustainability commitments aligned to the UN Sustainable Development Goals.
With regards to our executions, we are pleased to announce that we've done several initiatives in the areas of our materiality which are People, Products, and Natural Resources.
In People, we launched a new campaign towards a better safe working environment ensuring we promote zero lost time injury in the workplace. We also engaged our communities through volunteer programs to work community engagement focused on education, nutrition (feeding programs), and Environment (coastal cleanup drive). In our Products, we executed another sustainable agriculture project through our sustainable potato program in partnership with the Department of Agriculture.
Lastly, in Natural Resources, we collaborated with different stakeholders in the FMCG industry through the formation of Philippine Alliance for Recycling and Material Sustainability (PARMS) to recycle PET and address a bigger issue in solid waste. Internally, we started our drive towards circular economy through our program called War on Waste. In 2019 we've started our waste analysis & characterization assessment.
CEB's efforts for its sustainability programs are recognized in the public relations and business spheres with awards in Public Relations Society of the Philippines Anvil Awards, the International Association of Business Communicators Quill Awards, PR Asia, and the Department of Social Welfare and Development Salamat Po Awards. These endeavors were also recognized by the conglomerate-wide JG Pride in Performance.
In 2019, CEB flew an average of 61,500 passengers a day. As CEB continues to grow with more aircrafts in its fleet, and more destinations and routes in its network, it is imperative to integrate sustainable business practices in core operations, keeping in mind the welfare and well-being of staff, the environment and the communities served.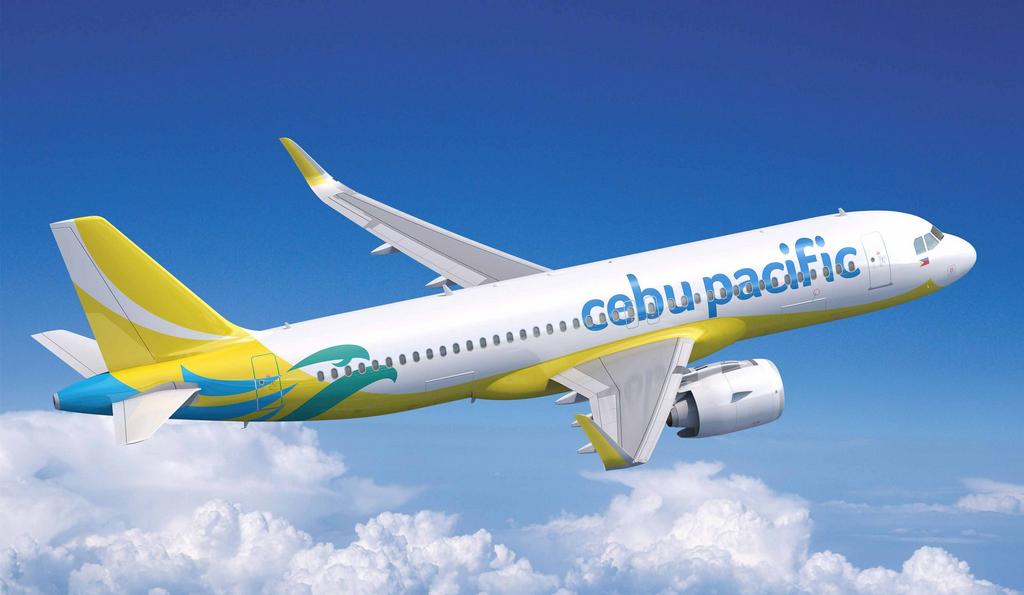 Environmental stewardship among others
As a mover of people and products, Cebu Pacific is a main contributor to economic growth through tourism and transport. However, this growth can also come at a cost to the environment. CEB mitigates its impact by streamlining operations and making investments accordingly.
The heart of these investments is on the CEB fleet, exerting extra effort on efficient fuel use and keeping carbon emissions in check. The CEB fleet is one of the youngest in the world, with an average of five years in 2019. The current aircraft order supports a plan to have, by 2024, a fleet of all new-generation aircraft, designed to be quieter, more fuel efficient and less harmful to the environment.
In 2019, CEB's total carbon emissions from flights was 2.01 million tons of CO2 for 143,897 domestic and international flights. On the current fleet, this translated to CEB generating approximately 80.42 grams of carbon for each kilometer travelled by a passenger (gCO2/pk). Despite having more flights from 2018 to 2019, the younger fleet age and efficiency of planes enabled CEB to lower the carbon emissions intensity per passenger by 5.6% from 2018's intensity of 85.21g CO2/pk.
Robinsons Land Corporation (RLC)
Renewable Energy: Mall Solar Facilities
RLC values energy management to promote sustainable growth for the organization. To integrate this in the company's operations, RLC embarked on a renewable energy project to install off-grid rooftop solar photovoltaic (PV) panels in its malls nationwide. This demonstrates RLC's commitment to protect the environment from the adverse effects of carbon emissions, and to be an industry leader in efficient energy use, alongside its other energy conservation and efficiency programs. RLC still holds the record of having the world's largest solar-powered facility installed on a mall's rooftop for self-consumption.
To date, RLC has completed 21 solar projects for a total of approximately 21,682.46 kWp (21.68 MWp) of solar panels installed. This is equivalent to about 306,774 trees planted and 18,554.10 tons of carbon dioxide avoided. Malls with solar facilities are located in Palawan, Iloilo, Dumaguete, Roxas, Antique, San Fernando Pampanga, Angeles Pampanga, Novaliches, Tacloban, Bacolod, Jaro, Tagum, Galleria Cebu, Cybergate Cebu, Ilocos, Pangasinan, Pavia, and Ormoc.
For 2020, RLC targets to install solar panels in 8 more commercial centers in different locations nationwide including General Santos, Naga, Santiago, Iligan, Butuan and North Tacloban. Aside from this, plans to roll out even more solar PV systems in both existing and future malls are already in the pipeline.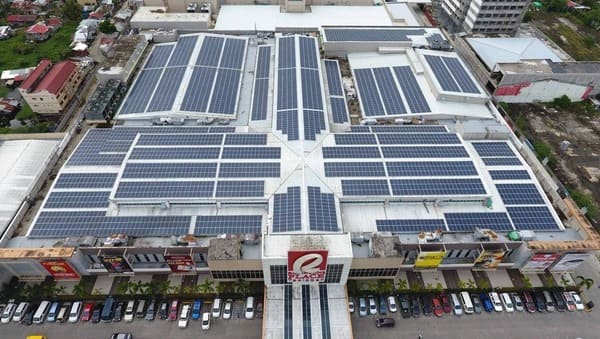 Wastewater Recovery Program
RLC recognizes the importance of the intelligent use of water resources. Through the "Wastewater Recovery Program", wastewater is treated, filtered, and reused resulting in zero wastewater discharge to public sewers. Several RLC hotels and malls now use 100% recycled wastewater for their toilets and irrigation requirements.
Robinsons Malls Recycling Market
The Robinsons Malls Recycling Market and "Shoot Your PET Bottles" project provide waste-recovery systems through a once-a-month recyclable-buying fair involving Robinsons tenants, customers, other business establishments, schools, religious groups, and city residents. The project aims to instill environmental stewardship amongst city residents and businesses, while providing additional income for households and organizations. Through this project, waste-to-landfill diversion is achieved through segregation campaigns, recycling practices, and the trash-for-cash incentive mechanism.
Robinsons Place Ilocos, Robinsons Place Malolos, Robinsons Town Mall Malabon, and Robinsons Novaliches actively promoted the initiative. More than 140 tons of solid waste recyclables consisting of cartons, PET bottles, papers, tin, aluminum, cans and even old appliances were brought to the Weekend Recycling Market to prevent landfill pollution. The project was executed in partnership with the respective Local Government Units and DENR-Environment Management Bureau.
Robinsons Malls Weekend Recycling Market contributes to the multiple solution approach in waste management by creating public awareness on the importance of the preservation of the environment through promotion of the REUSE, REDUCE, RECYCLE attitude in the malls' respective communities. It is RLC's way of creating shared value for all involved stakeholders – the local businesses, customers, local organizations, and neighboring communities.
Aside from the Weekend Recycling Market, Robinsons Place Novaliches also partnered with Tetra Pak Philippines to launch the "Panalong Easy sa UBC" project. The project promotes proper waste management and carton recycling through the collection of used beverage cartons from junk shops and mall customers. It likewise aims to educate the public on the positive impact of waste recycling activities and to impart lifestyle changes that may contribute to environmental preservation.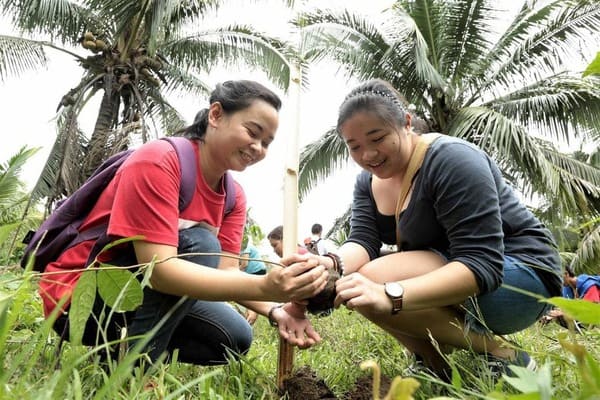 Robinsons Malls Iloilo partnered with the local government and the Provincial Environment and Natural Resources Office (PENRO Iloilo) for "Bote Ko, Palit Ko", an eco-brick project that champions the adoption of the Alternative Recycling Technology (ART) through plastic bottle redemption activities. The campaign targeted schools and universities, including mall customers who donated collated plastic bottles or "trash in a bottle" in exchange for eco-friendly items from the mall. Collected plastic bottles were used to create planter boxes, and low non-load bearing walls for schools.
JG Summit Petrochemicals Group (JGSPG)
JGSPG believes sustainability should be at the core of our business, and we strive to embed sustainability not just in our programs and initiatives but as part of overall business strategy. Below are some of the initiatives given particular attention in 2019 as the company contributes towards helping protect the planet while also ensuring that the business operates sustainably.

Boracay Wetland No. 8 Rehabilitation Project: Partnering with Government for Biodiversity Sustainability
On March 7, 2019, JG Summit Petrochemical Corp. (JGSPC) partnered with the Dept. of Environment and Natural Resources (DENR) to revive Wetland No. 8 in Boracay Island. The partnership is part of the Adopt-a-Wetland Program of the DENR – Biodiversity Management Bureau (BMB), where the private sector commits to rehabilitate and restore Boracay's wetlands at no cost to the government. Wetland No. 8, a 1.8-hectare swamp and marshland located in Brgy. Manocmanoc, is home to 39 species of trees and 20 faunal species of birds, fish, mammals and gastropods, and is one of the nine wetlands in Boracay identified for the DENR- BMB program.
Dubbed as Para sa Atong Cagban Bobon, JGSPG launched the 3-year program aimed to restore the environmental sustainability of Wetland No. 8 and prevent further degradation of its ecosystem, through espousing a private-public sector collaborative approach with active involvement of other stakeholder communities.
Anchored on environmental stewardship and community engagement, Para sa Atong Cagban Bobon is centered on contributing to Goal 15 of the United Nations' Sustainable Development Goals which is to "Protect, restore and promote sustainable use of terrestrial ecosystems, sustainably manage forests, combat desertification, and halt and reverse land degradation and halt biodiversity loss." The partnership between DENR and JGSPG likewise contributes to Goal 17 that aims to "strengthen the means of implementation and revitalize the Global Partnership for Sustainable Development."
Artificial Reef Project: Improving Biodiversity along Verde Island Passage
Since 2002, JGSPG has been maintaining a marine biodiversity project along the coast of one of its host communities, Brgy. Simlong, located in Batangas Bay which is within the Verde Island Passage, a 1.14-million hectare marine ecosystem that covers the coastlines of the provinces of Batangas, Romblon, Marinduque, Occidental Mindoro and Oriental Mindoro. To date, JGSPG has deployed a total of 683 artificial reef blocks that cover an area of 312.5 square meters. Based on the latest monitoring survey of the faunal communities of the area conducted in January 2019, fish species richness of 38 species / 20 m2 and fish biomass of 13.9 kg / 20 m2 were recorded, proof of "remarkable positive changes in diversity and abundance." Total number of fish species is distributed among 19 families, and composed of 24 major species and 14 target species.
Through the artificial reef project, JGSPG contributes to Goal 14 of the UN SDG's which is to "Conserve and sustainably use the oceans, seas and marine resources for sustainable development."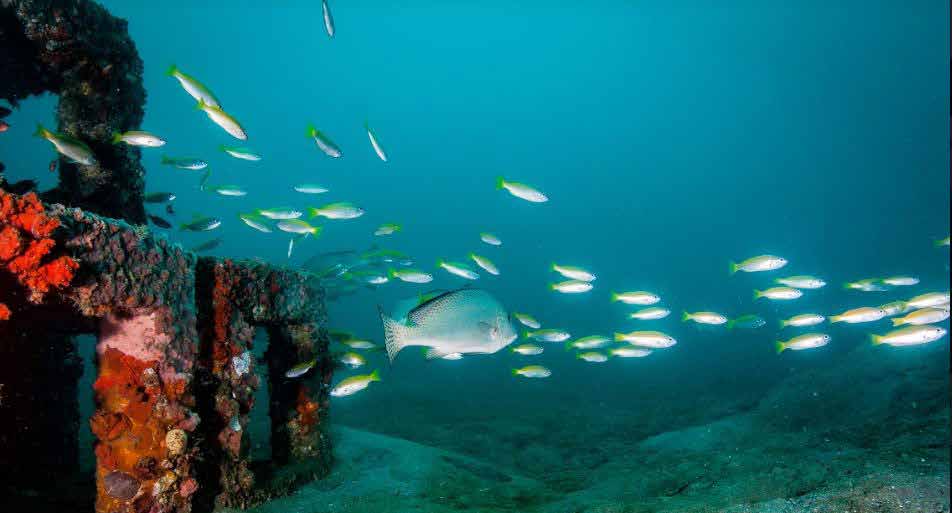 Abot Kamay: JGSPG's Flagship Program for Education and Community Development
Aside from a strong focus on environment, JGSPG's sustainability thrust is also firmly centered on education and community development through its flagship Abot Kamay program which has been ongoing since 2000. In 2019, the engagement was evident more than ever through several education- and community-related activities that were rolled out for the students and residents of JGSPG's host communities, Brgys. Simlong and Pinamucan Ibaba.
Under the Abot Kamay program, JGSPG participated in the Dept. of Education's Balik Eskwela and Brigada Eskwela programs to help prepare schools and students for opening of classes. Responding to the need for improved nutrition, JGSPG sponsored a feeding program for more than 100 pre- school children of the Simlong Child Development Center. Recognizing the need for better access to technology, JGSPG donated 38 units of personal computers to the Simlong Elementary School. To help instill a safety mindset among the youth, JGSPG organized awareness trainings on fire and traffic safety, in partnership with the Batangas City local government. For the community, residents' health and well-being were prioritized through medical missions and improvement of water system in Brgy. Pinamucan Ibaba. A multipurpose facility was also donated to Brgy. Pinamucan Ibaba for sports, recreational, events and other uses.
With Abot Kamay, JGSPG is able to give back to its host communities and contribute further to several UN SDG's – reducing hunger (Goal 2), improving health and well-being (Goal 3), ensuring quality education (Goal 4), and providing clean water (Goal 6).
Polymer Products' Alignment Towards Sustainability: Moving towards creating and shaping future markets for our PE and PP polymers
JGSPG is aligning with the four most important sustainable development goals (SDG's) according to the World Council for Sustainable Development – Food Security, Water Security, Energy for All, and Climate Change.
As such, the most important markets to which JGSPC will sell PP and PE products are for (1) food and beverage packaging, to help in meeting the 30% increased requirement for food from 2015 to 2050, (2) infrastructure needs, to help in meeting the 50% increased requirements for water, 45% increased requirement for energy and 100% increased requirement for roads needed from 2015 to 2050; and (3) for sustaining urban lifestyles, as 70% of world population is projected to be living in cities by 2050. Future product and applications developments are to be geared towards sustainably serving these markets with the commencement of JGSPG's expanded polymers production capacity from 2020 onwards.
Robinsons Bank Corporation (RBank)
Robinsons Bank ensures future readiness. The Bank's sustainability measures are built upon economic, environmental, social, and governance (ESG) framework. RBank supports the United Nations SDGs. Sustainability is incorporated in the way RBank delivers value, products and services, and business. The sustainability report of the Bank is prepared in accordance with the GRI Standards. As a commitment to uphold the principles of sustainability, the Bank's officers underwent rigorous GRI trainings.
The Bank utilized digital financial services tailored to customers' needs and developed Simplé Savings to address the pain points of Filipinos who are unbanked and underserved. This product allowed millions of unbanked Filipinos to have a formal bank account and build productive relationship with a formal financial institution. Simplé Savings offers no maintaining balance, just P100.00 initial deposit, interest earning, simplified KYC (Know-Your-Client) requirements, and just one (1) ID from the client to open an account. Simplé Savings introduced a simpler and easier path towards customer engagement and achieve higher satisfaction. Simplified requirements opened gateways of easily obtaining formal savings account due to the MADALI, MABILIS, & SIMPLÉ (Easy. Fast. Simple) process.
Simplé Savings Online was the first online savings account opening platform launched by the Bank. Without needing to go to a branch, clients can open online and receive email confirmation including a virtual VISA card that may be used for online purchase, as well as, the regular online banking transactions like balance inquiry, bills payment and fund transfer. Though just a drop in the bucket, RBank has started a journey of engaging unbanked Filipinos (77.4% of adult population) to be financially included to a safe, secured, and guaranteed financial environment.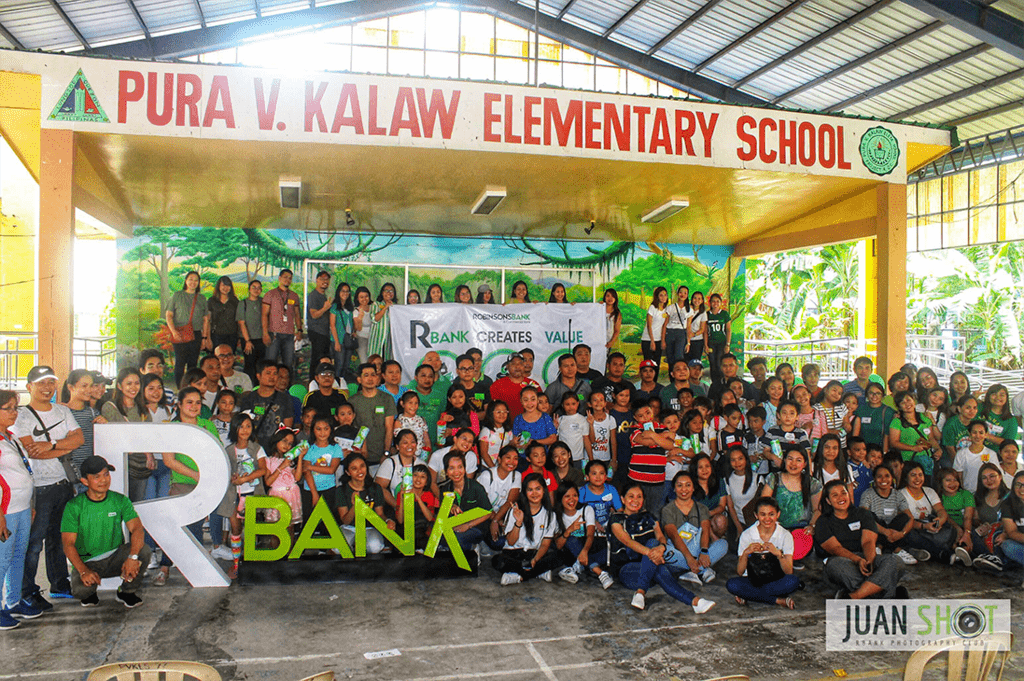 In Robinsons Bank, we teach families that every peso, through good money management skills, has a potential to grow and create more value in their lives. Robinsons Bank's CSR program – RBank Creates Value, instills the value of saving and teaches money management skills to students and their families. These are lessons reinforced in the three-year program that Robinsons Bank engaged the entire family: the student, the mother, and the father. The student and their parents were given easy-to-digest "bite-sized" lessons on the value of saving and were formed to develop the habit of saving.
On the first year of the program, RBank volunteers organized a program at the beneficiary schools. Grade 3 students were taught the importance of saving through the fable "Si Langgam at si Tipaklong". These students were challenged to save and were provided the piggy banks. The Bank promised to help them open their very own bank accounts the following year, using the money that they will be able to save.
On year two, the Bank volunteers returned to the same schools and gathered the same group of students who are now in Grade 4. The lesson this time was on knowing the difference between wants and needs introduced through an exciting game. The volunteers explained the importance of focusing on the "needs" and reiterated the value of delayed gratification to the 494 students who joined the program. As promised, the Bank assisted the students in opening their very first savings account and as a reward, the Bank added P2,000.00 to the account of students who were able to save more than the other students. To develop the habit of saving, new coin banks were distributed once again to the students.
While the students continue to engage in the program, their mothers were invited to a livelihood skill training of each of the 16 beneficiary schools' community. The training includes production of hair accessories, dishwashing detergent, doormat, rags, and peanut butter. 204 mothers attended this program organized by 176 RBank volunteers.
In the last year of the program, the same set of students were taught how to budget their money. This activity also taught the students appreciation in the budgeting decisions that their parents do and how, as children, they can help their parents in the allocation of the family's income to their needs.
Concurrent sessions for the 194 fathers were conducted to provide livelihood skill training for possible sources of additional income. 171 RBankers organized sessions on haircutting, aquaponics, citronella spray-making, and candle-making. PremiumBikes presented a sub-agent program to earn through referrals and offered registration assistance to Grab's food delivery services to those with motorcycles.
RBank creates value as it brought together 17 CSR Teams, represented by 209 RBank volunteers, who connected with 20 schools nationwide to serve 912 beneficiaries. Through Robinsons Bank's CSR Program, "RBank Creates Value", we were able to create value in the lives of the families in our partner communities – the type of value that will make their future even brighter.