Next Generation Leadership:
Sustainability at the Core of JG Summit's Future
In May 2018, JG Summit Holdings Inc. announced the appointment of Mr. Lance Y. Gokongwei as the conglomerate's President and Chief Executive Officer. This marks a new generation of leadership that will take JG Summit to even greater heights but this requires strategically transforming the enterprise to focus on key areas, one of which is the adoption of a formal Environment, Social and Governance program.
With the combined strengths and competencies of its Strategic Business Units (SBUs), JG Summit has carved for itself an essential role in nation-building, a mission reflected in the three pillars of its sustainability framework—pulling for progress, caring for the environment, and raising people up.
The future of JG Summit and our role in nation-building is now inseparable to the goal of transforming the organization to foster greater sustainability. "For us at JGS, we accomplish this in the changes we implement to the way we work, how we develop our products and services, how we make them accessible, and how we provide opportunities to our stakeholders," explains Gokongwei.
Aligning Corporate Responsibility to our Sustainability Pillars
As an important part of our sustainability journey, our Strategic Business Units: Cebu Pacific, Robinsons Land Corporation, Universal Robina Corporation, JG Summit Petrochemicals Group and Robinsons Bank worked towards adopting business activities that positively impact the society. "The benefits of incorporating social impact in our business activities are multi-faceted for both business and its stakeholders. One effort can be directed at protecting the environment, but it can also dramatically impact a community's way of life," explains Gokongwei. "The move towards greater sustainability is strategic for us in aligning all our corporate social responsibility efforts on empowering communities, elevating our people's lives, and protecting our planet."
"The move towards greater sustainability is strategic for us in aligning all our corporate social responsibility efforts on empowering communities, elevating our people's lives, and protecting our planet."
Pulling for progress: Milestones on fostering growth
Cebu Pacific's Crowdsourcing campaign boosts local tourism
A key to the successful implementation of JGS' sustainability efforts is effective collaboration and engagement with different stakeholders. This is what Cebu Pacific's crowdsourcing campaign #CEBFlyMeTo was able to do. Since the campaign's launch in 2017, over two million netizens participated in identifying the next destinations that Cebu Pacific would add to its routes. The addition of Batanes as a Cebu Pacific destination in 2018 is a result of the #CebFlyMeTo campaign.
The #CebFlyMeTo proved to be more than a campaign for tourism boost since it involved travelers in a bigger goal in nation-building—uncovering the country's hidden gems and giving local communities more opportunities for growth.
Robinsons Hotels and Resorts promotes livelihood
This crowdsourcing campaign shows how the tourism and hospitality scene is proving to be fertile ground for sustainability efforts. For its part, the Robinsons Hotels and Resorts Division of RLC launched the "R-Love Soap for Hope" to recover, recycle, re-process and donate used bar soaps to local communities. The project had three objectives: to provide a means of livelihood to local communities, to help hotels reduce waste, and to promote a cleaner and healthier environment.
The used soaps come from Go Hotels in Otis, Ortigas, and Mandaluyong, as well as the Summit Hotel Magnolia and Summit Ridge Tagaytay. These soaps were regularly donated to Don Bosco Pugad, Makati and Holy Trinity School in Barangay Haraan, Indang, Cavite, where they were used in livelihood projects and the promotion of hygiene to school children.
URC empowers people in the communities
Another program that is inextricably linked to educating young people is Flourish Pilipinas by Universal Robina Corporation (URC)–Flour & Pasta Division, which aims to address the lack of effective and relevant learning materials for senior-high school (SHS) students. Held in collaboration with DepEd, the program created and distributed a strategically designed multimedia teachers' toolkit for bread and pastry production under the SHS Technical-Vocational-Livelihood track. The program successfully created a 21-video toolkit with cookbook and teaching guide. In pilot stage, URC Flour engaged 11 public schools in Metro Manila and Davao, benefitting 1,109 senior high school students.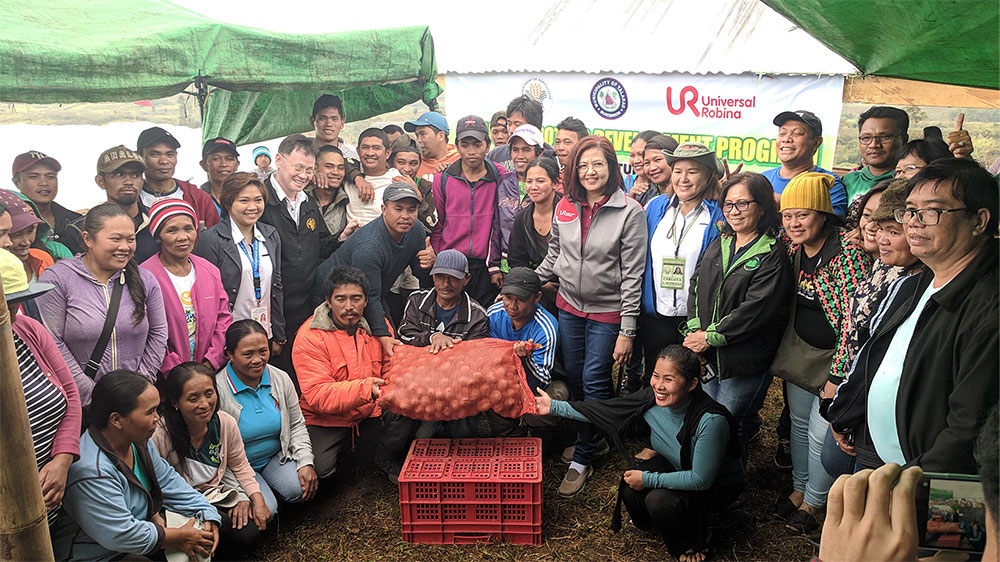 Additionally. URC has also committed to helping build a robust agriculture sector and a more competitive local potato industry in the Philippines. A partnership with the Department of Agriculture (DA) led to the creation of the "Sustainable Potato Program," which initially provided 135 metric tons of Granola potato seeds to select potato farming communities from the provinces of Benguet, Mt. Province, Bukidnon and Davao del Sur. These seeds are expected to cover a total land area of 62 hectares and is projected to produce 2,700 metric tons (or 2,700,000 kilograms) of potatoes on the first cycle.
On top of providing seeds to farmers, the program also gives access to training, research and development in cooperation with DA's attached agencies such as the Bureau of Plant Industry, the Agricultural Training Institute and select State Universities and Colleges. The program also links the farmers to markets through URC's affiliate Robinsons Supermarket's 160 retail outlets nationwide.
Protecting our environs: In the business of protecting the planet
Cebu Pacific's Sustainable Tourism Initiative
Launched in collaboration with the Department of Tourism (DOT), the Department of Natural Resources (DENR) and the Department of Interior and Local Government (DILG), Cebu Pacific's Juan Effect conveyed how travellers can proactively save the environment in three easy ways: by bringing their own reusable water bottles, bringing their own eco bags, and by disposing of trash properly. Its goal is to mitigate the impact of tourism on the environment. "Juan Effect" engages travelers and local stakeholders, raising awareness about their responsibilities as tourists and encourages them to make a difference by changing one daily habit. As of December 2018, pledges on the Juan Effect website have reached 11,500 individuals.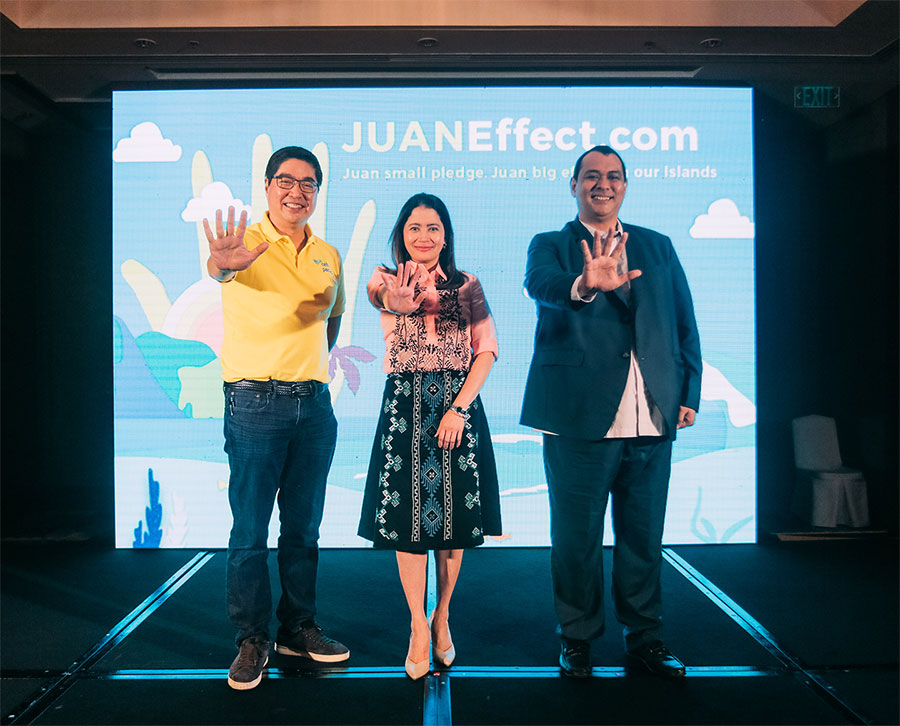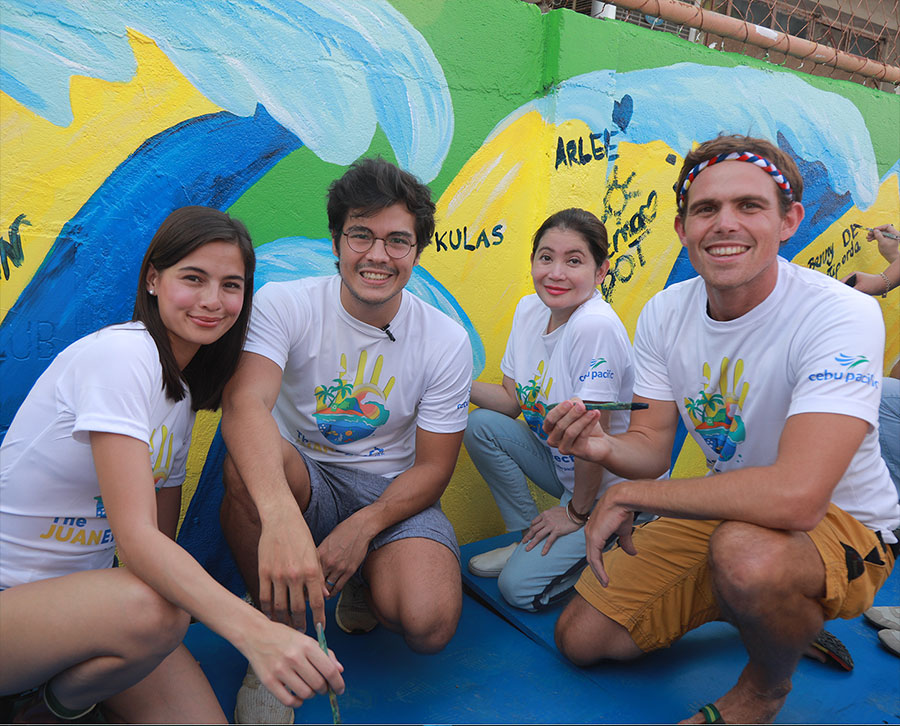 In its everyday operations, Cebu Pacific has shifted to eco-friendly alternatives in its 400 daily flights across 37 domestic and 26 international destinations, effectively reducing its usual consumption of 18,500 pieces of plastic spoons, forks, plastic cups and plastic stirrers for its passengers. Shifting to eco-friendly utensils for their inflight catering has increased cost by 46%, but results to 460,000 less pieces of single-use plastic being thrown out every month.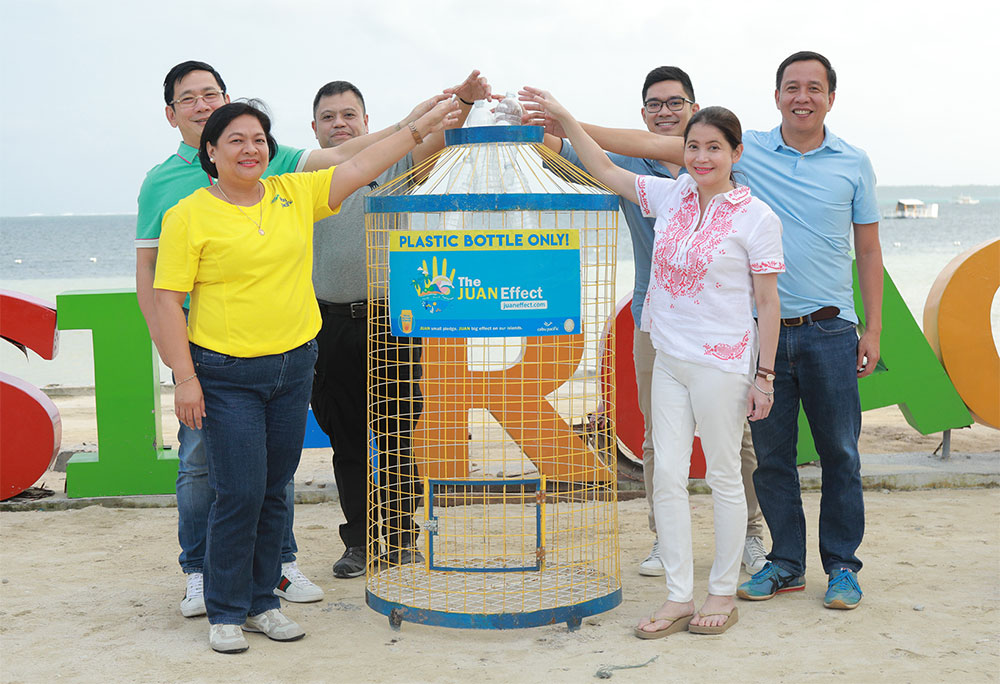 Cebu Pacific has also installed technologies and adopted numerous measures to reduce carbon footprint. These include a fuel management system for optimized operations, the Airbus fleet's Runway Overrun Prevention System (ROPS) cockpit technology to monitor and calculate optimal runway landing conditions, and Area Navigation (RNAV) data for greater accuracy in navigation and approaches to various airports.
It is pushing forward with initiatives that aim to reduce the impact of its operations on the environment. Foremost of these is the carrier's investment in 32 brand-new fuel-efficient Airbus A321neo aircraft, which has demonstrated a remarkable reduction in fuel burn per seat.
Robinsons Land's Clean, Green and Energy Efficiency projects
RLC leveraged on partnerships with local government units and agencies for its environmental protection efforts. In different parts of the country, Robinsons Malls partnered with local communities in environmental clean-up drives. Robinsons Place Palawan, for example, participated in the International Coastal Cleanup, Pista Y ang Kagueban (Feast of the Forest) and Balayong Festival at Puerto Princesa. Robinsons Place Roxas and Robinsons Place Iligan also supported tree planting and forest enhancement in Camp Candida Timpas and Ditucalan Watershed.
Other initiatives included the Naga River Day clean-up drive hosted by Robinsons Place Naga, as well as Linis Estero cleanup drives in Robinsons Place Jaro, Robinsons Place Iligan, and Robinsons Place Roxas.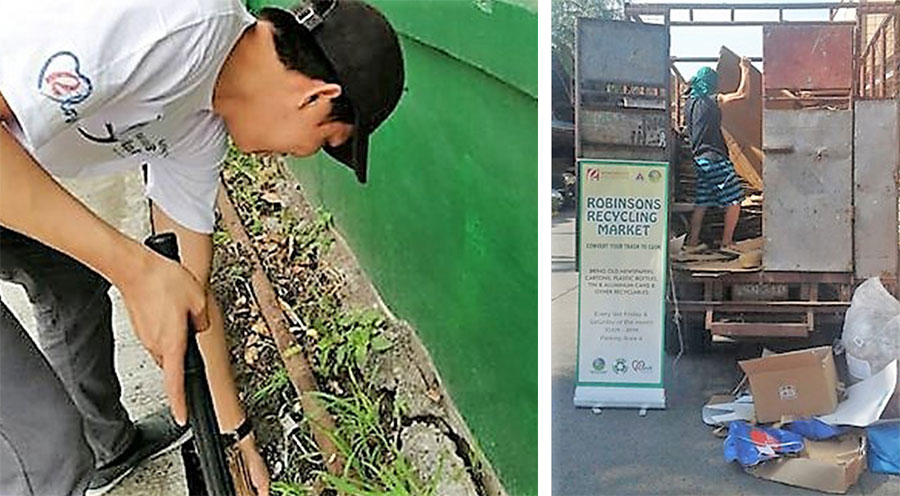 A continuing environmental initiative of RLC is the reforestation project in Kaliwa River Watershed, Tanay, Rizal, which supports the DENR's National Greening Program (NGP). The initiative aims to enhance five hectares of forest area to plant a total of 3,000 seedlings in three years, restore the Kaliwa River Watershed's ecological functions, and provide livelihood opportunities for the local community.
Another Robinsons Malls-led project that provides both income opportunities while protecting the environment is the Robinsons Malls Recycling Market and Recycling Olympics. This project provides a waste-recovery system through a once-a-month recyclable buying fair for tenants, customers, other business establishments, schools, religious groups, and city residents.
Aside from its efforts targeted to different stakeholders, Robinsons Malls also takes pride for its outstanding achievements on energy efficiency. At the 35th Don Emilio Abello Energy Efficiency Awards 2017, the Department of Energy (DOE) lauded Robinsons Malls for its production energy savings.
Robinsons Place Angeles, Robinsons Fuente, Robinsons Place Antique, and Robinsons Place Palawan received Outstanding Awards for more than 5% energy savings. All four malls reduced their carbon dioxide production by 300,000 kilograms and saved a total of Php19.2 million.
Robinsons Place Cainta, Robinsons Place Ilocos, and Robinsons Tagaytay also received citations for 3 to 5 percent production energy savings. These reduced a total of 277,100 kilograms of carbon dioxide while saving a total of Php5.2 million. Forum Robinsons, which received a special award for 1.3 percent production energy savings, reduced 75,000 kilograms of carbon dioxide and saved Php1.4 million.
These malls show that adopting sustainability in day-to-day operations through energy efficiency can translate to rewarding business benefits.
JGS Petrochem's One Million Trees Project strongly forges ahead
A continuing effort on promoting biodiversity is the One Million Trees Project by JGSPG, in collaboration with local government units, the Batangas Provincial Government, the DENR, and the Girl Scouts of the Philippines. Launched in 2016, the project targets to plant one million indigenous and fruit-bearing tree seedlings until 2023.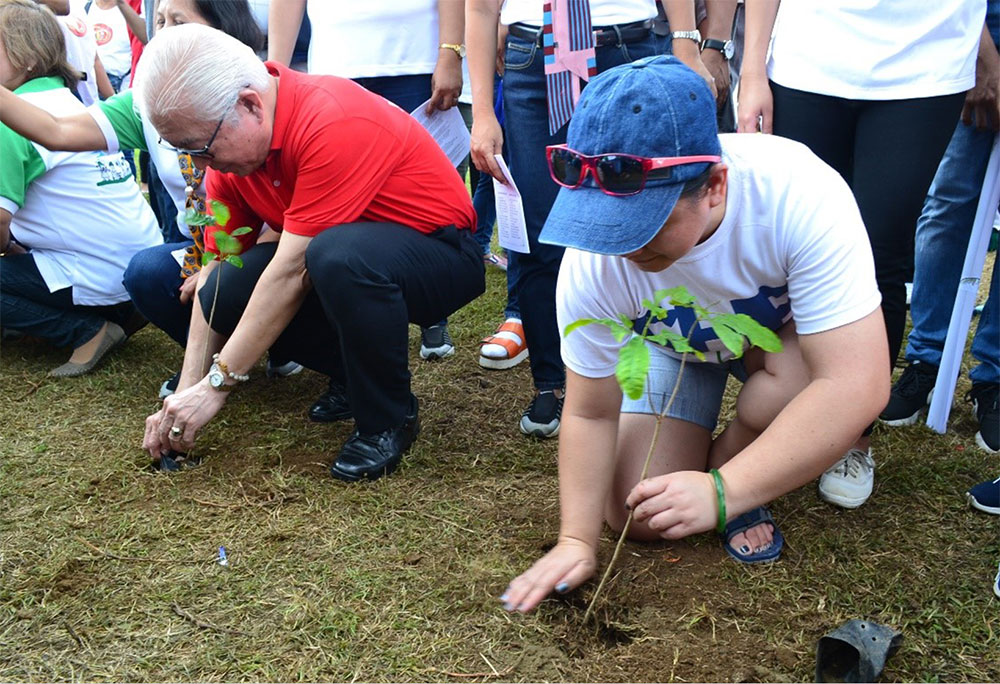 The project has already planted a total of 300,000 seedlings all over Batangas. In 2018, 80,000 seedlings were planted in different parts of the province and in the last three years, the project has engaged a total of 49 local communities. All seedlings are nurtured and grown in JGSPG's own three-hectare mini-forest and tree nursery located in one of its host communities, Barangay Pinamucan Ibaba.
This year, JGSPG entered a memorandum of agreement with the Rotary Club of Batangas for a Cacao Tree Parenting Program, which aims to address impending cacao shortage in Batangas and the entire country. Under this agreement, JGSPG donated 5,000 cacao seedlings that will be distributed to farmers from different barangays of Batangas City. The seedlings were nurtured in the JGSPG tree nursery until they were turned over to the farmers in early 2019.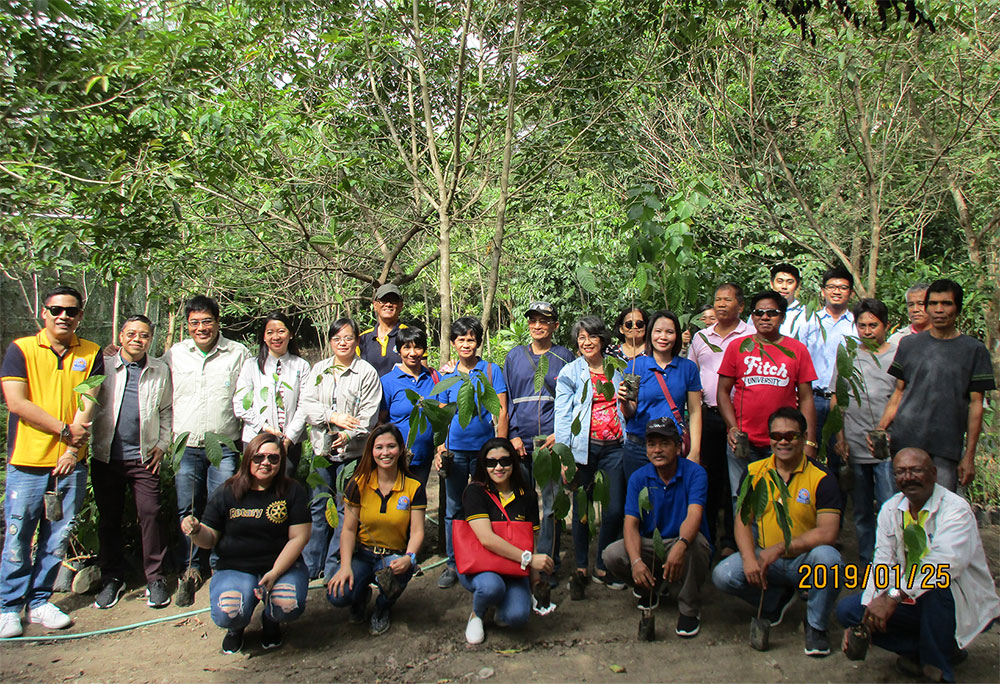 Raising people up: Building and empowering communities
JGSPG Safe and Disaster Resilient Communities
While giving people the opportunity to improve their livelihood, JGSPG also helps communities elevate other aspects of their lives. In Barangays Pinamucan Proper, Pinamucan Ibaba and Simlong, JGSPG coordinated with the Batangas City Disaster Risk Reduction Management Office to organize a two-day basic life support training for health resilience building.
By the end of the program, participants learned basic rescue and safety knowledge during emergencies and disasters, first aid, cardiopulmonary resuscitation (CPR), proper use of automated external defibrillator, and addressing foreign body airway obstruction.
Robinsons Land Focuses on Disaster Response in Communities
Like other units of JGS, RLC is also committed to disaster response. Through Robinsons Malls, RLove provided communities emergency assistance with the help of local units of the Provincial Disaster and Risk Reduction Management Resiliency Office. In these operations, RLove distributed relief food packs and donated construction materials for home reconstruction. When typhoons Ompong and Usman hit, Robinsons Malls conducted relief operations in Ilocos Norte, Cagayan, and Camarines Sur provinces.
Another initiative on disaster response by Robinsons Malls is The Gift of Change. When landslide and floods hit Tacloban, volunteer employees from Robinsons North Tacloban took the lead in distributing relief goods to the affected families. The Gift of Sight, meanwhile, aims to promote eye health to poor communities inside and outside Metro Manila. With the support of the City Social Welfare and Development of Malolos, Robinsons Place Malolos gave free eye examinations to 400 local citizens. So far, The Gift of Sight has distributed 3,000 pairs of eyeglasses to indigent citizens in Metro Manila, Pangasinan, Pampanga, Batangas, Bacolod, Dumaguete, and Cebu.
When Mayon volcano erupted in 2018, Robinsons Malls mobilized relief operations to address the immediate need for clean water and hygiene kits in Bicol's calamity-stricken areas. More than 1,000 mineral water bottles and soaps were collected and coursed through the Albay Public Safety and Emergency Management Office (APSEMO).
Robinsons Land Expands its Education Initiatives
In 2018, RLove's active participation in the DepEd's Brigada Eskwela and Adopt-A-School program benefitted over 74,000 public school students. This led to RLC assisting 42 public schools nationwide. RLove is also involved in repainting several public school classrooms in 24 different sites. To enhance students' learning experiences, RLove also helped install audio-visual equipment in the classrooms.
For its part to empower children, Summit Hotel in Tacloban partnered with the Visual Arts Association of Baybay (VAAB) to organize "Heart to Art," a two-day art workshop for underprivileged boys from the Social Development Center for Children (SDCC). Summit Hotel Tacloban also handed baking equipment and supplies to San Jose National High School's senior high schools, a move that aims to support local entrepreneurial activities and aligns with the DepEd's K-12 program.
"Bag-O Bag Ko" involved Robinsons Malls in Panay Island, Robinsons Place Iloilo, Robinsons Place Jaro, Robinsons Place Roxas, and Robinsons Place Antique. These participating malls gave new bags and school supplies to marginalized kindergarten and elementary students. Now on its second year, the project is implemented with the help of the Community Social Work and Development organization and DepEd.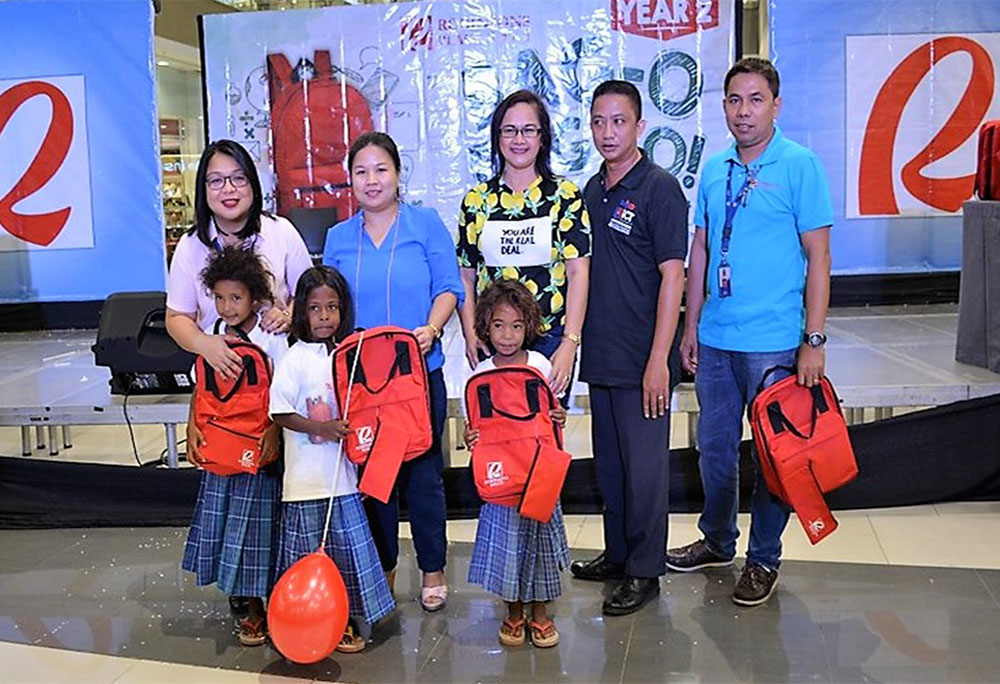 Robinsons Malls provides access to convenient rides
To help improve the transport experience in Metro and Mega Manila, Robinsons Malls partnered with Yellowdot Transport Terminal Inc. to introduce the "Millenial Jeepney" for more convenient and comfortable jeepney rides from Robinsons Place Las Piñas to Calamba, Laguna and vice versa. The upgraded and modernized version of the iconic jeepneys, which offer a minimum fare of Php12.00, is equipped with air-conditioning, on-board Wi-Fi, a seating capacity of 23, and space to accommodate a maximum of 10 standing passengers. A total of 15 units will be utilized for the Las Piñas–Laguna route.
Robinsons Malls is also becoming a well-known and sought-after hub for P2P Bus Services. One of the new routes added last year was a UBE Express bus route from Robinsons Galleria to the Ninoy Aquino International Airport.
RLC's RLove Program encourages employee volunteerism
RLC's CSR program RLove, on the other hand, organizes different social welfare and advocacy projects through philanthropy, volunteerism and partnerships that can help improve lives in communities where RLC operates. In 2018, RLove rendered 4,200 volunteer hours and assisted 50 partner beneficiary groups while strengthening its partnerships with national agencies, local and international civil society organizations.
Cebu Pacific flights serve as donation channel for children's proper nutrition
Meanwhile, Cebu Pacific's partnership with the United Nations Children's Fund (UNICEF) "Change For Good" project is now on its third year. In 2018, passengers on Cebu Pacific domestic and international flights headed to and flying out of Clark International Airport have the option to donate any amount to help vulnerable Filipino children receive proper nutrition in their critical first 1,000 days of life. To date, Cebu Pacific is the only partner of Change for Good in Southeast Asia.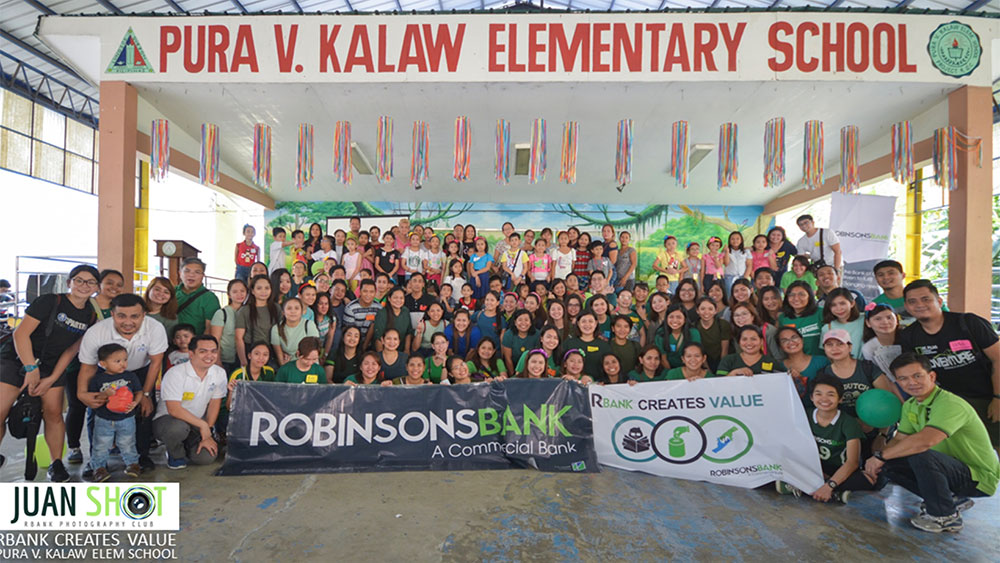 Robinsons Bank Creates Value through Financial Literacy
For Robinsons Bank, elevating people's lives is achieved through the promotion of financial literacy. Under its flagship CSR program, RBank Creates Values, volunteers of Robinsons Bank adopt pupils from different schools and involve their parents in the financial learning process.
This CSR program's guiding principle is to engage the whole Filipino household through a 3-year roadmap. On the first year, RBankers will "adopt" a school and select a number of pupils who will be taught about the Value of Saving and will receive a coin bank. On the second year, RBankers will reconnect to the "adopted" school to teach Simple Money Management to the beneficiaries and involve their mothers by attending a Financial Management workshop facilitated by RBank's Bancassurance team and livelihood skills training facilitated by one of the Bank's Microfinance clients. On the third year, RBankers will return to the same school to teach the pupils about Budgeting and engage their fathers by attending a Financial Management workshop facilitated by RBank's Bancassurance team and livelihood skills training.
In 2018, Robinsons Bank initiated this roadmap where 17 CSR Teams of Rbankers and clients from various units were formed. A total of 290 RBank volunteers visited 17 schools nationwide (8 in Metro Manila, 5 in Luzon, and 4 in Visayas and Mindanao). A total of 1,288 beneficiaries were engaged in this first year of the program.
JGSHI Forges Ahead in its Sustainability Journey
URC announces its Sustainability Strategies and Commitments
As a follow through from URC's commitments last year, URC's new CEO, Irwin Lee adapted sustainability as part of his strategic agenda: People and Planet Friendly Culture strategy. Given this, the company announces its commitments in the next 3 years: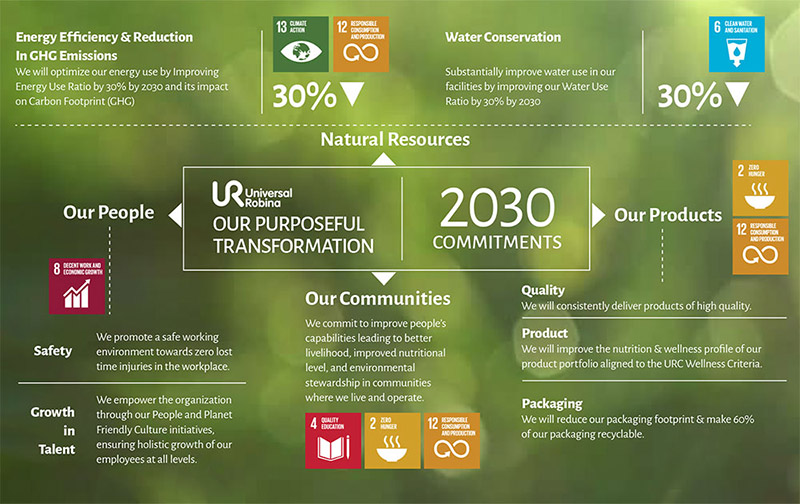 Natural Resources– URC will address natural resource stewardship focusing on efficiencies in our energy use by improving our energy use ratio, water use by water use ratio, and perform better solid waste management.
People – Starting with our employees, we will build a culture of safety in URC by taking high regard on lost time frequency injury rate (LTIFR) and All injury frequency rate (AIFR)

URC is committed to grow our talent by ensuring that all employees in total URC receive substantial training hours. We will also continue promoting a culture of sustainability as we conduct programs and trainings based on selected topics and issues related to our focus areas.
In the communities where we operate, we are committed to uplift the lives of people geared towards programs in education, nutrition, and the environment.

Our Products – URC is committed to deliver best-in-class food safety through the following:

Getting Food Safety System Certification 22000 in line with the best-in-class food safety standards.
We will also drive the expansion of our nutrition dense portfolio in line with emerging consumer trends in wellness
Lastly, we will promote sustainable packaging in our product portfolio
Other Strategic Business Units kick off their Sustainability Journey
As we proactively start transforming to become a leading digital conglomerate in the Philippines with an established regional presence and sustainability at its core, all our Strategic Business Units have initiated their Sustainability journey by developing Sustainability Frameworks and establishing baseline on material topics.
We recognize that Sustainability performance disclosure will eventually become a way of life. In preparation for government's push on communicating non-financial performance, all our listed Strategic Business Units are developing their Sustainability Reports and are aiming to release these reports within 2019.
Integrating sustainability at the core of our businesses which includes disclosure of its sustainability performance will enable JG Summit companies to focus on creating visible shared value. This is indeed a more impactful future for JG Summit and its key stakeholders!