In May 2018, I was honored to officially be named as JG Summit's (JGS) President and Chief Executive Officer (CEO), having accepted the challenge to sustain the immense growth of the company over the past 25 years of being publicly listed, and to bring the group to even greater heights.
Our chairman's transition of the CEO role started three years ago to enable the continuity of initiatives in the areas of sustainability and corporate governance, attraction of good talent/professionalization and disciplined capital allocation to drive growth and portfolio diversification. Since then, we have implemented a number of organizational changes such as the appointment of highly professional President and CEOs to lead each of our strategic business units (SBU), and the designation of Chief Financial Officers to support them. These ensure full accountability on the growth and development of each SBU while safeguarding the group's assets with robust risk management and internal control systems. At the parent company, we have likewise appointed experienced Corporate Center Units (CCUs) and Shared Services heads and professionals to support our growth plans as well as the different SBUs. In addition, we have made governance refinements by breaking down a single JG Group Executive Committee into a number of SBU Executive Committees, led by their CEOs with the aim of facilitating more focused, strategic and purposeful discussions with the respective management teams.
These transformation initiatives also allowed me to have greater focus in crafting the overall strategy of the group, maximizing synergies across the JG ecosystem, and determining the next growth pillars for the organization.
These transformation initiatives also allowed me to have greater focus in crafting the overall strategy of the group, maximizing synergies across the JG ecosystem, and determining the next growth pillars for the organization. Furthermore, JGS' role as a parent company has become clearer – giving more emphasis on capital allocation, resource optimization, talent management, governance and functional guidance for the SBUs, and overall vision and strategy formulation.
In line with these leadership and governance changes, we have begun our journey towards our new ambition of becoming a leading digital conglomerate in the Philippines and recently organized a Digital Transformation Office (DTO) to lay the foundation on our move towards digitalization. With the help of the DTO, we will build capabilities across the organization, implement digital projects at the SBUs and the parent company, build new digital and data-led businesses, and identify potential digital business opportunities and partnerships.
In 2018, we commercially launched Cashalo, which is a mobile lending app to serve the underbanked Filipinos and is our initial investment into the FinTech space through a joint venture (JV) with Oriente of Hong Kong. We have since converted our Philippine stake in the JV into a significant minority stake of the larger regional business of Oriente since we believe in the future of financial inclusion across the ASEAN. We have also expanded our portfolio by partnering with key industry players and our peer conglomerates to participate in the country's infrastructure development. Particularly, we have bid for airport projects in the Philippines through the NAIA Consortium and the North Luzon Airport Consortium (NLAC). The former has been granted the original proponent status to rehabilitate, upgrade, expand, operate, and maintain the Ninoy Aquino International Airport, while NLAC (now officially incorporated as Luzon International Premier Airport Development or LIPAD) was awarded the operations and maintenance (O&M) contract of the Clark International Airport.
While there has been an abundance of positive developments in 2018, there were also macroeconomic challenges that affected the financial performance of the company. The Philippine peso (Php) significantly weakened against the US Dollar. Inflation rate has gone up tremendously driven by higher fuel prices, problems in food supply, and the implementation of the new tax reform program. To manage this, the Banko Sentral ng Pilipinas has hiked the borrowing rate several times last year.
JGS' net income fell 35% to Php19.2 billion as our cyclical businesses, namely Cebu Air, Inc. and JG Summit Petrochemicals Group, were mainly affected by the aforementioned macroeconomic factors and higher oil prices. Our food business, Universal Robina Corporation, likewise faced significant competition. These were, however, partly cushioned by our defensive businesses such as Robinsons Land and Robinsons Bank as we uphold a well-diversified portfolio. We also maintained a healthy balance sheet to support our investments while meeting our financial obligations, ending the year with a consolidated gearing ratio of 0.67 and net debt-to-equity of 0.53.
While there has been an abundance of positive developments in 2018, there were also macroeconomic challenges that affected the financial performance of the company.
2018 Key Milestones and Performance per business unit
Universal Robina Corporation (URC) embarked on a major reorganization with key talents joining the management under the leadership of Irwin Lee, the company's newly-appointed President and CEO. After Irwin completed his onboarding, he determined URC's key programs which will have a medium to long-term impact on the way the company operates such as lean manufacturing excellence, supply network study and redesign, route-to-market enhancements, and the development of sustainability initiatives.
In addition, URC successfully relaunched C2 which tempered the unfavorable effect of the Sweetened Beverage Tax to its Ready-to-Drink tea sales in the Philippines. Vietnam is still on its path to recovery with consistent growth of C2 and Rong Do, and additional sales from snackfoods; while the synergies between New Zealand and Australia continue to actualize with overall Oceania margins improving. Our Non-Branded Consumer Foods Group is now called Agro-Industrial and Commodities (AIC) as we drive downstream and branded offerings beyond our existing commoditized products to stabilize margins. We also expanded capacities in our Sugar and Flour divisions to further scale these businesses.
URC's net income amounted to Php9.2 billion, lower by 15% vs same period last year. Although we managed to slightly offset the rising inflation through price increases across most categories in the Philippines, lower coffee volumes due to intense competition, and the peso devaluation brought down the company's total performance.
Cebu Air Inc.'s (CEB) 2018 was a perfect storm as it navigated the increasing jet fuel prices, weakening peso and higher interest rates. The company was also affected by the Boracay closure and flight cancellations due to Xiamen Air's runway overshoot and typhoon Ompong. Despite these, we performed resiliently and operated more efficiently. We reduced our fuel consumption by using more fuel-efficient aircraft and by implementing various operational initiatives. Towards the latter part of 2018, the government also allowed us to partially pass on the cost to our customers through the fuel surcharge.
CEB posted a record seat load factor of 85%, indicating a robust demand for affordable travel. We currently have 71 planes flying to more than 60 destinations, including the recently-introduced Manila-Melbourne route. We also increased our Clark hub and Asia destinations and entered in a commercial JV with Scoot for our Philippine-Singapore market.
However, with the aforementioned external factors coupled with higher lease and lease return obligations, and investments on safety and secured digitalization, CEB registered a net income of Php3.9 billion, lower by 50% year-on-year (YoY).
Robinsons Land Corporation (RLC) performed solidly with consistent growth across all divisions. RLC opened its 50th mall last July 2018, and ended the year with a total mall leasable space of 1.5 million square meters (sqm). Apart from mall openings, we launched PlayLab and AquaFun which are the country's first digital and water playgrounds located within mall premises. Similarly, our Residential division had a successful reorganization, improved product development, and stronger sales force which led to a record pre-sales performance. Established in 2017 to build and lease out warehouses, sell institutional lots, and manage and grow RLC's land bank, our Infrastructure and Integrated Development (IID) division recognized significant income from sale of land as it consummated its JV with Shang Properties.
RLC's net income resulted to Php8.2 billion, up by 40% driven by revenue growth attributable to rent escalation and new launches for malls and offices, strong demand for residential, plus the gain on sale of land to its JV.
JG Summit Petrochemicals Group (JG Petrochem) is developing its complex with the expanded naphtha cracker, new and expanded plants for polymers, and new aromatics and butadiene extraction units that will further process its mixed C4 and pyrolysis gas into downstream products. Construction and development are in full-swing and we expect integrated operations for the expanded petrochemical complex by 2020.
Meanwhile, JG Petrochem's 2018 saw margin squeeze primarily due to higher feedstock costs and crude oil prices, while polymer prices remained subdued for most part of the year. In addition, we faced some production issues in our polymer plants, and incurred higher financing costs as well as foreign exchange losses related to raw material importation. With these, net income amounted to Php1.1 billion.
Robinsons Bank Corporation (RBank) continues to be one of the fastest growing banks in the Philippines with its consolidated loan portfolio expanding 18% YoY. Apart from RBank issuing Php1.8 billion Long Term Negotiable Certificate of Deposit last July 2018, JGS also infused Php1.8 billion for its Php3.0 billion recapitalization to support further growth. In addition, we launched Direct2Bank PesoNet and InstaPay, which enable the users to execute fund transfers to any local bank. We publicly launched Robinsons Bank DOS Mastercard, which automatically splits all transactions into two monthly installments at 0% interest – the first credit card of its kind. We also partnered with Pru Life UK to offer insurance products.
RBank's net income grew 3% YoY to Php317.7 million driven by higher interest income from loans.
We anticipate better macroeconomic environment in 2019 on the back of stabilizing peso, inflation and oil prices.
Looking Ahead
We anticipate better macroeconomic environment in 2019 on the back of stabilizing peso, inflation and oil prices. This should aid the recovery of our cyclical businesses while we aim to sustain the growth momentum of our property and banking units. Nonetheless, we remain watchful of various risks in and outside the Philippines, including competition, geopolitical tensions and rising interest rates.
For URC, competition will likely remain elevated especially in the Philippines, but we are confident that the strength of our core brands can protect our market position. And as our route-to-market enhancements begin to materialize, availability and visibility of our leading products shall improve accordingly. We also envision robust supply chain operations through lean manufacturing excellence, mega distribution centers and capacity optimization. One of our key tasks in 2019 is to turnaround our coffee category by launching new products to regain our dominance in the white space, as well as reinvest in brand building to effectively reach our target customers. Besides protecting our core, we aim to further expand by adding growth categories per country, nurturing better-for-you and natural platforms for our branded consumer foods group, and developing pet feeds, pasta, bread and processed meat business models for our Agro-Industrial and Commodities (AIC) division.
We expect CEB to remain impacted by the volatility in fuel prices, interest rates and foreign exchange rates as well as the aggressive pricing and capacity increases of competitors in the domestic front. To overcome these headwinds, we will maintain our foothold and maximize our slot usage in Manila while also strengthening our position in both Clark and Cebu. In addition, we plan to increase our flight frequencies in key cities and expand our cargo sales and capacity. We will also continue to implement cost control measures and further develop digitalization for scalability and agility. Lastly, we anticipate the delivery of A321s, A320 NEOs, ATR 72-600 and ATR Freighters in 2019 which are in line with our overall fleet modernization program of bigger, new generation and fuel-efficient aircraft.
RLC aims to sustain its expansion across all divisions. We are targeting to add 75,000 sqm of leasable mall space in 2019. We also plan to open three new office developments which will increase net leasable area by 14%. In addition, we aim to boost hotel room count by 23% as we open five new hotels in the country. Several residential projects are also in the pipeline, including its JVs with Shang Properties and Hongkong Land which we expect to be launched by the latter part of 2019. Booking of income from our Chengdu Ban Bian Jie project would likewise start this coming year. Finally, we will continue to augment RLC's revenue stream by building a recurring base for IID and developing new sources of revenue.
2019 is going to be a transition year for JG Petrochem as we finish the USD1.0-billion expansion project and begin the integrated operations by 2020. There will be necessary shutdowns for the complex-wide turnaround maintenance and project tie-in activities. We will complement this with reliability initiatives and run-rate maximization pre-shutdown. We will also boost our sales and marketing capabilities for the upcoming products such as butadiene, aromatics, and bimodal polymers. This expansion will maximize the value from our overall cracker and polymer product portfolio, and potentially double profitability in the following years.
For RBank, we will continue to effectively carry out its aggressive growth strategies in corporate banking, loans and retail segments. We will strengthen our account acquisition and product conversion, focus on expanding our credit card base through marketing and merchant acquisition, and expand geographic reach through regional center offices, regional branches and branch-lites. Lastly, we will drive digital transformation in our customer experience by improving our personal online banking user interface, in-branch experience, digital marketing, automation and data management.
We will continue to be on the lookout for potential investments for growth while strengthening our diverse businesses to have balanced sources of profitability.
At the parent level, fortification of our organizational capabilities and value creation with our subsidiaries and the overall ecosystem will remain key priorities. We will continue to be on the lookout for potential investments for growth while strengthening our diverse businesses to have balanced sources of profitability. We will maintain a prudent and optimized portfolio management by ensuring that our businesses satisfy JGS' investment criteria, and maximize synergies & returns.
Our Journey to Great Success
As the new president and CEO, my vision for JG Summit is to be the leading digital conglomerate in the Philippines with a strong regional presence.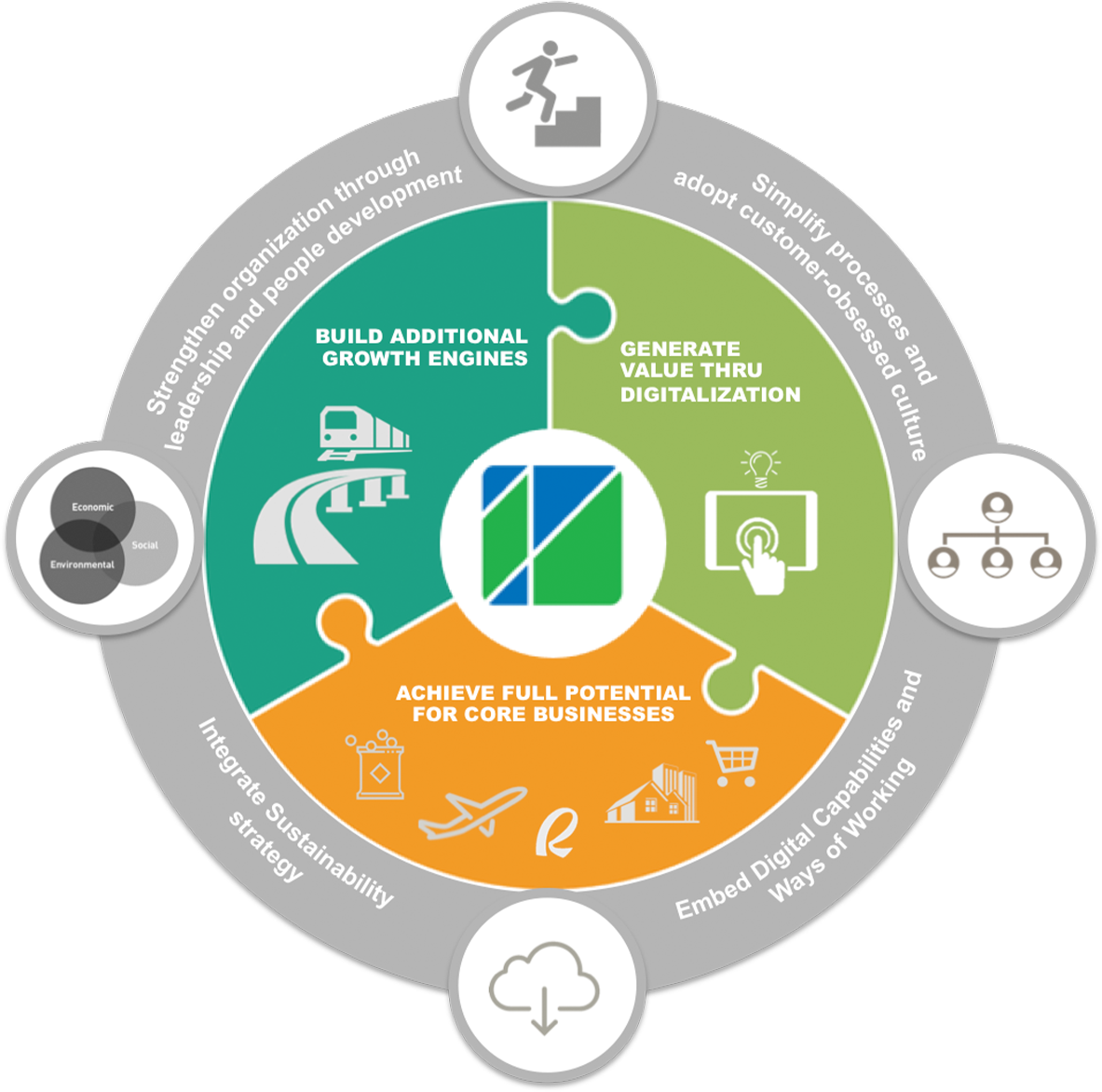 We have three strategic thrusts in line with this overall ambition. First, we will continue to strengthen and achieve full potential for our core businesses by implementing key initiatives to remain significant players in the industries and markets we participate in. Second, we will build additional growth engines by entering new spaces such as infrastructure and logistics. We will scale up our banking business in the next five years and we will continuously examine the role of our minority investments. And third, we will generate value through digitalization. With our DTO in place, the support and expertise needed for our digitalization initiatives are already present in the group. We will implement anchor projects to digitalize some processes of our SBUs. We will also set up a data analytics group to examine behavior of our consumers to find better ways of serving them through group-wide loyalty programs.
As the new president & CEO, my vision for JG Summit is to become the leading digital conglomerate in the Philippines with strong regional presence.
We will achieve these by supporting the organization through leadership and people development. We will improve the attraction and retention of key talents, and we will further develop our leadership and functional capabilities. Another is by simplifying processes and adopting a customer-obsessed culture to develop and launch best-in-class products and services with the customer as the starting point. We will streamline processes, drive robust innovation across businesses, and optimize synergies between CCUs and different SBUs. Next is by creating value through digitalization. We will embed digital capabilities and agile ways of working in our core businesses to maximize productivity. We will pursue new business opportunities by fusing technology, the ecosystem and the data. Last is by having an integrated sustainability strategy. We will develop an inclusive Environmental, Social and Governance (ESG) program along with our subsidiaries, and cultivate a risk management culture to be a purpose-driven conglomerate anchored on sustainability.
Acknowledgement
I would like to thank our shareholders, customers and business partners for your continued trust and confidence in JGS and its subsidiaries; our Board of Directors for guiding and sharing your business expertise to the group; and our executives, managers and employees, for your unwavering commitment and dedication. I hope that all of you will continue to support the company especially in this exciting period of transformation and growth. I look forward to our journey this 2019 and in many years to come.